Morocco Highlights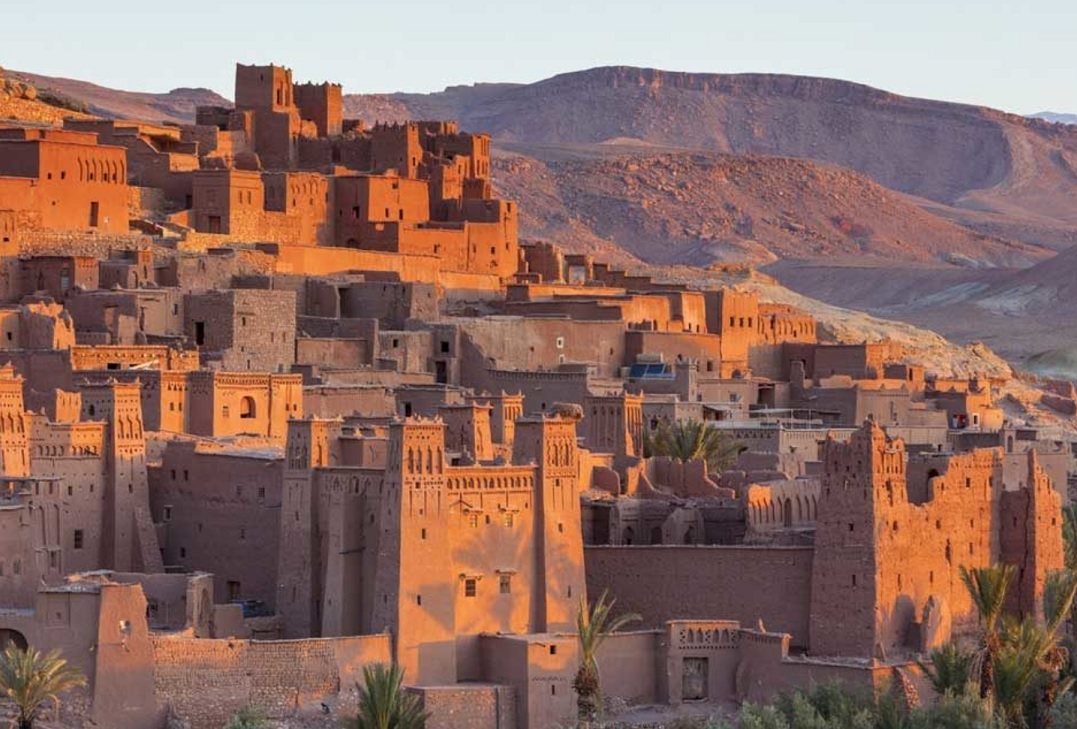 Morocco is more than  olive groves and date palms, sun-drenched bazaars and twisting alleyways in medieval medinas overflowing with a bewildering array of handicrafts, and apothecaries touting herbal remedies with colourful spices heaped into perfectly shaped pyramids.  Morocco is  a  land of diverse people and landscapes, a rich heritage of nomadic Berbers, Roman conquerors, Muslim Arabs and French colonialists and boasts more than its fair share of cultural treasures.
Our tour is leisurely with 4 nights in Marrakech and day trips to laid back Essaouira  with a vibrant blue-and-white medina enclosed by fairy-tale, sand-coloured ramparts and imposing stone gates and to Ait Ben Haddou, a UNESCO World heritage site, where many famous movies were shot.   We  have 3 nights in Fez, ample time to see the highlights including a visit to the famous tanneries and a cooking school to recreate some of the taste memories of a truly amazing trip.   Come and join us – you'll be so glad you did!
 Escorted from Marrakech
Guaranteed SINGLE room throughout
Commencing  17 May, 2020
POSTPONED – new dates coming soon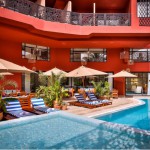 Day 1  17 May, 2020   Arrive Marrakech.  Use your frequent flyer points or we will find the best airfare for you and team you up with others in the group who are on the same flight.   Tonight meet your Australian tour escorts and fellow travelling companions over dinner at the hotel.  Dinner is included tonight.  Accommodation:  2Ciels Boutique Hotel and Spa (or similar) 4 nights.   Our hotel is ideally located in the heart of the city, surrounded by the exclusive Hivernage and the legendary Gueliz.   An urban oasis with a chic and refined interior, art deco style with the master touch of local craftwork, designed exclusively for the hotel.  The hotel is strategically located, a short walk away from the mythical Place Djamaa El Fna and cultural tourist attractions,  near the famous Mohamed V Boulevard and in front of Royal Tennis Club.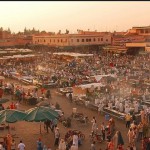 Day 2  18 May, 2020  Marrakech  After breakfast we begin our full day tour of the main sights of Marrakech with our local guide.  One of the four imperial cities of Morocco, Marrakech is a refreshing burst of colour in a region of rugged mountains and sweeping deserts. Flanked by the rich Saharan dunes and mighty Atlas Mountains, the city of Marrakech is eclectic, it's culture influenced by traditions, natural surroundings and modern life combined. With winding passages, traditional souks, monuments and gardens dating from time immemorial, Marrakech's old town of Medina harks back to the eras of sultans and princesses, colonialists and fortune-tellers. In contrast, Marrakech's commercial centre, Guéliz, is an ode to modern-day luxuries with chain brands, restaurants and resort hotels reigning supreme.  Dinner is included tonight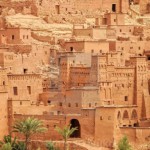 Day 3  19 May, 2020   Marrakech – Ait Ben Haddou – Marrakech   After breakfast we begin our full day trip from Marrakech to Ait Ben Haddou.  We travel through the magical Atlas Mountains, Berber villages and cross the Tizi n'Tichka mountain pass with short stops for photos. Visit the beautiful Kasbah Ait Ben Haddou, a UNESCO World heritage site, where many famous movies were shot some of which include The Last Temptation of Christ, Kundun, Salmon Fishing in the Yemen, Lawrence of Arabia, Gladiators and part of the TV series Game of Thrones. Ait ben Haddou is more than just a film set, though; it is a ksar, a fortified village whose history goes back almost a thousand years, although the maze of narrow and crenellated towers you see these days are mainly from the 17th century. As a strategic stop for caravans of camels, often numbering hundreds, on the trans-Saharan trade route from the Sudan to Marrakech carrying gold, silver and slaves and returning with salt, it would have been a thriving town, home to thousands. Following lunch at traditional restaurant we have some free time before returning to Marrakech.   Lunch is included.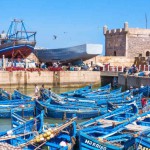 Day 4  20 May, 2020   Marrakech – Essaouira – Marrakech After breakfast we begin our full day tour to The Blue City "Essaouira", formerly named Mogador.  This is a charming city on  the Atlantic coast of Morocco with a beautiful fishing port and an amazing sandy beach.  We travel through vast fields of argan groves, and visit a Women's Co-operative manufacturing this famous product.    We arrive at Essouira and walk through alleyways of the old medina, visit the jeweller's quarter, a handicraft complex and a small souk in the middle of the town.  After lunch (own expense) we'll explore the old fishing  port with blue boats and colourful flags, and have some free time  before returning to Marrakech.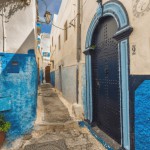 Day 5  21 May, 2020  Marrakech – Rabat – Fes   We leave Marrakech after breakfast this morning and drive towards Fes.   En-route we stop at the present day capital, Rabat, to explore the medieval fortification of the Chellah Necropolis and wander the Roman and Islamic ruins.  We'll visit the 20th-century Andalusian Gardens and enjoy the serene space away from the crowds. Discover the Hassan Tower, a minaret of the incomplete mosque and Mausoleum of Mohamed V, a 12th-century project that was abandoned, where all that remains today is the red sandstone tower and about 200 columns.  We'll have free time for lunch (own expense) and time to quietly wander the peaceful blue and white-washed streets before continuing our journey to Fes.  Accommodation: Riad Fes (or similar)  3 nights   Dinner is included tonight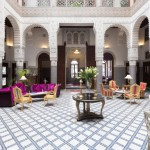 Riad Fes – Relais & Châteaux is renowned for its luxury, impeccable service and fine restaurant. Restored to its original glory, Riad Fès is located in the heart of the ancient city of Fez. It has succeeded in combining refinement with inspiration and invites you to relax and enjoy your stay in a serene atmosphere with decor reminiscent of Arabian Nights. Riad Fes provides guests with the opportunity to travel back in time and enjoy the splendour and authenticity of the lifestyle of Fassi nobility. The prestigious history and refined civilization of this Imperial city are reflected in the Spanish Moorish architecture and attention to detail seen in the decor. With spectacular views of the Medina and the Atlas Mountains,  Riad Fès  offers a fine dining restaurant that should not be missed when visiting Fez: l'Ambre. A haven of purity and tranquillity created by the designer Christophe Pillet, our Spa Riad Fès by Cinq Mondes invites you to enjoy a unique experience in luxurious and comfortable surroundings. With a selection of the best treatments, massages and traditional formulas marked by Quality, Authenticity and Ceremony designed and developed by Cinq Mondes, our Spa will take you on genuine Sensoriel Journeys.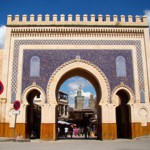 Day 6  22 May, 2020   Fes  Fes (or Fez) is the country's oldest imperial city, a time-worn centre for culture and learning, with colourful tiled palaces and centuries-old souks. We'll begin our tour from Bab Boujloud, one of the ornate gates which welcome travellers into the Medina. The Medina is a World Heritage Site riddled with passages that see far fewer tourists than those of Marrakesh. Its alleyways are narrower, making it impossible not to get caught up in the ebb and flow of life passing through. Prepare to lose yourself in the mêlée, while doing your best to take it all in – from the sight of women carrying dough to the communal bakery, to the butcher shaving the fur from a cow's head with a razor.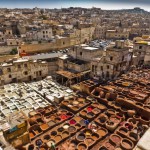 We'll visit the highlights of this fascinating city and after lunch (own expense) we visit one of the city's famous tanneries. We observe the workers from a lookout and see how leather has been processed for centuries. Talk with a tanner and get in-depth insight into the different steps of the tanning process. You may even end up haggling for a bag or a new belt.  We then venture outside the Medina where the Royal Palace lies, and walk through its large plaza lined with palm trees. We finish today's sightseeing with a trip to the Bab Fettouh cemetery, where you'll enjoy a panoramic view of the city, the hills, and the expansive sky.   Evening is at leisure.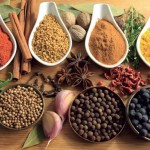 Day 7  23 May, 2020  Fes Learn to prepare delicious Moroccan dishes in this 3-hour cooking class. Our options may include  tagines, lamb with prunes, pastilla, stews and breads, fresh mint tea, pastries, and more. Shop for spices and other ingredients in a local souk and return to a traditional Moroccan house to begin cooking. Prepare your dishes with the guidance of a talented chef and enjoy your meal before the class concludes.  Afternoon is at leisure.  Lunch included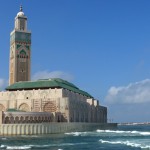 Day 8  24 May, 2020  Fes  – Casablanca    This morning we drive back to Casablanca where we'll spend the last night of our tour.  We view the main sights of the city, including entrance the Hassan II Mosque with its wonderful architecture and detailed mosaics.
We have lunch at a local restaurant before continuing our drive along the tree-lined streets designed by the French in the 1920s. Stop to admire the ornate exterior and gates of the Royal Palace; see the Mehkama courthouse; and if time permits, enjoy some  free time to stroll along the Ain Diab Corniche, Casablanca's palm-dotted promenade.  Lunch and dinner are included.   Accommodation: The Kenzi Tower Hotel (or similar )  overnight  The hotel is located in the trendiest and most vibrant downtown setting of Casablanca, Morocco's economic capital.  Ideal for browsing in the shops and only just half an hour away from the Mohamed V International airport, the hotel has impressive views of the Atlantic and the city.
Day 9  25 May, 2020  Casablanca  Sadly our tour has come to an end this morning.  For those joining our tour of Portugal and the Azores which commences today, we will transfer to the airport to join our flight to Oporto.   We would be happy to assist with your onward travel arrangements.
Tour cost  $5790 includes:
*Services of an Australian tour escort from arrival into Marrakesh until departure from Casablanca (subject to minimum group size of 12)
Services of local English speaking guides
Accommodation in SINGLE room at first class hotels with private facilities throughout
Breakfast daily
Dinners and lunches as per itinerary
Cooking school Fes
Air-conditioned coach for ground arrangements
Entrance to Jardin Majorelle Marrakesh
Entrance to Koutoubia Mosque
Entrance to Saadian Tombs Marrakesh
Entrance to Bahia Palace Marrakesh
Entrance to Ait Ben Haddou
Entrance to Chellah Necropolis Rabat
Entrance to Medersa Bou Inania Fes
Entrance to Hassan II Mosque Casablanca
Tour cost does not include:
International airline tickets and air ticket taxes
Meals or visits not detailed on the itinerary
Gratuities
Items of a personal nature
Transfers at any time that differs from main group arrangements
Anything not stated in 'inclusions'
Please note:   This tour involves services which are settled in a number of currencies and the exchange rate has been calculated on rates current at the time of uploading this tour onto our website.  
Should there be a fluctuation of exchange rates of more than 3% from this time to the time we receive payment, we reserve the right to pass on an exchange rate surcharge.
   To contact us for reservations or enquiries:
Destination World Travel

PO Box 2040

South Plympton    South Australia   5038      Australia
Phone:  08-8293-6988   Outside of Australia 61-8-8293-6988

Email:  destinationworld@internode.on.net