Kenya Sky Safari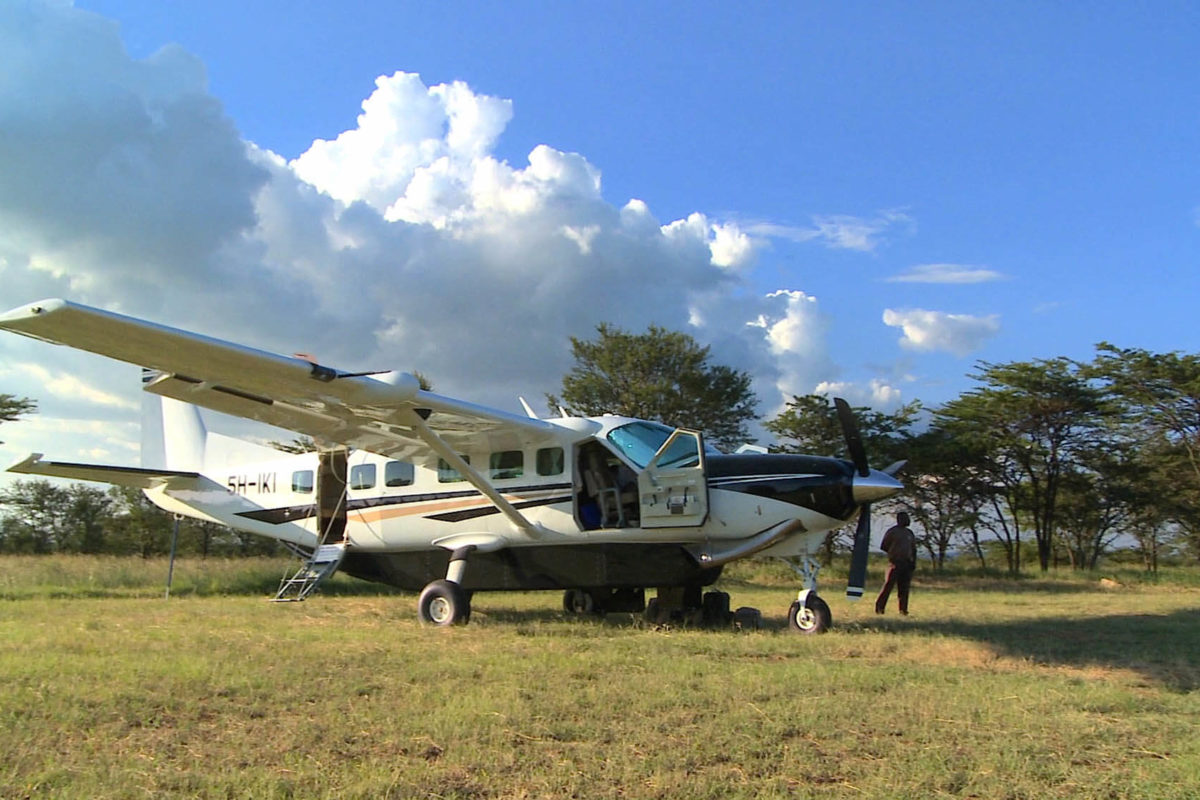 Kenya Sky Safari
Escorted from Australia
Guaranteed single room throughout
09 April, 2024  –  18 April, 2024

Our Sky Safari is designed specifically to make it simple for you to enjoy an African safari holiday, leaving you with time to relax and watch the never-ending circle of life unwind against the backdrop of Kenya's iconic parks and timeless landscape.  You'll be driven straight onto runways to board our elegant aircraft, which seats only nine passengers. You'll sink into luxe white-leather seats offering grandiose views from your extra large plane windows. You'll get a greater allowance for luggage and more space to relax. You'll soar straight to your next wilderness destination, with no stop-offs or detours, eating into your adventure. And you'll be able to rest easy, knowing your flight's emissions are compensated for.
We stay at unique boutique camps and lodges that combine the height of style and comfort with unrivalled settings. These retreats are opulent, yes, but the real luxury is their unhindered access to the wilderness.
At Elewana Tortilis Camp, your Makuti-thatched tent will gaze across to Kilimanjaro, while breakfast can be taken out in the bush, surrounded by a profusion of game. Escarpment-top Elewana Loisaba Tented Camp has views of Mt Kenya, plus opportunities to delve into the surrounding hills and valleys by jeep, mountain-bike, horse or camel. Elewana Sand River Masai Mara brings a dash of 1920s glamour to the savannah; better still, its award-winning bygone-style tents sit on the banks of its namesake waterway, where big cats come to drink and the annual great migration passes by.



Day 1  09 April, 2024    Nairobi, Kenya.    Make your own way to Nairobi.  We'll be met on arrival and transferred directly to our hotel.     Nairobi is Kenya's capital city. In addition to its urban core, the city has Nairobi National Park, a large game reserve known for breeding endangered black rhinos and home to giraffes, zebras and lions. Next to it is a well-regarded elephant orphanage operated by the David Sheldrick Wildlife Trust. Nairobi is also often used as a jumping-off point for safari trips elsewhere in Kenya.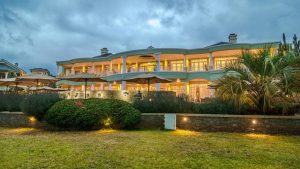 Accommodation:  Hemingways (or similar) overnight. Hemingways, a sumptuous haven of calm, built on an old coffee plantation at the foot of the Ngong Hills.  It's ideally placed for exploring – perhaps to feed the inmates at the Giraffe Centre, meet orphaned elephants at the Sheldrick Wildlife Trust or visit the Karen Blixen Museum. Or you might simply feel like relaxing on site, where you can wander the bird-filled gardens, dip in the pool, take afternoon tea on the terrace or sip cocktails in the Hemingways bar.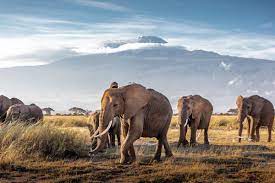 Day 2   10 April, 2024  Nairobi – Amboseli National Park
After a delicious breakfast at Hemingways Nairobi, check-out and transfer to Wilson Airport Nairobi which is the gateway to the flying safaris in Kenya. Your SkySafari will now take to the Air!
Amboseli is Africa at its most iconic. This vastness of open plains, swampland, thorn bush and fever trees unfurls below snow-capped Kilimanjaro, the world's highest freestanding peak and an unrivalled safari backdrop.  And what a safari: part of a two million acre ecosystem, crossing from Kenya into Tanzania, Amboseli is one of the best wildlife-viewing locations around. Most notable are its 100-strong herds of elephants – including big old tuskers – but there's an abundance of other species too, from buffalo and hyena to lion and cheetah as well as over 600 types of birds.   Accommodation:  Elewana Tortilis Camp (or similar) 2 nights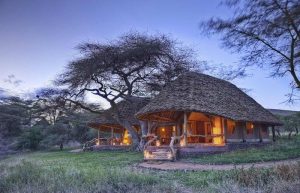 The opulent thatched tents of Elewana Tortilis Camp, your Amboseli base, nestle in a private conservancy, gazing across at Kilimanjaro.  An ecotourism award- winner, Tortilis delivers high comfort with a low environmental impact. It also employs some of the best guides in the business, who will reveal both Amboseli's star attractions and its minute, magical details.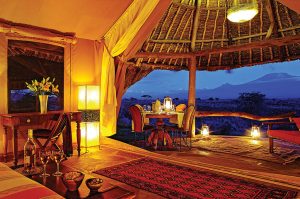 Day 3  11 April, 2024  Amboseli National Park  Set your alarm early for the morning game drives. This is when the plains stir, the animals are most active, the big cats are returning from a night of hunting. These are also the golden hours for photographers, as dawn light rose-tints the savannah and Kilimanjaro is most likely to be free of cloud. A lavish breakfast, devoured out in the bush, more than makes up for the 5am start.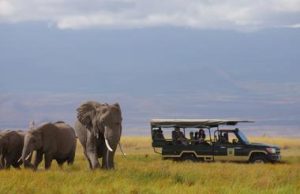 Your days don't end there. Head out on afternoon drives for more encounters – maybe elephants up- close, giraffes drinking at the waterholes and raptors swooping above. Or stride out on a walking safari for a fresh and exhilarating perspective: follow animal tracks, taste bush herbs, meet the Small Five and be amazed by the antics of insects, while completely (but safely) exposed to the bush.  As the day draws to a close, raise a classic African Sundowner: nothing says safari like an ice-cool G&T, sipped as the sun disappears.
Day 4  Amboseli  – Loisaba Conservancy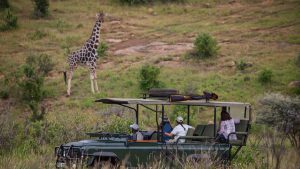 After breakfast fly from Amboseli to Loisaba across the equator. Loisaba is a 57,000 acre conservancy within Laikipia County that is owned by Loisaba Community Trust, a Kenyan Trust incorporated under the Perpetual Succession of Trustees Act, and is committed to wildlife and ecological conservation. The Loisaba mission is to protect and enhance critical wildlife diversity, abundance and habitat in the Loisaba landscape, which sits on the western edge of one of Kenya's most important elephant movement corridors, while concurrently supporting sustainable livestock production and improving the lives of neighbouring communities.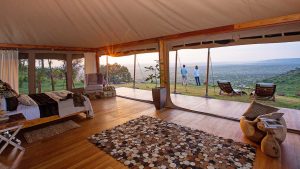 Accommodation:  Loisaba Tented Camp (or similar) 3 nights. Perched on the edge of an escarpment, Loisaba Tented Camp is designed to capitalize on unhindered views across Laikipia's mottled landscape all the way to Mt Kenya. All accommodations and main areas enjoy a breathtaking vantage point over an expansive panorama.  African-themed sophistication and style is the flavour of Loisaba Tented Camp. Spacious and airy tents are custom-built with large floor-to-ceiling doors and windows, high ceilings and polished wood floors. The tent suites are adorned in chic Africana furniture with a modern European twist.  The inviting main areas of Loisaba Tented Camp include a large open dining area, separate open lounge and bar, a large wooden decking area for outside dining, relaxing and enjoying the view, and one of Africa's most picturesque infinity pools.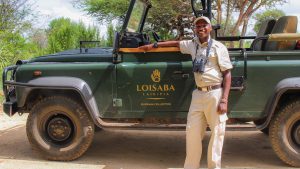 Day 5  13 April, 2024    Loisaba Conservancy Visitors to Loisaba are offered a myriad of activities to experience the wildlife and landscape on many different levels. Loisaba boasts a fleet of brand new custom-designed Land Rover safari vehicles for game driving both day and night. Other activities include horse-riding, camel-trekking, guided bush walks, fishing, mountain biking, cultural visits to Samburu villages and visits to the anti-poaching sniffer dogs.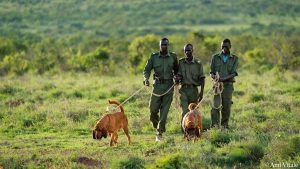 Visit the conservancy headquarters to see the extraordinary work being done here and meet the sniffer dogs and the anti-poaching team to find out how they safeguard the wilderness.  Comprising bloodhounds and their human handlers, the team make daily recess of the conservancy's 57,000 acres to help protect its precious wildlife.  The demonstration will detail how the animals are able to track poachers, alongside the training and activities they undergo to ensure the continued security of the conservancy and its surrounding communities.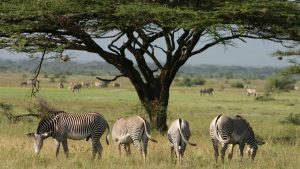 Day 6  14 April, 2024   Loisaba Conservancy  Another full day exploring Laikipia. Set against the backdrop of Mt Kenya, the Laikipia plateau extends over 9500 sq km of semi-arid plains, dramatic gouges and acacia-thicket-covered hills. This patchwork of privately owned ranches, wildlife conservancies and small-scale farms has become one of the most important areas for biodiversity in the country, boasting wildlife densities second only to those found in the Masai Mara.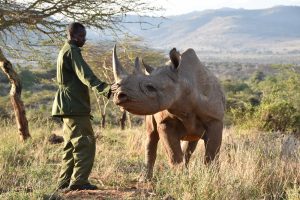 It's the last refuge of Kenya's African wild dogs and it's here that some of the most effective conservation work in the country is being done. Indeed, these vast plains are home to some of Kenya's highest populations of endangered species, including half of the country's black rhinos and half of the world's Grevy's zebras. Loisaba Conservancy provides a safe haven for more than 260 species of birds and 50 species of mammals, including lions, wild dogs, reticulated giraffe, and the endangered Grevy's zebra. It also lies within an important movement corridor for the country's second-largest population of elephants.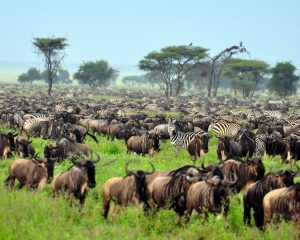 Day 7  15 April, 2024    Loisaba – Masai Mara   This morning,  depart for the Masai Mara on your SkySafari flight. After flying about 90 minutes, you will land in the middle of the Masai Mara Reserve.  Nowhere in Africa is wildlife more abundant than the magnificent Masai Mara. Creatures galore roam these sweeping, acacia-dotted plains. And while the seasonal migration of two million wildebeest, zebra and gazelle crossing from the Serengeti is one of Mother Nature's greatest spectacles, the profusion of wildlife here – from 450 species of bird to the Big Five makes it one of the best safari spots year round.
Accommodation: Elewana Sand River Masai Mara (or similar) 3 nights. Located on the banks of a river from which it has taken its name, Sand River Masai Mara is located within the Masai Mara National Reserve, close to the Tanzanian border.   Situated on a secluded and picturesque site, Sand River Masai Mara replicates the heyday of exclusive permanent tented camps of the late 1920's. The interior fixtures and furnishings mirror this period perfectly, reminding all who visit of those countless Hollywood movies that have paid homage to a classic era of African adventure.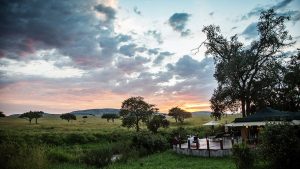 Sand River Masai Mara is an ideal destination, at any time of the year, for those wishing to enjoy exceptional game-viewing. The National Reserve is best known for its large concentrations of big cats, such as leopard, cheetah and, of course, lion.  Sand River Masai Mara comprises of 16-tented accommodations – including 1 family tent – each divided into two separate but adjoining campsites, with each area possessing its own designated dining and public areas, thereby creating an increased sense of exclusivity and privacy.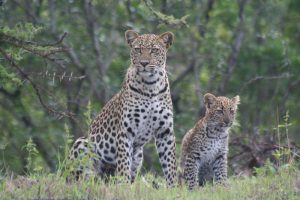 Day 8  16 April, 2024  Masai Mara  Situated in the southwest of Kenya, covering an area of 1,510 square km (583 square miles), the Masai Mara National Reserve is a land of breathtaking vistas, abundant wildlife and endless plains.
The quintessential Masai Mara safari delivers many attractions, as the reserve is home to an excellent year-round concentration of game, including the more than two million wildebeest, zebras and other antelopes that make up the famous Great Migration.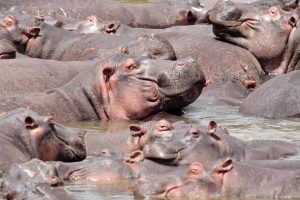 The reserve is a photographer's and naturalist's paradise, with abundant elephant, buffalo, giraffe, lion and cheetah alongside the migratory wildebeest and zebra. Leopards are frequently encountered, endangered black rhino hide in the dense thickets and large rafts of hippo and enormous crocodiles are found in the Mara River. The park is also home to over 450 bird species.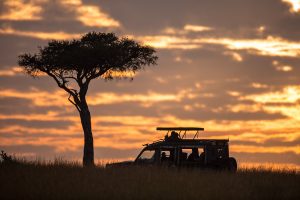 Day 9  17 April, 2024  Masai Mara   Head further afield, in the camp's custom-designed 4WDs, with expert Maasai guides, to look for roaming elephants and lions on the hunt. Then return to base for the most dazzling of endings: a private table, set up in the wilderness, for dinner under the stars.
Day 10  18 April, 2024  Masai Mara – Nairobi  Relax over breakfast before jetting back to Nairobi. Depending on your outbound flight departure, unwind and repack at the now familiar Hemingway's – whether you're about to fly home or continue your journey, you'll want to toast this sublime Kenyan adventure.
Tour cost $16,900  includes:
Single room throughout
Full Board accommodation as per the itinerary
All drinks (excluding premium drinks such as French champagne, single malt whiskey, other premium spirits and all wines on Elewana's Exclusive Wine List)
All transfers to and from the lodges/camps including to & from Jomo Kenyatta International Airport, Nairobi
Domestic flights on our Executive-Class Cessna Grand Caravan, as per the itinerary (Flight schedules may vary depending on operational reasons)
All airport departure taxes, safety fees, fuel surcharges etc for the flights mentioned above
All shared day-time game drives and activities as mentioned in the itinerary
Game drives in specially adapted 4 x 4 safari vehicles with the services of an English-speaking driver-guide
Walking Safaris and Nature Walks
Laundry
All Park & Game Reserve entry fees
* Medical emergency evacuation insurance
Tour cost does not include:
International flights to/from Kenya
Premium drinks as specified above
Other lodge activities not mentioned on the above itinerary, such as a Hot Air Balloon Safari over the Masai Mara
Items of a personal nature
Visas for Kenya
Travel Insurance
Gratuities and Tips
Any Government tax, fee, levy not accounted for at time of quoting as per our Terms & Conditions
Please note:   This tour involves services which are settled in a number of currencies and the exchange rate has been calculated on rates current at the time of uploading this tour onto our website.  
Should there be a fluctuation of exchange rates of more than 3% from this time to the time we receive payment, we reserve the right to pass on an exchange rate surcharge.
To contact us for reservations or enquiries:
Destination World Travel

PO Box 2040

South Plympton    South Australia   5038      Australia
Phone:  08-8293-6988   Outside of Australia 61-8-8293-6988

Fax:  08-8293-5988        Outside of Australia 61-8-8293-5988
Email:  info@destinationworld.com.au