2018 Tours
Our groups are small and we are honoured that we have a large number of repeat clients who book several trips at a time.  Early reservation is strongly recommended.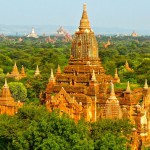 Myanmar & Irrawaddy Cruise   



Yangon, Inle Lake, Mandalay, 7 night Sanctuary Ananda cruise
13 September, 2018 – 26 September, 2018
Journey to untouched Myanmar (Burma),  one of the most magical and undiscovered destinations in the world; a golden land of breathtaking beauty and charm that is steeped in fascinating history and traditions, a land where holy men clad in traditional longyi are revered, thousands of ancient, religious stupas rise out of flat plains and floating-village life ebbs and flows upon Inle Lake.     Then we have three nights to experience the serenity of Inle Lake, often described as  most magical place of  Myanmar and famous for its scenic beauty and the unique leg-rowing of the Inthas, the native lake-dwellers.  Picture a vast, serene lake – 13.5 miles long and seven miles wide – fringed by marshes and floating gardens, where stilt-house villages and Buddhist temples rise above the water, and Intha fisherfolk propel their boats along via their unique technique of leg-rowing. Surrounding the lake are hills that are home to myriad minorities: Shan, Pa-O, Taung Yo, Danu, Kayah and Danaw, who descend from their villages for markets that hopscotch around the towns of the region on a five-day cycle. We continue our journey to Mandalay where the luxurious, all-suite ship Sanctuary Ananda takes us in style for seven nights on a voyage of breathtaking beauty and discovery downstream and upstream on the beautiful Irrawaddy River to Bagan and then back to Mandalay.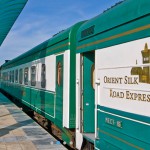 Legendary Silk Road Express



Ashgabat, Turkmenistan to Almaty Kazakhstan
16 October, 2018 – 29 October, 2018
The Orient Silk Road Express train offers the best possible comfort for travelling the legendary Silk Road.   This once-in-a-lifetime Central Asian train journey,  follows the legendary Silk Road back in time, across three countries ad takes in seven breath-taking UNESCO World Heritage sites.   We'll explore the winding streets and market life of Khiva and Bukhara, discover enchanting backstreets, vast gateways, glittering domes, and ancient city walls.  You'll feel as if  the stories of one thousand and one nights have come to life.  See the desert sun in Registan Square, the most beautiful square in the Orient and enjoy insights into the local way of life, from a folklore show in a madrasah, to lunches in the former Summer Palace of the Emir and an Uzbek family.   You will have sole occupancy of a compartment on the train and sole occupancy of a room on our overnight hotel stays.
 
To contact us for reservations or enquiries:
Destination World Travel

PO Box 2040

South Plympton    South Australia   5038      Australia
Phone:  08-8293-6988   Outside of Australia 61-8-8293-6988

Email:  destinationworld@internode.on.net