Silversea Silver Dawn Copenhagen to Copenhagen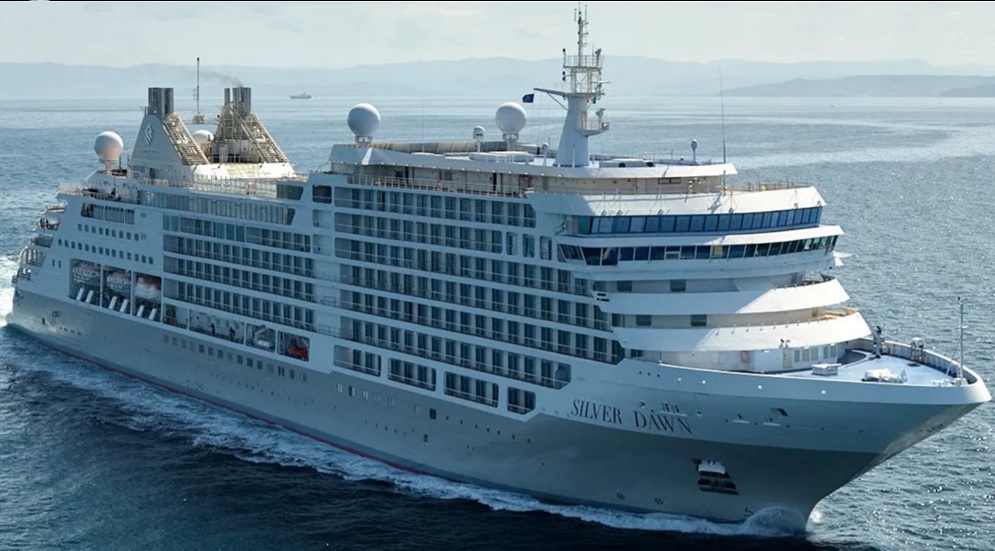 Come and join us as we sail aboard the brand new Silver Dawn.  Launched in April, 2022, and with capacity for just 596 passengers,   Silver Dawn is large enough to offer eight dining options – yet small enough for the famed Silversea on board ambience. 2 countries and 9 ports with a choice of shore excursions from each port included in the price, all meals, drinks, gratuities and entertainment included in the price. Even International economy class airfare is included together with a transfers in each direction from your home to airport (within 80km) and then to the ship.  Option to upgrade to business class or take an air credit if you prefer to make your own air and transfer arrangements.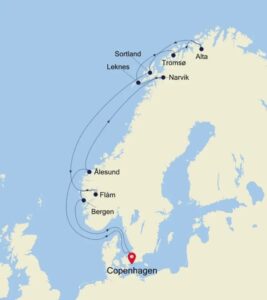 As the best months to see the Aurora Borealis in Norway are from late September to early April when there are more hours of darkness during the polar night, you could very well have opportunity to perhaps tick off the iconic Northern Lights on this round trip from Copenhagen. Your first stop is the glorious Ålesund, where the mountains and fjords meet the ocean. Sail north to Alta, where you can experience the scenic splendour of clear skies and waters. Sail on to Tromso before your arctic adventure continues with days in the beautiful Norwegian towns of Sortland, Leknes, Flåm, and Bergen before it's back to the capital.
Copenhagen, Denmark – round trip back to Copenhagen
Commencing Copenhagen 06 October, 2023
*Escorted on board Silversea Silver Dawn
Guaranteed SINGLE occupancy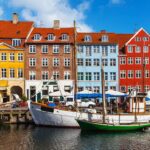 Day 1  06 October, 2023      Copenhagen, Denmark      Ship sails at 7pm
For those travelling on Silversea packaged flights, you will be met at the airport and transferred directly to board Silver Dawn.
Day 2  07 October, 2023       At sea  Days at sea are the perfect opportunity to relax, unwind and catch up with what you've been meaning to do. So whether that is going to the gym, visiting the spa, whale watching, catching up on your reading or simply chatting with new friends,  these blue sea days are the perfect balance to busy days spent exploring shore side.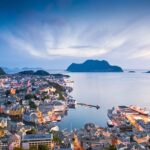 Day 3    08 October, 2023     Alesund, Norway    Ship arrives at 12noon and departs at 7pm    *Choose one of 4 complimentary excursions e.g. Alesund Highlights, Art Nourveau City Walk, The Unique Islands of Giske and Godoy or Hiking Sugar Lump Mountain or choose from 4 others with additional cost.
Decorative turrets, pastel-coloured paint and elegant buildings reflect in the glass-smooth harbour waters of Ålesund, welcoming you to one of the world's finest havens of Art Nouveau architecture. A perfect complement of natural and man-made beauty, the city's distinctive jugendstil style is enhanced by a thrilling location amid colossal fjord scenery. Geirangerfjord World Heritage Site of is one of Norway's most spectacular fjords, and it comes alive in summer with gushing meltwater falls plummeting from steep banks to pristine water below. Undoubtedly one of the most beautiful towns in Norway, practically every building in Ålesund boasts fantastical flourishes and eccentric quirks. Rebuilt from the ashes of the devastating fire that swept through in 1904, the town is now a unique historic treasure trove. Wander fairy-tale cobbled streets, and admire endless dainty turrets and decorative swirls, before reaching the Aksla Viewpoint and letting the true majesty of the town's dreamlike setting wash over you, while gazing over its archipelago.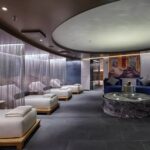 Day 4    09 October, 2023    At sea     Finding relaxation is one of the principle aims of taking a cruise so why not visit the Otium Beauty Spa for the ultimate indulgence.  Alternatively, work out in the well-equipped Fitness Centre, take a class in circuit training or Pilates in the aerobics room, and let the sauna and steam rooms work their magic to soothe every muscle. Silversea offers seminars ranging from aromatherapy and nutrition to how to burn fat. A holistic approach to wellness fully integrates exercise, fitness and spa therapies with health lectures and nutritious dining to help you maintain a healthy lifestyle, even while away from home.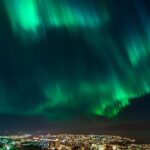 Day 5  10 October, 2023    Narvik,  Norway   Ship arrives at 8.00am and departs at 11pm  *Choose one of 2 complimentary excursions e.g. Swedish border via coach and train or Narvik Highlights or choose from 2 others with additional cost.
In the middle of Norway's fjords, islands and northern wonders, Narvik, is an ideal base from which to explore this magical region. A city since 1902, it sits on the coast of Ofotfjorden inside the Arctic circle. This northerly latitude means Narvik bathes in the midnight sun during summer's months and is witness to the dazzling displays of the northern lights, which enchant as they spill across the stars. Crisp, clear skies make Narvik a prime destination for northern lights viewing, and the natural setting of spiky mountains and soaring fjords generates a truly glorious spectacle amid incredible staging. Gondolas sway up to the slopes of Narvikfjellet ski resort, which can tempt with fantastic skiing, but also provides a prime spot for views of the lights flashing above. Look out over the vast panorama of the town curving along the fjord's banks, the Fagernesfjellet mountain, and – hopefully – the emerald spread of the natural light display. Polar Park Arctic Wildlife Centre grants Norway's wildest animals – including wolves, bears and lynx – with a protected haven. Elsewhere, a vast railway, which once transported iron ore to the Swedish border, now provides a dramatic rumble through the best of Norway's mountain scenery and is one of the country's most mesmerising rail journeys. Narvik was heavily affected by the Second World War, and the city's museum explains north Norway's strategic importance and explores the German occupation here, as well as the decisive battle for the city's liberation.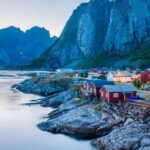 Day 6    11 October, 2023    Leknes, Norway     Ship arrives at 7.00am and departs at 5.00pm  *Choose one of 3 complimentary excursions e.g. Lofoten Impressions and Viking Museum, Utakleiv-to-Haukland Beach Nature Trek, or Scenic Lofoten & Local art or choose from 2 others with additional cost.
Blessed with some of the most spectacular scenery in Norway (and goodness only know that this is land blessed with rolling hills, soaring peaks, valleys, tranquil fjords and white sandy beaches, so the competition is high!), Leknes is what Norway is meant to be. Pretty red houses lay dotted on the green covered hills, and the midnight sun is rises above the horizon from 26th May to 17th July, (while in winter the sun does not rise from 9th December to 4th January). Part of the stunning Lofoten islands, this pretty port offers much in the way of recreation, although understandably most of this is outdoor based. Take a boat ride around the archipelago, try your hand at some deep sea fishing, or simply stroll thought the city centre, perhaps rent a bicycle and discover the hinterland at your own pace. Bikes can be easily rented and note that hybrid and electric bikes are a great option for those who might be a bit out of practice with their pedal power. Gastronomes with a sweet tooth will be rewarded with one simple pleasure: a fresh-from-the-oven skillingsbolle – or big, fluffy cinnamon rolls, fit for indulging in if all the fresh air has made you hungry! Look out for the quirky coffee shops, settle down for some Norwegian kos, say takk for maten and enjoy!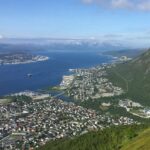 Day 7   12 October, 2023      Tromso, Norway    Ship arrives at 7.00am and departs at midnight   *Choose to take the 1 complimentary excursion e.g. Tromso sights and explorations or choose from 10 others with additional cost.
Feel your heart flutter, as you catch your first glimpse of that famous emerald haze dancing across the stars, during your visit to this wonderful Arctic gateway. Located in the far north of Norway, a visit to Tromso beckons you to the extremes of this magical country, to explore a fairytale land of jagged mountains, glistening glaciers and husky-pulled sledges. Despite its remote location, you'll discover a perhaps surprisingly cosmopolitan city, with a healthy student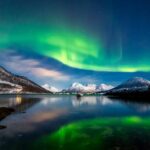 population injecting plenty of energy. Sat 250 miles above the Arctic Circle – at 69° north – you can bathe in the midnight sun's glow during summer, before winter brings the thick blackness and starry skies of endless polar nights. To get the best view over the city, take the cable car to Storsteinen's amazing viewpoint. Magnificent views down over the city, fjord and Tromso's arching bridge will unravel before you. Learn more about northerly traditions, polar expeditions and arctic hunting at the Polar Museum. The Science Centre, meanwhile, explains how humans have harnessed and survived these epic landscapes over the years, and explores Tromso's breathtaking natural spectacle – the northern lights. The city is famed for its extraordinary viewing opportunities, which are often said to be the best in the world. The Alpine Botanic Garden is the most northern such garden on the planet, showcasing some of Norway's hardiest plantlife, which survives and thrives at this nose-bleeding altitude.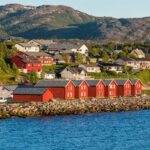 Day 8    13 October, 2023      Alta, Norway      Ship arrives at 9.00am and departs at midnight  *Choose from one of 2 complimentary excursions e.g. Alta Highlights or Huskies visit, or choose from 4 others with additional cost. 
Think glorious white nights, expansive Scandinavian landscape and an extraordinary sense of adventure and you have Alta. This pretty town 375 kilometres north of the Arctic Circle is everything you expect from Norway. Despite Alta being located in Finnmark, Norway's most northern region, the summer climate is very mild. This is largely thanks to its location on the inner part of the Alta fjord and the Gulf Stream. The fjord itself stretches for 38 kilometres in total and splits into two before pouring into the Norwegian Sea. Alta is truly the epitome of Norway – forests, mountains and traditional red wooden huts to one side, fjords, coastal landscapes and abundant marine life to the other. However, there is more to Alta than just meets the eye. The village is home to some 6,000 plus year old rock carvings. These exceptional examples of rock art prove the existence of humans in the far north in the prehistoric era. The carvings are so important that they were granted in 1985, and remain the only prehistoric monument in the whole of Norway. Other sights in the village are the striking Northern Lights Cathedral, and the Alta Museum (and why not enjoy a deliciously fresh crab salad in the café while you are there, as the view is one of the most spectacular you are ever likely to see). The indigenous Sami people still thrive in the region, and a chance to spend the day trying traditional food and activities such as dog sledging will be a blessing those who like to immerse themselves in local cultures.
Day 9    14 October, 2023      At sea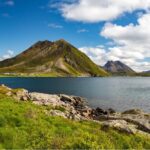 Day 10   15 October, 2023     Sortland, Norway   Ship arrives at 7.00am and departs at  4.00pm    *Choose from one of 2 complimentary excursions e.g. Fishing Villages of Vesterålen or Salmon Farming  or choose from 2 others with additional cost.
Sortland, high up in northern Norway and well north of the artic circle may well conjure up snowy white images but this town is all about colour. Sortland literally means "Black or Dark Country" in old Norse but in in 1999, local artist Bjorn Elenes, decided to paint the entire town in various shades of blue. 50,000 litres of paint later and Sortland is now known as the "Blue City".  Sortland is the largest town on Langoya island and is the beating heart of the Vesteralen archipelago, with busy cafes, restaurants and shops. It's an area of outstanding natural beauty, where dramatic craggy mountains and coastal flatlands meet white sandy beaches.   Look up to the skies to witness the most incredible of natural phenomena, the Northern Lights. Sortland's latitude makes it superbly placed to see the lights and feel the wonder as the sky becomes alive and the intense colours, green, red and purple swirl and dance across the sky. They will ensure your visit to Sortland is unforgettable.
Day 11    16 October, 2023      At sea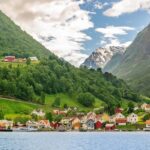 Day 12    17 October, 2023      Flam, Norway       Ship arrives at 7.00am and departs at 4.00pm   *Choose one of 3 complimentary excursions e.g.  Flåm Railway & Coffee Break at Vatnahalsen, Stalheim with Museum & Tvinde Waterfall or Nærøyfjord Cruise & Gudvangen or choose from 2 others at additional cost.
If we haven't said it already, Norway's luxury is its sheer natural beauty. And at the very top of the pile is the all-inclusive Flam, a destination that is home to Glacial waterways lined by evergreen forests amidst jagged mountains and sheer cliff walls. Situated inland, on the arm of the 204-kilometre Sognefjord, the village has just 400 inhabitants. Its little size does not belie its gigantic heart, and Flam's expansive loveliness knows no bounds. In fact, UNESCO has dedicated the Sognefjord as a World Heritage Site for its exquisite natural beauty. There are many ways to imbibe in the beauty of this destination. Some of the more peaceful among you will enjoy just drinking it all in from the veranda or deck of your ship, while adrenaline bunnies will most probably want to jump in a Zodiac and gain first-hand experience that way. But beware! Travelling the shores of one of the deepest fjords may be exciting but it is also fast, wet and bumpy! Most visitors will not want to miss out on a one-hour train journey that has been describes by more than one source as being "the world's most beautiful". The Flam railway is iconic and will have you holding your breath as your travel through steep, winding roads, around massive mountains, and past gushing rivers and waterfalls. Scary? A little. Picturesque? No question. Worth it? Most definitely.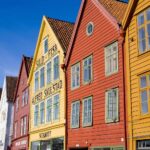 Day 13    18 October, 2023      Bergen, Norway      Ship arrives at 8.00am and departs at 10.00pm    *Choose one of 3 complimentary excursions e.g. Troldhaugen & Grieg Piano Concert, Best of Bergen or Bergen On Foot & Ice Sculptures or choose from 8 others at additional cost.
The crooked, pastel-coloured warehouses of Bergen's World Heritage waterfront lean together charmingly, welcoming visitors to this city at the heart of Norway's most extraordinary cinematic landscapes. It may be the country's second largest city, but the villagey feel here always provides a warm welcome – even when the weather is living up to its famously damp reputation. Bergen's colourful waterfront, Bryggen, is a ramshackle line-up of incredible Hanseatic warehouses, built following the devastating fire of 1702, which ransacked the city. These iconic warehouses have stood proudly ever since, with Bergen growing and expanding around the colourful facades. Behind them, a labyrinth of narrow alleyways and wooden decking waits, alive with artisan craft shops and bustling galleries. Fløyen mountain watches over the city, and you can take a short but steep hike up to the panoramic viewpoints, or jump on the funicular, which trundles visitors up and down the incline. At the top, spectacular views of Bergen jutting out into the dark seas below unfold before your eyes. Wait until evening to see the sunset painting glorious golden light across the city and waves, and Bergen's lights flickering into life. Nærøyfjorden, a deeply etched fjord nearby, is perhaps Norway's most photographed and iconic piece of scenery. A cruise through the base of this spectacular narrow fjord, parting the glass-smooth inky waters, is an utterly humbling experience, as the claustrophobically-close slopes rise imposingly over you. Sognefjord also stretches out nearby, and is Norway's longest fjord, adorned with plunging waterfalls and vibrant farms during summer.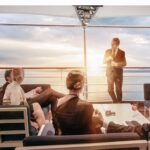 Day 14     19 October, 2023      At sea   Our last sea day this cruise and we must think about the inevitable packing to return home tomorrow.   It's a last chance to spend any left over shipboard credit you may have or just relax, unwind and catch up with what you've been meaning to do. So whether that is going to the gym, visiting the spa or shops on board, catching up on your reading or simply chatting with new friends,  this last sea day is a perfect opportunity to do just as you want to do.
Day 15    20 October, 2023       Copenhagen, Denmark    Ship arrives at 7.00am   Sadly our cruise has come to an end.   For those travelling on Silversea packaged flights, you will be transferred from the ship to the airport for your flight home.
 *  N.B. The complimentary excursions listed above are provided as a sample of what may be offered on this voyage and are subject to change.  Up to date information will be available approximately 180 days prior to sailing.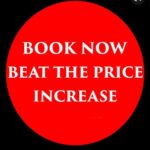 *Prices in Australian dollars for single occupancy are:
Deluxe Veranda      $AU 17,425
Superior Veranda   $AU 16,788
Classic Veranda      $AU 16,150
Panorama               $AU 14,875
Vista                       $AU 13,281
* Book by May 31st, 2022 and make sure you get the best fare and your preferred suite.
Prices will increase after May 31st, 2022, but may do so even before subject to availability.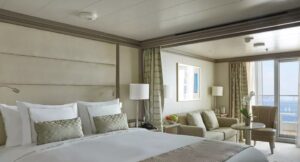 The difference between deluxe, superior and classic veranda is just the location of the cabin on the ship e.g. the deluxe are amidships and in the heart of the ship while superior and classic are forward or on upper deck.   The size and layout of these categories are exactly the same.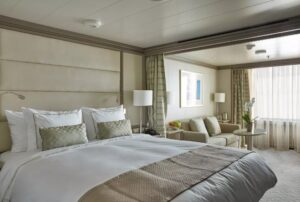 The difference between Vista and Panorama cabins is mainly the size of the window.  The cabins themselves are the same size and similar layout except  Vista has a picture window.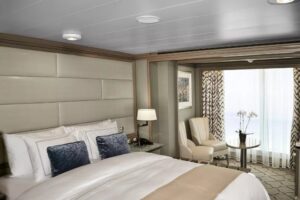 And Panorama has a much larger – almost floor to ceiling, window.  This does not open though – if you want fresh air you will need to upgrade to one of the veranda cabins.
Cost includes:
Private transfer from your home (within 80km of international airport), to airport and return
Economy class return international airfare *
Transfer from airport to ship and return
Butler service in every suite
Unlimited Free Wifi
Personalised service – nearly one crew member for every guest
Multiple restaurants, diverse cuisine, open-seating dining
Beverages in-suite and throughout the ship, including champagne, select wines and spirits
24-hour dining service
Onboard entertainment
One complimentary shore excursion in each port with additional shore excursions available for purchase
Complimentary transportation into town in most ports
Onboard gratuities
Services of an Australian escort on board Silver Dawn
Cost does not include:
Upgrade to business class is additional $AU5498
Travel insurance
Anything not mentioned in 'inclusions'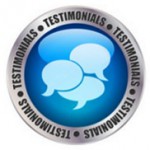 To contact us for reservations or enquiries:
Destination World Travel

PO Box 2040

South Plympton    South Australia   5038      Australia
Phone:  08-8293-6988   Outside of Australia 61-8-8293-6988

Email:  destinationworld@internode.on.net