Silversea Muse cruise Auckland to Melbourne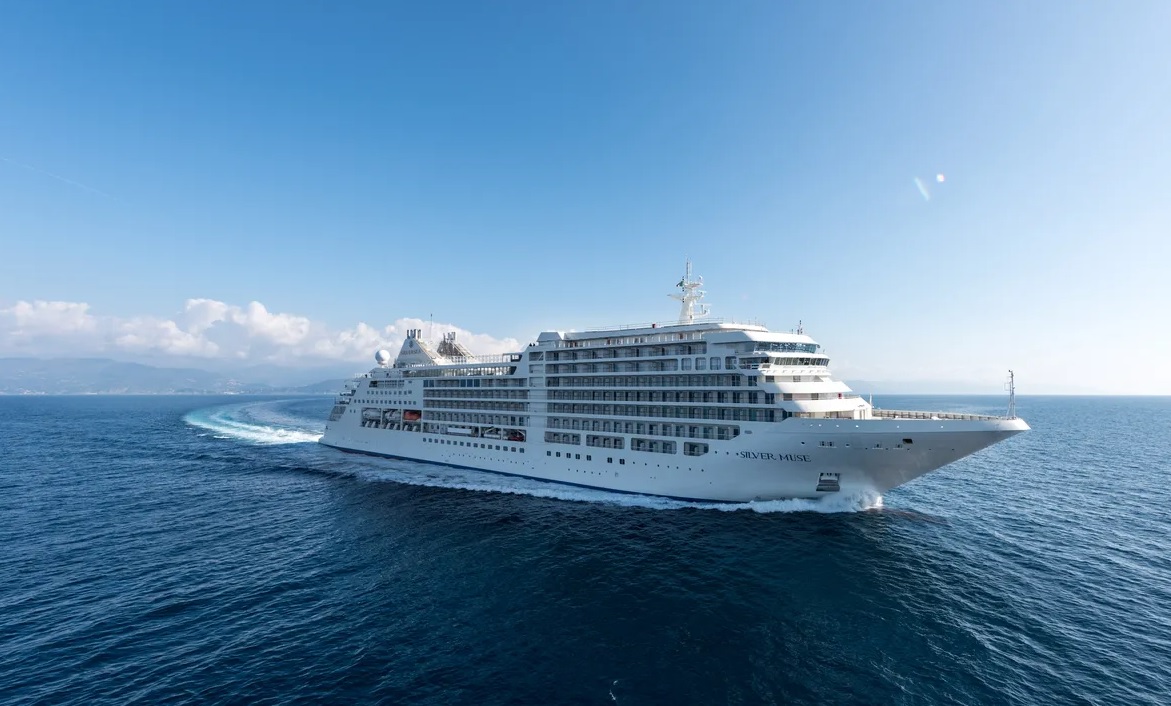 Come and join us as we sail from Auckland to Melbourne on the luxurious Silversea Silver Muse.  Delivered in 2017,  Silver Muse accommodates a maximum of 596 guests and redefines ultra-luxury ocean travel – enhancing the small-ship intimacy and spacious all-suite accommodations that are the hallmarks of the Silversea experience.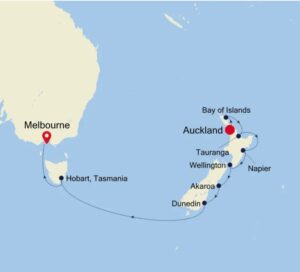 2 countries and 9 ports with a choice of shore excursions  from each port included in the price, all meals, drinks, gratuities and entertainment included in the price, only one international airfare to budget for to join the ship in Auckland, and then 12 days  taking in stunning beauty, rugged shores, fascinating history and some very fine wine to boot! A fusion of big cities – Wellington, tartan flare – Dunedin, rolling vineyards – Hobart, and days at sea – we think this voyage is a perfect way to begin 2023.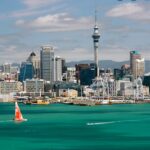 Day 1  04 Jan, 2023     Auckland, New Zealand   Make your own way to Auckland. We recommend you arrive at least a day prior to cruise departure and would be happy to assist you with this. Use your frequent flyer points or we will find the best airfare for you and team you up with others in the group who may be on the same flight. Make your way to the cruise ship terminal to board Silversea Silver Muse  Ship sails at 7pm.
Auckland offers an urban environment where most people live within half an hour of beautiful beaches, hiking trails and a dozen enchanting holiday islands. Add a sunny climate, a background rhythm of Polynesian culture and a passion for outstanding food, wine and shopping, and you're beginning to get the picture of Auckland, New Zealand's largest and most diverse city.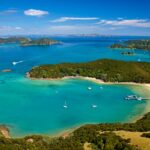 Day 2  05 Jan, 2023   Bay of Islands      Ship arrives at 8.00am and departs at 5.00pm
* Choose one of 4 complimentary shore excursions  e.g. Bay of Islands Maori Heritage, Kawiti Glowworm Caves & Kawakawa, Northland Maori Waka Adventure or a Relaxing Russell Cruise or choose from 4 others that have additional cost.
Northland is a story of two coastlines – the west coast is rugged and soulful while the east coast is relatively more sophisticated and urbane. In the beautiful Bay of Islands you can take a boat cruise, view dolphins, dive, fish or just relax in the sun. Be sure to visit Waitangi Treaty Grounds, one of New Zealand's most significant historic sites.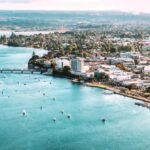 Day 3  06 Jan, 2023  Tauranga      Ship arrives at 8.00am and departs at 4.00pm
* Choose one of 2 complimentary shore excursions e.g. Geothermal wonderland or Discover Tauranga, or choose from 9 others that have additional cost.
Tauranga is the largest city in the Bay of Plenty and one of the fastest growing population centres in the country.  Downtown Tauranga has several historically significant areas to view during a scenic walk around the area. The Strand waterfront area is modern and always buzzing, and is home to a number of cafés, restaurants, pubs and nightclubs. Across the road on the water's edge, tidal stairs bring the harbour literally to your feet and children are easily entertained at the local playground. Imaginations run wild as they clamber over the Hairy Maclary bronze sculptures – a story-book scene featuring the beloved characters from Tauranga author Dame Lynley Dodd's famous children's books.  Tauranga's harbour is in evidence almost everywhere you go, providing the urban area with an attractive waterfront setting.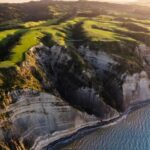 Day 4  07 Jan, 2023  Napier      Ship arrives at 12noon and departs at 7pm
* Choose one of 3 complimentary shore excursions e.g. Arch of the Ancestors, Boutique Wineries: Abbey Cellars & Clearview Estate or Hawke's Bay Express or choose from 4 others that have additional cost.
Street after street of stunning and beautifully-restored Art Deco buildings have made Napier famous as one of the most complete collections of Art Deco buildings in the world. In 1931 a massive earthquake rocked Hawke's Bay for more than three minutes, killing nearly 260 and destroying the commercial centre of Napier.  Rebuilding began almost immediately, and new buildings reflected the architectural styles of the times – Stripped Classical, Spanish Mission and Art Deco. Napier is often referred to as a 1930s film set, and one of the best ways to enjoy the streetscape is on a self-guided walk – ask for a map at the information centre or at the Art Deco Trust. Guided walks around the city are also available every day rain or shine (except Christmas Day!)
Day 5  08 Jan, 2023       Wellington  Ship arrives at 9.30am and departs at 7.00pm
*  Choose one of 4 complimentary shore excursions e.g. New Zealand's capital, In the Footsteps of Lord of the Rings, The Storm Coast or Zealandia Ecosanctuary and Cable car or choose from 5 others that have additional cost.
Surrounded by nature and fuelled by creative energy, Wellington is a compact city with a powerful mix of culture, history, nature and cuisine. Fuel your visit with strong coffee and world-class craft beer – Wellingtonians are masters of casual dining, with plenty of great restaurants, night markets and food trucks.  Relax at Oriental Bay, Wellington's golden-sand inner-city beach and delve into the many museums, art galleries and theatre shows that make up the city's pulsing cultural scene. If you're into the outdoors, Wellington has action-packed adventure activities like mountain biking and sea-water kayaking, as well as beautiful walks around the harbour and surrounding hills. Try the visually stunning Makara Peak track, as well as the City to Sea walk where you can experience the best of Wellington's waterfront. Ride the cable car up the hill to Kelburn for amazing views over the city and enjoy an ice cream at the top.   On the waterfront itself you'll find New Zealand's national museum. Te Papa, as it's colloquially known, means 'our place' and is one of the best interactive museums in the world.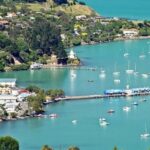 Day 6  09 Jan, 2023   Akaroa       Ship arrives at 8.00am and departs at 6.00pm
**  Choose one of 3 complimentary shore excursions e.g. Akaroa Harbour Cruise, Wildlife cruise by Sailing Ketch or Christchurch at Your Leisure, or choose from 5 others that have additional cost.
The most French town in New Zealand, Akaroa will have you entranced with its historic buildings, magnificent harbour and passion for fine food.  An easy drive south-east of Christchurch, Banks Peninsula is the South Island's most interesting volcanic feature. Originally an island formed by two volcanic cones, the peninsula has two dominant craters which form Lyttelton and Akaroa Harbours. The peninsula was named for botanist Joseph Banks, who sailed with Captain James Cook on the Endeavour.  Located on the south east side of the deep, sheltered Akaroa Harbour, the charming township of Akaroa has a special point of difference – it was the only French settlement in New Zealand.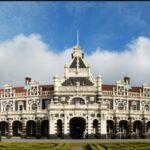 Day 7  10 Jan, 2023  Dunedin (Port Chalmers)      Ship arrives at 8.00am and departs at 6pm
*  Choose one of 3 complimentary shore excursions e.g.  Otago Wildlife Cruise, Larnach Castle & Olveston House or Nature's wonders or choose from 7 others that have additional cost.
Known as the Edinburgh of New Zealand, Dunedin wears its Scottish heritage with pride. Surrounded by dramatic hills and at the foot of a long, picturesque harbour, Dunedin is one of the best-preserved Victorian and Edwardian cities in the Southern Hemisphere.  On Dunedin's doorstep, you will also find incredible wildlife including the world's rarest penguin colonies. On the beaches, you will find the fur seals and sea lions just lazing around and enjoying their natural habitat.  Dunedin's heritage extends to a real castle, high on the hills of the Otago Peninsula. Larnach Castle is New Zealand's only castle and much-loved piece of Dunedin history.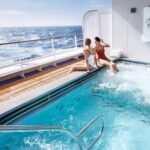 Day 8  & 9  11 Jan & 12 Jan, 2023      At sea   Days at sea are the perfect opportunity to relax, unwind and catch up with what you've been meaning to do. So whether that is going to the gym, visiting the spa, whale watching, attending enrichment lectures, catching up on your reading or simply topping up your tan, these blue sea days are the perfect balance to busy days spent exploring shore side.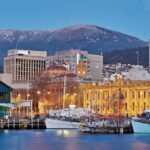 Day 10    13 Jan, 2023  Hobart       Ship arrives at 6pm and remains in port overnight.
Combining heritage charm with modern luxuries, Hobart, nestled at the foothills of Mount Wellington, truly is beautiful. Tasmania's capital, and the second oldest capital in Australia after Sydney, Tasmania is a mixture of bustling city, bushland and beaches. And it's most definitely a city that will please everyone, with history, waterways, rugged mountains and gourmet experiences to enjoy.
Day 11  14 Jan, 2023      Ship sails at 6pm tonight.   *  Choose one of 3 complimentary excursions e.g. Hobart Highlights, Tassie Devils & Richmond or Hobart Storyteller Walk, or choose from 10 others that have additional cost.  Whether it's walking around Battery Point to see the historic houses dating from the first European settlement, heading up to the summit of Mount Wellington to enjoy the spectacular views of the city and harbour, or simply strolling around the art galleries and stopping into the fabulous restaurants for a bite (or three), you'll be kept busy from dawn until dusk.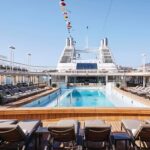 Day 12  15 Jan, 2023  At sea
Day 13  16 Jan, 2023  Melbourne       Ship arrives at 7.00am   Sadly our cruise has come to an end and we disembark after breakfast.
N.B. The complimentary excursions listed above are provided as a sample of what may be offered on this voyage and are subject to change.  Up to date information will be available approximately 180 days prior to sailing.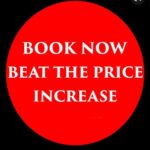 *Prices in Australian dollars for single occupancy are:
Deluxe Veranda      $AU 14,471
Superior Veranda   $AU 13,961
Classic Veranda      $AU 13,451
Panorama               $AU 12,176
Vista                       $AU 11,029
* Book by May 31st, 2022 and make sure you get the best fare and your preferred suite.
Prices will increase after May 31st, 2022, but may do so even before subject to availability.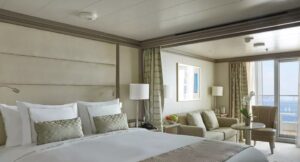 The difference between deluxe, superior and classic veranda is just the location of the cabin on the ship e.g. the deluxe are amidships and in the heart of the ship while superior and classic are forward or on upper deck.   The size and layout of these categories are exactly the same.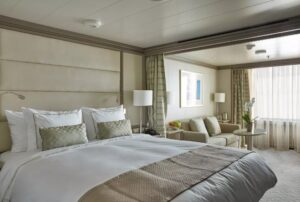 The difference between Vista and Panorama cabins is mainly the size of the window.  The cabins themselves are the same size and similar layout except  Vista has a picture window.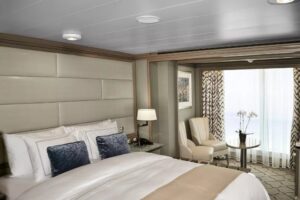 And Panorama has a much larger – almost floor to ceiling, window.  This does not open though – if you want fresh air you will need to upgrade to one of the veranda cabins.
Cost includes:
Butler service in every suite
Unlimited Free Wifi
Personalised service – nearly one crew member for every guest
Multiple restaurants, diverse cuisine, open-seating dining
Beverages in-suite and throughout the ship, including champagne, select wines and spirits
24-hour dining service
Onboard entertainment
One complimentary shore excursion in each port with additional shore excursions available for purchase
Complimentary transportation into town in most ports
Onboard gratuities
Services of an Australian escort on board Silver Muse from Auckland to Melbourne
Cost does not include:
Air travel and air ticket taxes
Transfers to join the ship in Auckland
Pre and post cruise land arrangements
Travel insurance
Anything not mentioned in 'inclusions'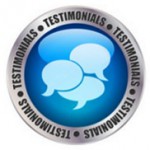 To contact us for reservations or enquiries:
Destination World Travel

PO Box 2040

South Plympton    South Australia   5038      Australia
Phone:  08-8293-6988   Outside of Australia 61-8-8293-6988

Email:  destinationworld@internode.on.net