Tanzania Wildebeest Migration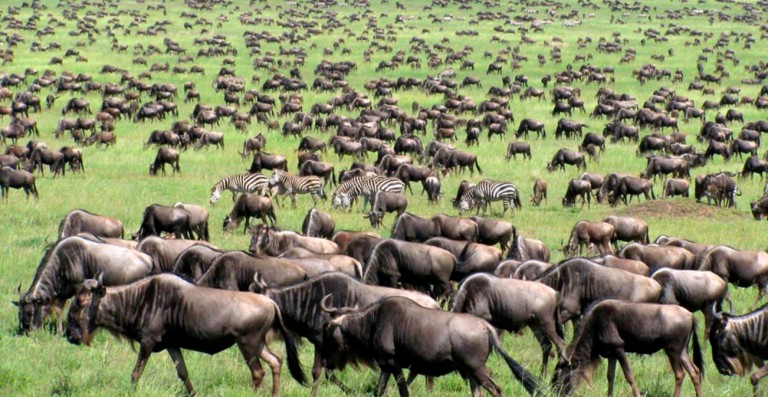 The endless plains of East Africa are the setting for the world's greatest wildlife spectacle on earth – the million-plus wildebeest migration.    During the period January through March the seemingly unending short grass plains of the southern Serengeti, and the Ngorongoro Conservation Area, are inhabited by enormous herds of wildebeest and zebra.  Pregnant female wildebeest are attracted to the calcium and magnesium rich grass which is good for milk production.  Calving occurs late January through mid March when over 80% of the female wildebeest give birth over a period of a few weeks.  An estimated 400,000 wildebeest calves are born during this period.
This is a wonderful time of the year to visit this part of Africa and our safari will leave you with special memories that will last a lifetime.    Come and join us – you'll be so glad you did.
Escorted from Australia**
Guaranteed SINGLE room
07 February, 2020 –  23 February, 2020 
Day 1    07 February, 2020    Australia – Arusha, Tanzania   Based on current flight schedules (as at Jan '19) we suggest flying with Qatar Airlines via Doha to Kilimanjaro.  **We will meet in Doha and travel together from there. Flights currently depart from Adelaide, Melbourne, Sydney and Perth.  We can book your flights for you and team you up with others in the group or you can use your frequent flyer points.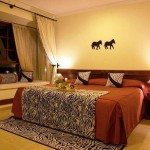 Day 2   08 February, 2020   Arrive Kilimanjaro, Tanzania    Upon arrival at Kilimanjaro airport, provided you are arriving on the same flight as the rest of the group, you will be met and transferred to Arusha.  Dinner is included tonight
Accommodation:  African Tulip Hotel (or similar) overnight
The African Tulip is an elegant and charming Luxury Boutique Hotel located along Serengeti Road right in the heart of Arusha. A warm and friendly welcome awaits guests who want to experience the best of Tanzanian hospitality. The hotel has been designed with safari travellers, business persons, families, honeymooners, elite and leisure travelers in mind. It has amenities of convenience whilst offering a high standard of luxury.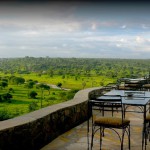 Day 3  09 February, 2020    Arusha – Tarangire National Park
After breakfast we are 'on safari' as we  travel to Tarangire National Park.  Tarangire is one of Tanzania's largest national parks and sanctuary for an unusually large elephant population. Majestic baobab trees are an interesting feature of the park. Animals concentrate along the Tarangire River, which provides the only permanent water supply in the area. There is a great diversity of wildlife including lion, leopard, cheetah and up to six thousand elephant.   After lunch at the lodged, enjoy Enjoy your first afternoon game drive.
Accommodation:   Tarangire Safari Lodge (or similar )  2 nights
Built on top of a high bluff with a breathtaking panorama, our lodge is superbly located in Tarangire National Park, providing one of the best views in Africa. Carving out the landscape below the lodge is the Tarangire River, a favourite watering place, which attracts impressive numbers and a variety of game. The scene unfolds before you while lounging on the outdoor terrace, allowing you to appreciate Tarangire's diverse wildlife. At the heart of the lodge are the impressively high thatched roofs of the lounge and dining room. The open-sided design allows an uninterrupted view of the landscape and wildlife below, and captures the cooling breeze while you dine on delicious home cooked safari cuisine. The lounge area has oversized armchairs made from old dhow boats ~ a perfect place to relax. Those wanting something a bit more active can take a dip in the pool, a bird walk around the lodge grounds or hunt for souvenirs in the Baobab boutique. Our tents combine the authentic safari atmosphere of 'nights under canvas', with more modern comforts of electric light and en suite bathrooms with solar hot water.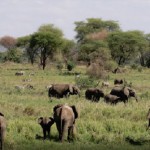 Day 4 10 February, 2020   Tarangire
Today you have a full day to further explore Tarangire National Park.   Any days where you do not need to move parks, and depending on the ranger's advice regarding recent sightings,  we will decide whether to break the day into morning and afternoon game drives or take a picnic lunch for a full day game drive.  Game drives are conducted by experienced local guides in  4×4 vehicles.    Breakfast, lunch and dinner included
Uncrowded and relatively unknown, Tarangire National Park covers approximately 2 850km² just south of Lake Manyara in the northern region of Tanzania. Famous for its vast herds of elephants and forests of enigmatic giant baobab trees, the rugged landscape is incredibly diverse and stands out from any other on the traditional northern safari circuit.
Tarangire is a park for those who want to step that much further off the beaten track to experience a truly wild area. A Tarangire National Park safari boasts large herds of elephant and buffalo, and a remarkable concentration of big cats and is one of the best National Parks in Tanzania. The African wild dog, kudu, oryx and gerenuk, rarely found in other parks in the northern circuit, can also be found here, along with arguably the best bird diversity in Africa. More than 550 species are attracted to its vibrant swamps.
Day 5   11 February, 2020   Tarangire – Ndutu  After breakfast this morning we begin our safari as we travel via the Ngorongoro Crater rim to the area called Ndutu. From the months for Dec-Mar, Ndutu is famous for the migration of wildebeest and zebra. Enjoy a short game drive en route.   Breakfast, lunch and dinner included
Accommodation:   Lake Masek Luxury Tented Camp (or similar) 3 nights
Discover exclusive luxury at Lake Masek Luxury Tented Camp situated in the Ngorongoro Conservation Area overlooking Lake Masek. This unique location is witness to the Wildebeest Migration which takes place from December to April each year. There is resident Big 5 game all year round in the area.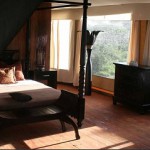 Each luxury tent is raised up on stilts and has three parts: a large bedroom area, a bathroom which is divided off by a wooden partition, and a private veranda, which is completely enclosed by a zipped gauze mesh. This makes the tents cool and keeps the insects out. Inside, dark-wood four-poster beds are hung with mosquito nets and flanked by matching bedside tables. A wardrobe, dresser and writing desk complete the set. White curtains, white linen and stylish cane furniture with white cushions balance well against the dark wood, whilst red-stained floorboards and soft furnishings in burnt oranges and natural browns lighten the effect. In the bathroom, twin basins held up by wrought-iron frames sit below mirrors in carved frames. A stand-alone bath flanked by metal palm sculptures stands nearby and a separate, open-air shower that is paved with tanga stone.   Each tent is fitted with a phone to contact reception, a safe, a hairdryer and plug points for charging batteries. Outside, solar panels generate power to heat the water for readily available hot showers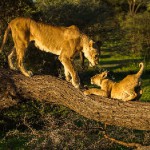 Day 6   12 February, 2020   Ndutu   Today you will be focusing on the migration.    Technically located within the Ngorongoro Conservation Area, although considered part of the Serengeti, means that this is one of the few areas in northern Tanzania's wildlife parks where vehicles can go off-road and get closer to animal sightings – making it a particularly good spot for photographers.   From November to May, migratory herds visit the  area, and provide a feast for the resident predators.  Huge numbers of migratory birds come to eat the abundant insects of the plains and to escape the cold European winter. The lakes attract flocks of flamingos and other water birds. Animal viewing is excellent everywhere. Breakfast, lunch and dinner included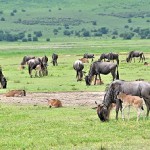 Day 7   13 February, 2020    Approximately 8,000 young wildebeest are born every single day during the peak of the season. There truly is nothing that compares to seeing a baby wildebeest take off running just minutes after being born.  Along with the overwhelming numbers of calves born come the predators. During calving season, the Southern Serengeti and Western Ngorongoro Conservation area host the highest concentration of predators in Africa. Lions, hyenas, and cheetahs show up in large numbers to patrol the grasses, waiting for the perfect time to make a kill. But an easy kill isn't always guaranteed. Female wildebeest instinctively know to head to the short grass plains so that they can see approaching predators. There they form a barricade around birthing mothers to protect them and the young when they are the most vulnerable, during birth, ensuring the majority of the young survive.    Breakfast, lunch and dinner included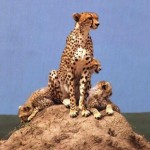 Day 8   14 February, 2020  After breakfast or an early game drive, we travel a short distance to one of the most famous game parks in Africa, the Serengeti. Here you are likely to find lion, cheetah, leopard, hyena and many other small predators. All afternoon will be spent on game drive before enjoying dinner and the experience of sleeping in the middle of the Serengeti.   Breakfast, lunch and dinner included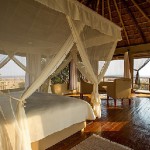 Accommodation:  Kubu Kubu Tented Camp (or similar) 3 nights
Kubu Kubu Tented Camp is situated in the stunning central part of the Serengeti, and is strategically positioned in one of the main migration areas so that guests can enjoy this awesome natural wonder from the comfort of their tents.   Perfectly situated to be within easy reach of different parts of the park and an array of areas of interest and diverse habitats and wildlife, including the famous Maasai Kopjes, Olduvai Gorge Museum, the southern plains, the Seronera valley and the Grumeti River we are guaranteed of some magnificent scenery and most likely animal sightings in abundance.   There are 25 spacious en-suite tents which offer absolute comfort, exclusivity and a genuine African bush experience. In the central restaurant guests can enjoy exceptional food and wines, and the cozy lounge area has been creatively designed to give an atmosphere of intimacy and exclusivity. There is also a swimming pool in which to relax after a long game drive. Internet access is available in the camp with Wifi in the central area.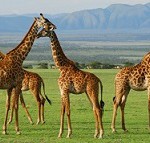 Day 9   15 February, 2020  Today you have a full day to explore the Serengeti. Depending on the game in the area we may decide to either break the day into morning and afternoon game drives or take a picnic lunch for a full day game drive. Breakfast, lunch and dinner included
Day 10   16 February, 2020  You have another full day in this wonderful park and your guide will choose the best spotting locations for the time of year. You can spend time at the Hippo pool, watching these majestic animals laze about in the cool water alongside the crocodiles, watch a big pride of lions or be in the middle of the migration. You can journey from the wide open plains to the kopjes, these volcanic rocky outcrops provide protection and shelter for a wide variety of animals and from the top we can look out across the vast grasslands of the Serengeti. This diverse and interesting landscape will provide us with the ultimate in game viewing.  Breakfast, lunch and dinner included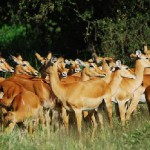 Day 11   17 February, 2020   Serengeti – Karatu  We'll begin the day with an early morning game drive before travelling to the Ngorongoro Crater rim and onto the town of Karatu.   After climbing the Manyara Escarpment, the vegetation becomes more lush and green, finally entering into the highlands around Karatu. The extinct volcano of Ol Deani has gentle slopes and it is a prominent feature of the landscape. In the past, the area around Karatu and Ol Deani was of great importance to the German colonial administration. The area's cool climate, verdant hills, and pleasing views make it popular with settlers and farmers. Vast and extensive fields cover the slopes of the volcano and the lands around Karatu town. Coffee was a main crop grown for export, and a few large farms that remained in private hands still cultivate the cash crop on the hills and small valleys outside of town. Breakfast, lunch and dinner included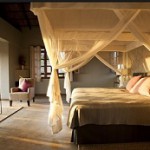 Accommodation: Kitela Lodge (or similar)  3 nights
This small, intimate lodge and spa is set above a valley with glorious views making Kitela an ideal, away-from-the-crowds base from which to explore the region. The main building serves as a hub for luxurious cottages nestled in a landscaped tropical garden.  All cottages are en suite, with shower and bath. Fans cool the air, mosquito nets cover the beds and cozy fireplaces add a wonderful atmospheric touch.
A stylishly decorated lodge and spa with luxuriant gardens and pool, Kitela Lodge is a tranquil haven set in picturesque surroundings. Indulge in a treatment at the African Spa – the perfect place to unwind after the rigours of your safari, or to prepare yourself for the adventure that awaits you. With 20 cottages dotted around the grounds served by a main building, spa, bar and dining area, this is an exclusive and luxurious lodge set close to the Ngorongoro Crater and its abundant wildlife.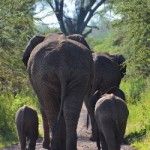 Day 12  18 February, 2020   Ngorongoro Crater
This morning you will descend into the Ngorongoro Crater – a wonderful haven for wildlife. Ngorongoro is unique in that almost all the wildlife live within the crater walls hence you have the opportunity to find game easily.   The Ngorongoro Crater is the best place in Tanzania to see 'The Big Five'. A healthy population of black rhino and some of the largest tusker elephants left in Africa today are the prize spots, but the crater is also home to good populations of lion, leopard and hyena along with healthy herds of wildebeest, buffalo and zebra. Other wildlife here includes serval cat, cheetah, jackal, Grant's and Thompson's gazelle, flamingo and bat-eared foxes, as well as approximately 400 species of bird.   Rhino, in particular, can be seen regularly as well as prides of lion and other predators like cheetah. Enjoy a full day game drive including private picnic lunch by the hippo pond.  Breakfast, lunch and dinner included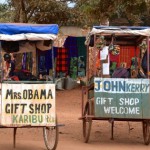 Day 13  19 February, 2020  Karatu 
Today you can enjoy a guided walking tour around the  garden and coffee farm.  Tanzanian coffee may not have the international recognition of coffee from nearby countries such as Ethiopia and Kenya, but coffee has been grown in Tanzania for centuries and is one of the country's largest exports.   Karatu is an ideal growing area because of the mineral-rich volcanic soil and the altitude of the northern highlands.    For those who are interested we can take a stroll in nearby Karatu town,  Visit the marketplace where you can explore rainbow-coloured stalls and small shops that sell a bit of everything from vegetables and spices to Tinga Tinga paintings and carved wooden ornaments. This is a great place to barter for souvenirs and mingle with the locals.  Keep a look out for the little mobile kiosks alongside the main road which have some colourful American namesakes such as the Mrs. Obama and John Kerry gift shops.   The rest of the day is at leisure to enjoy relaxing around the swimming pool.   Breakfast, lunch and dinner included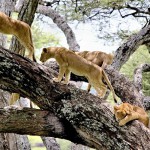 Day 14  20 February, 2020  Karatu – Lake Manyara – Arusha
This morning you will travel into Lake Manyara National Park, described as one of the hidden gems of Tanzania.   While it may lack the size and variety of other northern-circuit destinations, its vegetation is diverse, ranging from savannah to marsh to evergreen forest (11 ecosystems in all) and it supports one of the highest biomass densities of large mammals in the world. The chance to see elephant families moving through the forest or Lake Manyara's famous population of tree-climbing lions (although sighting them is becoming increasingly rare) are alone reason enough to come!  The dramatic western escarpment of the Rift Valley forms the park's western border. To the east is the alkaline Lake Manyara, which covers one-third of the park but shrinks considerably in the dry season.    Accommodation:  African Tulip Hotel (or similar)  2 nights.  Breakfast and dinner included
Day 15  21 February, 2020  Arusha
A leisurely breakfast this morning before spending the day exactly as you want to.  Either exploring some of the sights of Arusha or relaxing by the hotel pool and catching up with your journal and photos.  Perhaps visit Shanga, a successful social enterprise which employs people with disabilities to create unique, high-quality, handmade jewellery, glassware and home wares incorporating recycled materials. These products are sold in Tanzania and all over the world, with profits being reinvested back into developing opportunities to employ more people with disabilities.   Combining an uplifting local community project with unique artistic activities and opportunities to purchase handmade gifts, Shanga has been a favourite Arusha tourist destination since its inception in 2007.  Not far from Shanga is the wonderful Arusha Cultural Heritage Centre where the past and present of Tanzania's 120-plus tribes can be viewed in a single compound. The centre boasts of various carvings, gemstones, artefacts, clothing and books.  Depending on the time, we can have lunch at either Shanga or the Cultural Centre.  Both have a restaurant, coffee shop etc and the food is very good.  Transportation is not included today and those that want to join us,  can share taxis to and from the hotel.
Day 16   22 February, 2020   Arusha – Kilimanjaro airport
Our safari comes to an end today with a transfer back to the airport for our overnight flight home.  We would be happy to assist with your onward travel arrangements.
Day 17  23 February, 2020    Arrive Australia
Tour cost $AU11890 includes:
Services of Australian escorts
SINGLE occupancy of luxury accommodation
All meals as per itinerary
Airport transfers as per itinerary
All game drives – morning + afternoon or full day drives
English speaking driver/guides
Unlimited drinking water on safari
At least 1 pair of binoculars per vehicle
Toyota 4WD
Fridge in the vehicle
Power adaptors for charging cameras and universal adaptors in the vehicles
Park Entry fees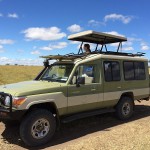 Our safari vehicles are Toyota Landcruisers with pop up roof so you can stand and view the animals.  Each vehicle has 6 client window seats which recline and they are adjustable to move forward or backwards.  This means if you are  tall, we can push the chair back and you will have more leg room.  This feature is unique to our vehicles.  The vehicles also have a fridge for keeping drinks cold and power adaptors for charging cameras, including universal adaptors.
Tour cost does not include:
International airfares and taxes (we can book the flights for you or you can use your frequent flyer points)
Gratuities to driver/guides.  The recommended is $US150 per person for the entire tour.
 Drinks or meals other than specified in the itinerary
Lunch and/or dinner on first night if arriving early
Passport or visa fees
Items of a personal nature
Transfers at any time that differs from main group arrangements
Anything not stated in inclusions
Please note:   This tour involves services which are settled in a number of currencies and the exchange rate has been calculated on rates current at the time of uploading this tour onto our website.  
Should there be a fluctuation of exchange rates of more than 3% from this time to the time we receive payment, we reserve the right to pass on an exchange rate surcharge.
 To contact us for reservations or enquiries:
Destination World Travel



PO Box 2040

South Plympton    South Australia   5038      Australia
Phone:  08-8293-6988   Outside of Australia 61-8-8293-6988

Email:  destinationworld@internode.on.net