Mekong River Cruise

 Mekong River cruise  
Siem Reap to Saigon
'The Lost Civilisation'
*Escorted from Australia
 Guaranteed SINGLE room throughout
Departing Siem Reap 08 April, 2017

The majestic Jayavarman is considered the father in Heritage Line's "family" of cruise ships. This vessel was named after Angkor's most venerated king, who ruled from 1181 to 1218, and was a devout Buddhist.Thanks to its intricate woodcarvings, Khmer bas-reliefs and Vietnamese lacquer paintings, this impressive cruise ship resembles a floating art gallery. Wherever they look, guests are reminded of the local arts and culture. With three-and-a-half decks, the Jayavarman is as spacious as it is beautiful. Guests can admire Khmer artifacts in the Henry Mouhot Lounge, mingle in the Club 1930 Bar, dine in the elegant Indochina Dining Hall, and recharge with spa treatments in the Apsara Spa. A Jacuzzi is located on the top Sun Deck, which offers spectacular views of the passing delta.   Our classic Mekong river cruise, 'the lost civilization', combines places rarely visited with opulent world heritage sites.
Add this cruise to our 12 night tour of Vietnam and Cambodia or if time is short, just join us for the cruise.  You are most welcome and will be so glad you did!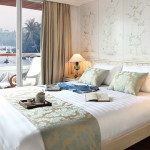 Day 1  08 April, 2017  Siem Reap    Make your own way to Siem Reap.  If you are not joining our Vietnam & Cambodia land tour prior to this cruise, we recommend you have at least one night in Siem Reap at Victoria Angkor Hotel, prior to the cruise.  We will book this for you (cost to be added to your final invoice)  and include you on the group transfer from the hotel to the ship.  Alternatively make your own way to embark the Heritage Line Jayavarman in Kampong Cham.   Embarkation is followed by a welcome drink.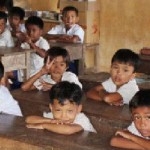 We cruise towards Angkor Bang and enjoy a performance of the school boys & girls from OBT- a project of Heritage Line and organization for Basic Training.   Later that evening, we enjoy a welcome dinner at the Dining Hall.  Overnight in Angkor Ban.    Inspired by the golden age cruise liner Normandie, "The Jayavarman" is a 20th century boutique style marvel marries avant-garde French colonial design with enchanting Indochine architecture to perfection. The Jayavarman Cruise ship is Indochina's first of its kind boutique style river cruise liner and offers uncompromising luxury on 800 m2 public space including 4 decks.  The guest accommodation consists of 27 expansive and carefully designed staterooms with floor to ceiling panoramic sliding glass doors onto a private French balcony offer privacy and matchless luxury.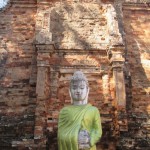 Day 2  09 April, 2017  Angkor Ban – Wat Hanchey   Everyday, your journey starts with an invigorating Tai Chi lesson on the sun deck, just as the sun begins  its gentle glow. Coffee and tea awaits the early bird.   After the Tai Chi, you will be truly energized to embark on a land journey to the pre-Angkorian temple  of Wat Hanchey. Travelers can either take a motor -taxi or climb 303 steps to the top. Located at the top  of a hill overlooking the river, the temple offers one of the most breath-taking views in Cambodia. Built  in the 8th century, this ancient structure, together with a bigger and newer addition underscores the  superb architecture of the Chenla Empire which redates the mighty Angkor temple complex. We even  get to engage in light banter with some of the monks in the area. We will return to the Ship to witness a  blessing ceremony performed by orange-clad local monks. Lunch on boat and in the afternoon, we will depart for a little known silk weaving village. We will then return to the ship  and will cruise past the Mekong's tranquil villages, exhilarating river life and sun-hardened fishermen on their fishing boats.  Overnight in Kampong Cham.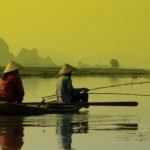 Day 3  10 April, 2017  Kampong Chhnang – Kampong Tralach    Kampong Chhnang is a busy rural port town with bustling markets and boisterous children who wave  and greet us as we arrive on the Ship.   Here we take a van along the paddy fields to visit the Khmer-styled pottery at the Aundaung Russey  village. Then, it is back to the river bank for an adventurous excursion to the wetlands, floating houses  and fish farms in the region. We then return to the Ship for lunch whilst cruising the narrow and  meandering Tonle River.    The afternoon our cruise continues with a languid meander along the Tonle River to Kampong Tralach,  which narrows through leafy swaths of the Southeast Asian jungle. Here, the river is very narrow and we  are greeted by children waving enthusiastically at us from the banks. Experience the ox cart, visit Heritage  Line –Linblad National Georaphic library project
Dinner awaits us at the Dining Hall while the Ship cruises to Phnom Penh.  Overnight midstream near Phnom Penh.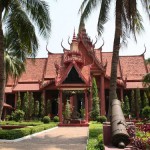 Day 4  11 April, 2017    Phnom Penh  Phnom Penh was once the Paris of the East. Despite its rapid development, it has retained a lot of its  rustic charm and elegance. Sightseeing in the morning will include the Killing Field in town. Be prepared  to be heart wrenched by this stark reminder of the genocide that transpired during Cambodia's Khmer Rouge regime.  After lunch at a local restaurant, we will visit the Genocide Museum visiting the dazzling white and  gold edifice of the Royal Palace and the Silver Pagoda, and witnessing exceptionally beautiful Khmer  craft at the National Museum.   We go back to the Ship by "xichlo" – traditional vehicle after our museum visit. Take a rest on your  cabin balcony or the lounge and get prepared for an exciting evening event. The evening starts with a  variety of cocktails served on the sun deck. BBQ dinner is served right after that. Take a seat and enjoy  the Apsara dance performance. Experience the brilliance and richness of this culture, the soothing  sounds of traditional music, the calming scent of incense sticks and a barbeque on the sun deck. It is  indeed a truly marvelous experience, dining in the open with the moon and the stars as our companions.    Overnight in Phnom Penh.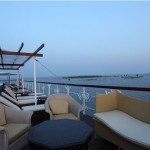 Day 5  12 April, 2017   Phnom Penh – Border Crossing – Tan Chau     Start new day with Tai Chi at the sun deck with fresh tea and coffee be ready to served.   After breakfast and a comprehensive lecture on Camdodia's modern history  we set sail for a lazy day of cruising along the main Mekong Channel. As this is an  international shipping route, you will witness large commercial ships plying this route. Lunch will be  served on boat. Later, in the afternoon, we set off to the Vietnamese border for the requisite cross border  paperwork. As the process tends to take some time, we bask in the glow of the afternoon sun on the sun  deck, pamper ourselves at the Spa, or sharpen our culinary skills with the Heritage Line's  Cambodian and Vietnamese cuisine cooking class.    The ship moors midstream overnight in Tan Chau   * Note: Cruising to Tan Chau is depending on water condition.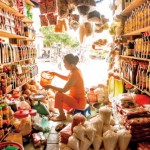 Day 6  13 April, 2017 Tan Chau – Sa Dec    Welcome to the fish sanctuary of Vietnam. Begin your day with a hearty breakfast at the Dining Hall or  in the quiet sanctuary of your balcony. Brace yourself on local vehicles called "xeloi" to explore Tan  Chau, a pleasant town near the Cambodian border. We will also visit the colorful local market near an  ancient temple. This is followed by a trip to the quay, where we will be feted to a boat excursion to the  floating villages and rustic catfish farms. Then, we will be back to the ship for a lunch.  In the mid afternoon, we will set off for My An Hung Village. Passengers walk to the family house  through the vegetable garden to see the boat building yard and canals. We will cross a monkey bridge  and see seasonal vegetable fields. Then gather at the family's house to taste tea with honey with local  delicacies and fruits before back to the Ship to set off for Sa Dec in the late afternoon.    Overnight in Sa Dec.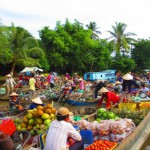 Day 7  14 April, 2017 Sa Dec – Cai Be – My Tho   In the morning, we embark a traditional sampan (a flat bottomed traditional Vietnamese wooden boat)  to tour Binh Thanh Island to visit an untouchable village. Here, every villager is involved in the process  of making rattan mat & interact with the old local people. After lunch on board, the Ship arrives in Cai  Be. The tour starts with a visit to Cai Be's boisterous and colorful floating market where traders gather  in a cacophonous congregation. During the languid ride, we discover breathtaking landscapes along the  river and quaff the rustic life on the Mekong Delta. The cruise will halt intermittently to allow us to  observe how rice paste, rice paper, rice cookies, rice pop, rice wine and coconut candies are made, enjoy  local life along the canals on the way before heading to the Ship for dinner.  We then board the Ship for a tranquil evening cruise towards My Tho. A wonderful farewell party  awaits us on the cruise.     Overnight in My Tho.
Day 8  15 April, 2017  My Tho – Ho Chi Minh City   Our magnificent cruiser winds its way to My Tho, approximately 70km south of Saigon on the upper  Mekong River in Vietnam.  We disembark at around 8.30 am and we join the transfer to the airport for departure flight.
Mekong cruise 8 days Siem Reap to Saigon $AU4990 includes:
*Services of a Destination World escort (*subject to group size of 15)
SINGLE superior stateroom throughout
All meals on board ship
Entertainment on board ship
Drinking water, coffee/tea (from jug) is included all day
All group shore excursions
Entrance fees on shore excursions
Transportation and tour guide services
Taxes, fuel, river pilots, port dues
Transfers in Siem Reap to port (if joining our tour of Vietnam & Cambodia or if we are booking your pre-cruise night in Siem Reap)
Transfer in Saigon from port to airport
Tour cost does not include:
.  Crew gratuities
.  Airfares or air ticket taxes
.  Visas or items of a personal nature
.  Upgrade to deluxe cabin (approximately $790 extra)
.  Anything not stated in 'inclusions
Please note:   This tour involves services which are settled in a number of currencies and the exchange rate has been calculated on rates current at the time of uploading this tour onto our website.  
Should there be a fluctuation of exchange rates of more than 3% from this time to the time we receive payment, we reserve the right to pass on an exchange rate surcharge.
To contact us for reservations or enquiries:
Destination World Travel

PO Box 2040

South Plympton    South Australia   5038      Australia
Phone:  08-8293-6988   Outside of Australia 61-8-8293-6988

Fax:  08-8293-5988        Outside of Australia 61-8-8293-5988