Iceland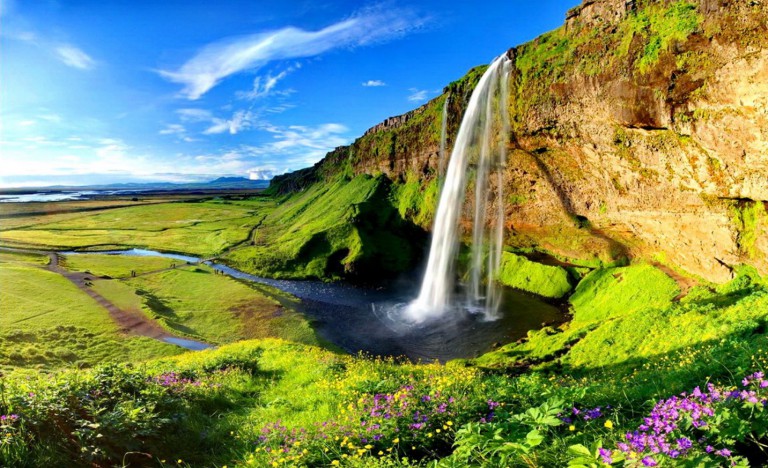 Best of Iceland
 *Fully escorted from Reykjavik
Guaranteed SINGLE room throughout
Commencing from Reykjavik on 19 May, 2017
Our leisurely tour of Iceland has been designed to showcase the high mountains, deep fjords and volcanic landscapes in North Iceland, the interior highland desert and glittering glaciers, impressive waterfalls and black lava beaches in the south. We'll take day trips  from our northern base of Akureyri where we stay for 5 nights and also for 4 nights from our South Iceland base in Grímsnes Selfoss , located directly at the famous Golden Circle tourist route. This trip will leave you with memories to last a lifetime.  Come and join us  –  you'll be so glad you did!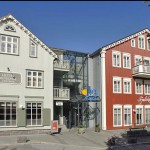 Day 1    19 May, 2017   Reykjavik Iceland    Use your frequent flyer miles to Reykjavik or we will find the cheapest airfare for you and where possible will team you up with others in the group flying on the same day.  Most convenient route from Australia would most likely be via New York or London with a flight time to Reykjavik from New York of less than five hours and from London less than 3 hours.  Tonight meet your Australian tour escort and fellow travelling companions over dinner.  Recharge and Relax in Iceland´s capital. Shaped by the energy of the earth, bustling with the energy of a cosmopolitan capital, surrounded by the pure unpolluted energy of nature, Reykjavík is a city of striking contrasts. Small corrugated iron houses nestle next to futuristic glass buildings; state-of-the-art facilities lie minutes away from rugged volcanic terrain; and international influences mingle with Icelandic national traditions to create a unique culture where old embraces new.  Dinner is included tonight.
Accommodation: Hotel Reykjavik  Centrum, Reykjavik (or similar)  2 nights  This hotel is set on one of Reykjavik's oldest streets, Adalstraeti, 200 m from Reykjavik Art Museum. It offers a unique Viking exhibition centre, plus in-room satellite TV,  and tea/coffee facilities.  Wifi is complimentary.  All rooms feature modern décor, fresh bathrooms and wooden floors. Traditional Icelandic dishes and an extensive wine list are offered at Fjalaköttur, Reykjavik Centrum's award-winning restaurant. Uppsalir is the hotel's own café bar.  The hotel was built above the ruins of a Viking-era longhouse. An on-site exhibition centre now honours this historic feature. It also displays Iceland's oldest human remains, dating back to 870 AD.
 Day 2    20 May, 2017  Reykjavik  After breakfast we begin our sightseeing with a  morning Reykjavík city tour. We see the home of the world's oldest parliament, the modern church Hallgrímskirkja, the lake in the centre of the city inhabited by numerous waterfowl, modern suburbs contrasting with the older parts of the city with their colourful little houses and much more.  Remainder of the day is at leisure.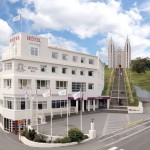 Day 3    21 May, 2017  Hraunfossar – Glaumbær – Akureyri  Today we will head north from Iceland's capital to West Iceland. We will visit Hraunfossar, the unique a series of waterfalls pouring from beneath a long row of lava fields into Hvítá River. Barnafoss "the Children's fall" is nearby and has its own tragic tale. Then we visit Europe's most powerful hot spring and climb the Grábrók volcano crater in West Iceland. Next we will head to Glaumbær in Skagafjörður. We get an insight to Iceland's past at Glaumbær turf farm & folk museum. We continue along fjords and over mountains to Akureyri – the capital of North Iceland, our base for the next five nights.  Dinner is included tonight.

Accommodation:  Hotel Kea (or similar) 5 nights   This hotel is centrally located on Akureyri's pedestrian street, by the Eyjafjördur Fjord. It offers in-room minibars and tea/coffee makers, dry cleaning services and traditional Icelandic cuisine.  The bright, airy rooms at Hotel Kea feature wooden floors, satellite TV channels and writing desks. Wifi is complimentary. The in-house restaurant specialises in hearty local dishes made from fresh seasonal produce. Kea Hotel also offers an extensive wine list to suit all tastes.  A nearby spa and gym offers discounts to guests. Akureyri Airport is 1.5 km from the hotel, while both Akureyri's Botanical Gardens and Akureyri Church are within a 5 minutes' walk.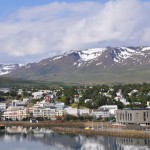 Day 4,   22 May, 2017  Akureyri   After breakfast we have  a guided walk to explore Akureyri, which has a charming city centre and a fine botanical garden. Remainder of day is at leisure to explore on your own.   Akureyri is situated in north-east Iceland, in one of the longest fjords in the country and is surrounded by mountains reaching 1000-1500 m. The Arctic Circle in only 60 km north of Akureyri but still the climate is mild, with summer temperatures up to 25°C and winter temperatures in average around 0˚C.   Akureyri is the second largest urban area after the capital area of Reykjavík, with a population of about 18.000. Akureyri is the centre of trade and services in northern Iceland. It is also a town of culture and education, building on a firm foundation.  Akureyri is a popular tourist destination for short or long visits. The town offers a wide range of activities and interesting places e.g. notable museums, the world's most northerly botanic garden, one of Iceland's most popular swimming facilities, 18-hole golf course, the best skiing area in the country, good hiking trails and free city bus. The town is also a good base for many of Iceland's most beautiful natural wonders as waterfalls, volcanic areas and canyons as well as exciting activities as river rafting, hiking, fishing, whale watching and horse riding.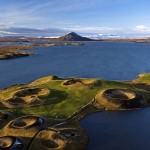 Day 5    23 May, 2017  Goðafoss – Mývatn We explore Goðafoss, the waterfall of the Gods, and continue to Lake Mývatn, known for its rich bird life and extraordinary volcanic lava landscapes. Visit pseudo craters, walk in the lava field Dimmuborgir, climb up to the rim of the ash crater Hverfjall, see the hot springs and bubbling mud pools of Námaskarð, and travel to Víti Crater Lake in the Krafla geothermal fields.
It is only a little over twenty years since the last eruption in the geothermal area adjacent to Mt. Krafla, and the unrest in the earth continues. In ancient times a catastrophic glacial flood smashed through rock to gouge out the canyon of the river Jökulsá á Fjöllum and the huge sunken valley Ásbyrgi, which now form a magnificent National Park. Just a short distance away is the beautiful Lake Mývatn, famous for its picturesque natural surroundings, geothermal activity, and unique birdlife. Most of the lowland areas have been inhabited since time immemorial by farmers and fishermen.   Dinner is included tonight.
Day 6    24 May, 2017  Tröllaskagi peninsula including Siglufjörður   After breakfast our excursion takes us to see spectacular fjord landscapes while travelling to Siglufjörður, Iceland's northernmost town and known as the herring capital of the North Atlantic. Siglufjörður is located on the mountainous Tröllaskagi Peninsula. Without herring it is questionable whether the modern society that now exists in Iceland could ever have been developed. In this tour we learn how this came about and how it shaped the culture and peoples life during the last century. The largest seafaring and industrial museum in Siglufjordur is the Herring Museum in the country and is housed in three widely differing premises. The exhibition tells the tale of fishing and processing these "silver darlings". The Herring Museum was the recipient of The Luigi Micheletti Award in 2004, the European prize for innovative museums in the world of industry, science and technics. On the way we pass small fishing villages and stop at a deserted valley that even most Icelanders have not seen. Near to Siglufjörður is Hofsós, a small and friendly village on the eastern shores of the Skagafjörður bay. Its natural harbor makes it one of the oldest trading ports in Iceland dating back to the 16th century. The Icelandic Emigration Centre focuses on the mass emigration from Iceland to North America in the late 19th century and is interesting to locals and visitors alike.     Dinner is included tonight.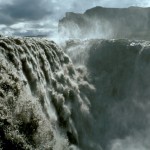 Day 7    25 May, 2017   Húsavík – Whale watching – Ásbyrgi – Dettifoss  Húsavík is a picturesque small fishing town only an hour from Akureyri, where we will join a whale watching cruise . We continue to the northern part of Vatnajökull National Park, stop at bird cliffs where puffins may be seen, and visit the huge canyon of Ásbyrgi and Dettifoss, Europe's most powerful waterfall.  Dinner is included tonight.

There are few places in Iceland where a human being feels as small and helpless as in the vicinity of Vatnajökull, Europe's largest glacier. Everything here is on a grand scale: the lofty mass of the ice cap, the spectacular mountain peaks, and all the signs of volcanic activity beneath the ice.  But it is not only the craggy, rugged beauty of the region that is appealing. In places such as Lónsöræfi, Borgarfjörður eystri and elsewhere, the landscape exhibits an extraordinary palette of colours. In the realm of Vatnajökull, the land is greener, the glacier whiter, the volcanic sands blacker than elsewhere. This otherworldly environment has become a popular location for international film-makers and advertisers.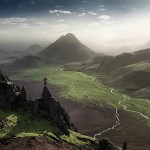 Day 8    26 May, 2017  Kjölur – Hveravellir – Grímsnes (weather and road condition dependent)  After breakfast we begin our travels through the heart of Iceland  – travelling on the Kjölur Trail, between the glaciers Langjökull and Hofsjökull. We stop at the hot springs of Hveravellir, where you can soak in a natural hot pool. This region is shrouded in mystery, with folktales of ghosts, giants and outlaws. You experience one of Europe's last wildernesses! We end the day at Grímsnes where we will spend the next 4 nights.   The interior of Iceland is like nothing you have ever experienced. The mountainous centre of the island, with its rocky deserts, jagged mountain peaks, ice caps, volcanoes, hidden valleys and hot springs, is an awe-inspiring and untouched wilderness. The interior was long all but inaccessible. Outlaws hid for years at a time in the highlands, rustling sheep and keeping away from law-abiding citizens, while folklore tells of both natural and supernatural beings who lie in wait for unwary highland travellers. Today the interior is traversed by two mountain roads, via Kjölur and Sprengisandur, which are only open in summer, after the snow has thawed in the spring.   Dinner is included tonight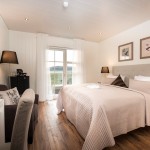 Accommodation: Hotel Grimsborgir (or similar) 4 nights   Hotel Grimsborgir was built in 2009, consisting of six houses with a total of ten apartments and the main building with the reception and Grimsborgir Restaurant. In 2013 and 2014 a new buildings with 28 beautiful and spacious superior double rooms was added to the hotel. Due to its ideal location in the heart of the Golden Circle, being very close to some of Iceland's most amazing attractions such as Gullfoss, Geysir and Thingvellir National Park, Hotel Grimsborgir is a popular and sought after place to stay for tourists all over the world.   Our superior rooms are 24 sqm and have a private bath with bathtub/shower. Every room has a nice terrace and access to hot tubs in a common area.  Free Wi-Fi, Mini bar, Flat screen TV and  Coffee and tea in the room.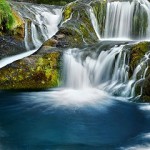 Day 9    27 May, 2017  Þjórsárdalur valley – Hjálparfoss – Gjáin Today we travel alongside the Hekla volcano and visit the Hjálparfoss waterfall. Nearby we enjoy a leisurely hike to Gjáin, a green oasis in an otherwise rocky, barren moonlike landscape. Þjórsárdalur is off-the-beaten-path and is dominated by Hekla and other volcanoes in the vicinity. Hekla is one of Iceland's most active volcanoes; over 20 eruptions have occurred since 874. During the middle Ages, Europeans called the volcano the "Gateway to Hell".  Dinner is included tonight.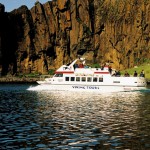 Day 10  28 May, 2017  Tour to the Westman Islands  Ahoy! We take a short ferry ride to the Westman Islands. Explore the town of Heimaey and this extraordinary island by foot and by bus. The volcanic eruption in 1973 is considered the largest natural disaster in Iceland in recent history. The eruption began on January 23rd on the island of Heimaey, the only populated island of the Vestmannaeyjar archipelago. After the evacuation of the inhabitants, and during the 5 months while the eruption lasted, there was much uncertainty as to whether or not the island could ever be repopulated. During our tour to the Westman Islands we explore bird cliffs, walk up the volcano crater and visit "Pompeii of the North", a volcanic excavation project. You have the afternoon free to wander around the town of Heimaey, with its birds and signs of recent volcanic eruptions.  Westman Islands is one of the best kept secrets in Iceland and you haven't seen Iceland until you have visited the Westman Islands. Westman Islands is one of the wonders of nature, surrounded by mountains, islands, volcanoes, puffins and other seabirds. Westman Islands also has one of the most beautiful and extraordinary 18 hole golf course in the world.  Dinner is included tonight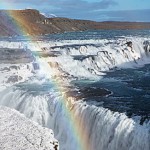 Day 11  29 May, 2017  Gullfoss – Geysir – Þingvellir   A day to visit three of Iceland's most important spots: Gullfoss waterfall, Geyser hot springs and Þingvellir National Park.  Gullfoss "the golden falls", is a double waterfall that tumbles 34 meters into the Hvítá River and attracts tourists and travellers all year. You see the steam from the Geysir geothermal fields as you arrive. There are a variety of hot springs and bubbling pools. The original geyser is now dormant and been replaced by Strokkur "The Churn", which erupts at 5-10 minute intervals. Next stop is at the ancient Viking Parliament area of Þingvellir National Park, a UNESCO World Heritage Site. Nowhere on earth is the junction between the European and American tectonic plates in the Earth's crust as clear as on the Reykjanes peninsula in the southwest, and at Þingvellir: the plates diverge here by as much as 2 cm per year. But the gap is constantly being filled, as volcanoes have been erupting regularly throughout Iceland's history  Þingvellir is by far Iceland's most famous historic site. The Alþingi, or general assembly, first met there in A.D.930, and continued to do so for nearly nine centuries, until 1798. Various important events in the Icelandic Sagas took place at Þingvellir, and in 1930 it was declared a National Park. In 2004 Þingvellir was added to the UNESCO World Heritage List.  Dinner is included tonight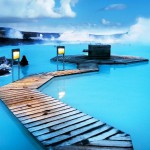 Day 12  30 May, 2017   Reykjanes peninsula – Blue Lagoon – Reykjavík We take a less traveled route around Reykjanes Peninsula. Diverse geological features, the hot springs of Krýsuvík, mountains, lava fields, amazing bird cliffs, moonlike landscapes and fishing villages are on today's itinerary. The tour ends in Reykjavík city after a visit to the famous Blue Lagoon.   Accommodation: Hotel Reykjavik  Centrum, Reykjavik (or similar) overnight
Day 13   31 May, 2017   Reykjavik  Sadly our tour has come to an end.  We would be happy to assist with your onward travel arrangements.   If you are joining our cruise from Iceland to UK today, we will transfer to the ship and board Crystal Symphony in time for lunch.
Tour cost $AU12490 includes:
Services of a Destination World Travel escort
Services of an English speaking local guide
Accommodation 12 nights SINGLE occupancy first class hotels
Breakfasts daily
1 x 3 course menu or buffet including coffee/tea in Reykjavik
8 x 3 course menu or buffet including coffee/tea outside Reykjavik
City tour Reykjavik
Entrance fee to Glaumbær
Whale watching tour from Husavik
Return ferry to the Westman Islands including coach
Entrance fee to Eldheimar in the Westman islands
Entrance fee and rental towel at the Blue Lagoon
Tour cost does not include:
.  Airfares or air ticket taxes
.  Passports or other items of a personal nature
.  Drinks during dinner
.  Gratuities
.  Nature pass or other unexpected costs for nature sights
.  Anything not mentioned in 'inclusions' above
Please note:   This tour involves services which are settled in a number of currencies and the exchange rate has been calculated on rates current at the time of uploading this tour onto our website.  
Should there be a fluctuation of exchange rates of more than 3% from this time to the time we receive payment, we reserve the right to pass on an exchange rate surcharge.
To contact us for reservations or enquiries:
Destination World Travel

PO Box 2040

South Plympton    South Australia   5038      Australia
Phone:  08-8293-6988   Outside of Australia 61-8-8293-6988

Email:  destinationworld@internode.on.net