Best of Italy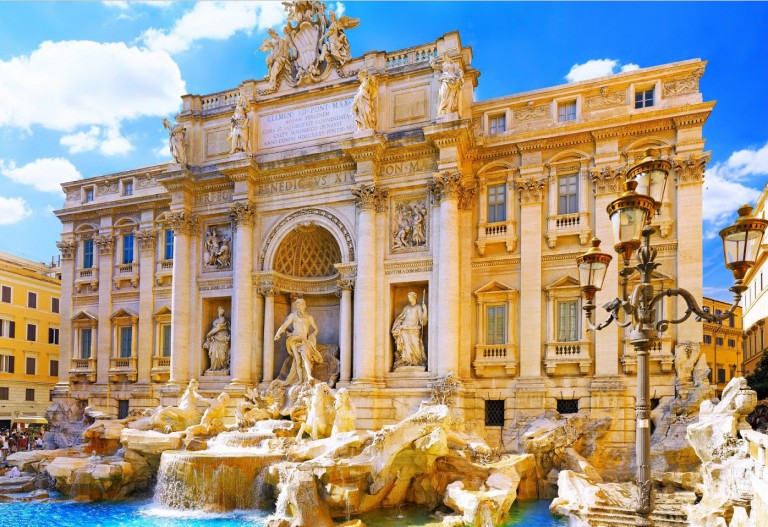 Best of Italy 
**Fully escorted from arrival in Milan
 Guaranteed SINGLE room throughout
 Commencing 18 October, 2017
Our very leisurely singles group tour of Italy, with 3 night stays in most of the places we visit,  is perfect for anyone who prefers to experience the 'real' countryside, explore charming towns and take short excursions to nearby villages and attractions.  Come and join us as we immerse ourselves in the sounds, smells, tastes, history and cultures of this wonderful country.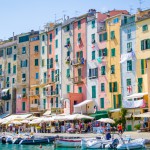 We'll spend 3 nights in Portovenere, a medieval fishing village situated just south of the Cinque Terre on the Italian Riviera. The Cinque Terra area of Northern Italy has eighteen kilometres of sheer rocky coastline , terraced hills and vineyards sloping steeply down to the sea. Five little villages are built into the rocks between the beach and the hills. You can hike between the villages, swim, explore the towns, drink red wine, and watch blazing Mediterranean sunsets. Centuries old footpaths and mule tracks wind high above the sea, leading through olive groves and vineyards, orchards and chestnut woods.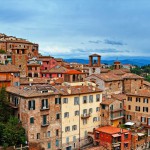 We'll spend 3 nights in Florence, one of the most beautiful cities in Italy and centre of Italian Renaissance and also a perfect base to explore the nearby medieval villages, historical towns, vineyards, castles, beautiful abbeys and the famed undulating hills of Tuscany and be  amazed by the untouched landscapes in the green of winding valleys of Umbria, and the many villages standing on hilltops, overlooking the plains below.   We have 3 nights in Perugia, the perfect base to enjoy an atmosphere of bygone times and explore medieval paths,  the palaces, the castles and the fortresses of nearby charming villages.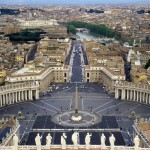 We spend 3 nights in the Eternal City of Rome with it's unparalleled concentration of world-class art, from Michelangelo's Sistine Chapel to the baroque Trevi Fountain and the Catholic Church's independent city-state, the Vatican, which is home to the imposing St. Peter's Basilica—and the Pope.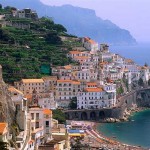 Then on to the Amalfi Coast, widely considered Italy's most scenic stretch of coastline, a landscape of towering bluffs, pastel-hued villages terraced into hillsides, precipitous corniche roads, luxuriant gardens, and expansive vistas over turquoise waters and green-swathed mountains. We spend 3 nights in Sorrento on the Sorrentine Peninsula overlooking the Bay of Naples which is a perfect base for exploring the surrounding area; to the south, the best of the peninsula's unspoilt countryside and, to the east, the Amalfi Coast; to the north, Pompeii and the archaeological sites.


Day 1  18 October, 2017        Milan   Use your frequent flyer points or we can find the best airfare for you and team you up with others in the group who may be on the same flight.  **Meet your Australian tour escort at the hotel in Milan.   Remainder of day is at leisure.
Accommodation:   Sheraton Milan Malpensa (or similar) overnight   A warm welcome and total convenience awaits you at Sheraton Milan Malpensa Airport Hotel. Walk off your flight and right through the hotel doors, without ever leaving Malpensa International Airport.   Sheraton Milan Malpensa Airport Hotel is the only hotel with direct access inside the Terminal 1 of Malpensa's Airport and is located alongside the train station with convenient service to Milan Central.
Day 2  19 October, 2017        Milan – Portovenere, Cinque Terre  (B, D)  After breakfast meet our English speaking guide for a morning tour of Milan en-route to Portovenere.  Dinner is included at our hotel tonight.
Accommodation:  Grand Hotel Portovenere (or similar) 3 nights   Set on Portovenere's seafront, this hotel features a terrace overlooking the small port and Palmaria Island. Set in a 17th-century monastery, it is a few steps from the town centre.  The air-conditioned double executive rooms have terrace or balcony with sea view and include free WiFi, satellite TV and minibar.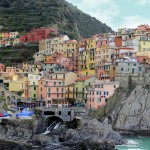 Day 3  20 October, 2017      Cinque Terre (B)    The Cinque Terre (five towns) is a string of five fishing villages perched high on the Italian Riviera (region Liguria) which until recently were linked only by mule tracks and accessible only by rail or water. An ancient system of footpaths is still the best way to visit the five villages: Monterosso, Vernazza, Corniglia, Manarola and Riomaggiore.  The Cinque Terre is noted for its beauty. Over centuries, people have carefully built terraces to cultivate grapes and olives on the rugged, steep landscape right up to the cliffs that overlook the Mediterranean Sea. The breathtaking views of harbours far below the wild but hospitable coastline along with the medieval fortresses and plentiful vines and vibrant colours make this a memorable part of your holiday.  The Cinque Terre, recognized in 1997 by the UNESCO Mankind's World Heritage, are today a National Park and Protected Marine Area with the aim of protecting this great cultural heritage and natural environment.
This morning we spend the day touring the area with stops at the various villages for sightseeing and free time.   Evening is at leisure.
Day 4  21 October, 2017    Cinque Terre  (B, D)  After breakfast we visit Lerici  situated in a picturesque inlet of the Bay of Poets south of La Spezia at the Ligurian Riviera. This small town is called the Perla del Golfo (the pearl of the gulf), because of its breathtaking beauty. The area around the Gulf of Poets attracted many writers in the early 19th century and the English poet Lord Byron spent some of his life here. Depending on weather, we'll then take a gentle walk along a section of the 'Via dell'Amore' (Lovers' Way), which is the seafront promenade connecting several of the villages. Our excellent guide in Cinque Terre will be able to decide the route on the day according to the group's abilities and wishes, and the weather conditions. Dinner is included tonight.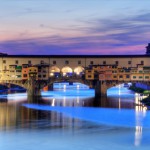 Day 5  22 October, 2017 (B,D) Cinque Terre – Florence,Tuscany After breakfast we travel south into Tuscany with a brief stop to view the Leaning Tower of Pisa before heading on to Florence.
Accommodation: Hotel Rivoli (or similar) 3 nights   The 4-star Hotel Rivoli is set in a restored Franciscan convent of the 14th century, 300 m from Firenze Santa Maria Novella Train Station. The garden with patio is equipped with a free, heated hot tub. Rooms are spacious and elegant.  Classic-style rooms at the Rivoli come with soundproofing, a minibar and a flat-screen TV. The private bathroom includes a hairdryer and free toiletries. Some rooms have a terrace.  Just a 10-minute walk from Florence Cathedral, Hotel Rivoli offers a free fitness centre, a 24-hour reception and air-conditioned accommodation.  A sweet and savoury breakfast is served buffet style in the dining room. You can taste typical Tuscan cuisine from the restaurant.  Santa Maria Novella is a great choice for travellers interested in shopping, art and food.
Afternoon is at leisure and this evening, we have included a highlight Tuscan dinner at a wonderful restaurant and agriturismo near Greve, in the heart of the Chianti region. It is black truffle season at this time of year, so the meal will be a real feast for the senses!   As it is down a small rural road, we have included minicabs to take the group to and from the dinner – the lanes are too narrow for a coach, it is definitely off the beaten track.
Day 6 23 October, 2017 (B,L) Tuscany     This morning visit two of Tuscany's loveliest medieval fortified hill towns – Monteriggioni and San Gimignano. Monteriggioni represents one of the most important walled castles in the territory. It has incredibly preserved an intact structure as if time had never passed on the hill from which it elegantly dominates the surrounding landscape. Its perfect circular perimeter makes one suppose it to be an artificial construction while in actuality it was created by just following the curves in the natural ground.  The current structure of the village is essentially the original one, the only changes it went through date back to the 16th century when the towers were lowered and some earth accumulated at the base of the walls and another dating back to 1921 when 3 of the 14 towers were reduced to the level of the walls.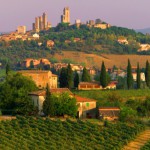 San Gimignano, a small walled village about halfway between Florence and Siena, is famous for its medieval architecture and towers that rise above of all the surrounding buildings offering an impressive view of the city from the surrounding valley. At the height of its glory, San Gimignano's patrician families had built around 72 tower-houses as symbols of their wealth and power. Although only 14 have survived, San Gimignano still retains its feudal atmosphere and appearance. Recognized as a UNESCO World Heritage Site since 1990, San Gimignano offers visitors the chance to step back in time while enjoying its local products including saffron and its white wine, the Vernaccia di San Gimignano.
After lunch (own expense) we will continue to medieval Siena for a guided tour.  Siena's heart is its central piazza known as Il Campo, known worldwide for the famous Palio run here, a horse race run around the piazza two times every summer. Movie audiences worldwide can see Siena and the Palio in the James Bond movie, Quantum of Solace.  Remainder of the day is at leisure.
Day 7  24 October, 2017 (B,L)  Tuscany This morning we have a guided tour of the Accademia, with Michelangelo's famous statue of David, and the Uffizi Galleries.  Afternoon and evening are at leisure.
A city-size shrine to the Renaissance, Florence offers frescoes, sculptures, churches, palaces, and other monuments from the richest cultural flowering the world has known. Names from its dazzling historical past—Dante, Michelangelo, Galileo, Machiavelli—are some of the most resonant of the medieval age. But to see the Tuscan capital simply as Europe's preeminent city of art would be to ignore not only its role as a dynamic and cosmopolitan metropolis, but also to overlook its more unsung charms—Italy's most visited gardens (and its best ice-cream parlor), idyllic strolls on balmy summer evenings, a broad range of specialty shopping, sweeping views over majestic cityscapes, eating experiences that range from historic cafés to the country's most highly rated restaurants, and the kind of seductive and romantic pleasures that somehow only Italy knows how to provide.
Day 8 25 October, 2017 (B,D) Tuscany – Perugia, Umbria   After breakfast we drive to Assisi and have a guided tour of this jewel of Umbria, including entrance to the mighty Basilica of St Francis.  Later this afternoon we continue to Perugia and check in to our hotel. Perugia is a lively medieval walled hill town with historic buildings, people-filled squares, and modern shops. It's home to a university and a large Italian language school for foreigners. Etruscan remains are still visible in several places.    Dinner is included tonight.
Accommodation:  Hotel Sangallo Palace (or similar) 3 nights.   Located in the heart of Perugia, this romantic hotel is within a 10-minute walk of Palazzo della Penna and Rocca Paolina. National Gallery of Umbria and Palazzo dei Priori are also within 15 minutes. This hotel features a restaurant, an indoor pool, and a fitness centre. WiFi in public areas is free. Additionally, a bar/lounge, a coffee shop/café, and a rooftop terrace are onsite. All 100 soundproofed rooms provide free WiFi, free wired Internet, and minibars. For entertainment, LCD TVs come with satellite channels, and guests can also appreciate comforts like Frette Italian sheets and premium bedding. Breakfast is buffet style and hot and cold drinks are available from the machines provided. The restaurant serves a selection of traditional Umbrian specialities and Mediterranean dishes.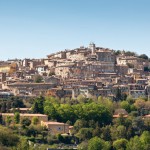 Day 9  26 October, 2017  (B) Umbria   Today take a full day tour of some of Umbria's most picturesque sights: first, to the gothic town of Gubbio, where we have included a ride on the funivia funicular railway up the hillside to the pretty basilica of Sant'Ubaldo, the patron saint of the town.  Gubbio is a well-preserved medieval hill town in the Umbria region of central Italy. Gubbio's compact centre has a good selection of medieval, Gothic, and Renaissance monuments built of gray limestone and has great views over the beautiful countryside. Just outside the town is a Roman amphitheatre.
After lunch (own expense) we'll travel back to Perugia, where our guided city tour includes entrance to the Noble College of Exchange, whose great audience chamber contains amazing frescoes by the Renaissance painter Pietro Perugino, one of the town's most famous sons.  The remainder of the afternoon and evening are at leisure.
Day 10 27 October, 2017  (B,L)  Umbria   This morning travel to the vineyards of Decugnano dei Barbi, a producer of typical Orvieto wines. Take a vineyard tour and a tasting of 6 local wines, to appreciate the variety and rich depth of Orvieto DOC wine. The region has been making wine since the time of the Etruscans, and in the middle ages, its sweet dessert wine was one of the most popular at the dining tables of Italy's ruling elite. After the tasting, enjoy a light lunch of local foods.
In the afternoon, travel on to the city of Orvieto and enjoy some free time to wander its historic streets.  Orvieto is one of the most dramatic hill towns in Italy, perched on a plateau atop huge tufa cliffs. Orvieto has a stunning duomo (cathedral) and its monuments and museums cover millenniums of history starting with the Etruscans.  Evening is at leisure.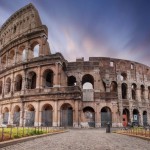 Day 11  28 October, 2017    Umbria – Rome  (B,D)   After breakfast we travel to Rome for an orientation tour of the main sights of the city.  Remainder of the day is at leisure.  Dinner is included tonight
Accommodation:  Hotel TwentyOne  (or similar) 3 nights The Twentyone is a modern boutique hotel on Via Cola di Rienzo, one of Rome's best shopping streets. Castel Sant'Angelo and the historic centre are just a pleasant 10-minute walk away.  Rooms at the Twentyone Hotel are ultra modern and feature a minimalist décor. They offer an LCD satellite TV, air conditioning, minibar, and free WiFi. The hotel is in the elegant Prati district, home to the Vatican and Saint Peter's Basilica, which are a 15-minute walk away. Lepanto Metro Station is 450 metres from the property, while bus links to Roma Termini Train Station are located close by.
Day 12  29 October,2017    Rome  (B)  This morning take a guided tour of the Colosseum and Roman Forum, with a visit to the Palatine Hill if time permits. Then in the afternoon, travel out to Tivoli, a summer retreat for ancient Romans and the Renaissance rich, this hilltop town is home to two UNESCO World Heritage Sites: Villa Adriana, the sprawling estate of Emperor Hadrian, and the 16th-century Villa d'Este, a Renaissance villa famous for its landscaped gardens and lavish fountains.   Evening is at leisure.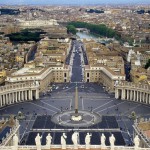 Day 13  30 October, 2017  Rome  (B)  This morning take a guided tour of the Vatican Museums and St Peter's Basilica.  Remainder of the day is at leisure.  This evening join your tour escort visiting a couple of Rome's very stylish bars, to sample the stuzzichini – these tapas-like snacks are provided at many of Rome's best bars, and offer a great accompaniment to a nice glass of wine (own expense) and some people-watching.
Day 14  31 October, 2017  Rome – Sorrento, Amalfi Coast  (B,D)  Today leave Rome to head south towards Naples, Sorrento and the Campanian sun.  First stop at Cassino to visit the war cemetery that commemorates those who fell at the epic Battle of Monte Cassino.  Originally selected for a war cemetery in January 1944, the site was impossible to use until the fighting in this region subsided, as it did when the Germans withdrew five months later. As the area saw some of the fiercest action among the battles of the Italian campaign, the Cassino War Cemetery is the second largest Second World War cemetery in Italy. More than 4,200 Commonwealth graves are located here, of which 200 are unknown and 855 are Canadian, including seven pilots.
Next travel to Sorrento where we have an orientation tour before checking into our hotel.  Dinner is included tonight. Accommodation:  Grand Hotel Europa Palace (or similar) 3 nights  Offering spectacular views of the Gulf of Naples, the Europa Palace features a cliff-side pool and a private pier. All the elegant superior Sea View rooms have a classic decor decorated hand with an old tiled floor, flat screen TV, private bathroom tiled with bath and shower, bathrobe, slippers, hair dryer, toiletries, balcony or terrace overlooking the sea. The hotel is just 5 minutes' walk from Sorrento's historic centre.  This Art Nouveau villa is surrounded by terraces and Mediterranean gardens. Its unique outdoor pool is reached by a lift down the side of the cliff. The pier is equipped with sun loungers and steps down to the sea.  Satellite TV and air conditioning are standard in all rooms at Grand Hotel Europa Palace.
Day 15  01 November, 2017  Amalfi Coast  (B)  The Costiera Amalfitana, or Amalfi Coast, is widely considered Italy's most scenic stretch of coastline, a landscape of towering bluffs, pastel-hued villages terraced into hillsides, precipitous corniche roads, luxuriant gardens, and expansive vistas over turquoise waters and green-swathed mountains. Deemed by UNESCO "an outstanding example of a Mediterranean landscape, with exceptional cultural and natural scenic values," the coast was awarded a coveted spot on the World Heritage list in 1997.  Today we have a is a scenic drive along the Amalfi coast with a stop to view Positano and a tasting of limoncello in Amalfi town. Evening is at leisure.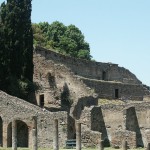 Day 16  02 November, 2017   Amalfi Coast  (B,L,D) This morning take a tour of the ancient city of Pompeii, led by a specialist guide. After the tour, head to Naples to enjoy a lunch of true traditional Neapolitan pizza and in the afternoon we  visit the National Archaeological Museum to view many of the original items discovered at Pompeii and then head up the hill to the splendid Capodimonte Museum. This gorgeous stately home commands great views over the city, and houses a fascinating collection of traditional and modern art, decorative items, porcelain, and majolica.  Dinner is included tonight.
Day 17  03 November, 2017  Amalfi Coast – Rome (B,D)  This morning we head back north to Rome, via a stop in Frascati to taste some of the local sparkling wine.  You have free time this afternoon, then in the evening transfer to the lively Trastevere district for a great farewell dinner at Spirito DiVino, a lively typical neighbourhood restaurant with classic Roman food and an extensive wine cellar.
Accommodation:  Hotel TwentyOne  (or similar)
Day 18 04 November, 2017 (B)  Sadly our tour has come to an end.     We would be happy to assist with your onward travel arrangements.
Those people continuing on with our cruise from Rome to Dubai via Suez Canal will be transferred to the port of Civitavecchia late this morning to board Crystal Symphony in time for lunch.
Tour cost $13990 includes:
*Services of an Australian escort who will meet you at the hotel in Milan
 Services of English speaking local guides throughout
Luxury accommodation – SINGLE occupancy of double room throughout
 Meals as shown in itinerary (B=breakfast, L=lunch, D=dinner):
• Continental buffet breakfast daily
• Light lunch of Umbrian specialties, day 10
• Traditional Neapolitan pizza lunch, Day 16
• 'Stuzzichini' (Italian tapas) tour in Rome, Day 13
• 3 x 3-course dinners at the hotel, days 2,4,16
• Highlight Tuscan dinner, day 5
• 4 x 3-course dinners at local restaurants, days 8,11,14,16
• Farewell dinner in Rome, day 17
Entrances/visits as follows:
• Palazzo Rosso, Genoa
• Cinque Terre – villages and short walking tour
• Florence -Duomo
• Piazza della Signoria
• Galleria dell'Accademia
• Uffizi Gallery
• Siena – Cathedral and Piazza del Campo
• Monteriggioni walled village
• Villa La Foce gardens
• Basilica of St Francis, Assisi
• Torgiano – MUVIT wine museum
• MOO olive oil museum
• Gardens of Bomarzo and Park of the Monsters
• Rome -Piazza Navona
• Pantheon
• Piazza Spagna
• Colosseum and Roman Forum
• Villa Adriana (Tivoli)
• Vatican Museums incl Sistine Chapel
• St Peter's Basilica
• Monte Cassino war cemetery
• Pompeii
• Naples – National Archaeological Museum
• Capodimonte Museum
Wine tours :
. Orvieto – 6 DOC/DOCG wines, Day 10
. Frascati – 2 sparkling wines, Day 17.
Tour cost does not include:
• Airfares or air ticket taxes
• Passports, visas or items of a personal nature
• Travel insurance
• Porterage
• Gratuities
• Entrances other than stated in itinerary
• Arrival/departure transfers (arrival hotel is located inside Milan airport)
• Anything not stated in 'inclusions'
Please note:   This tour involves services which are settled in a number of currencies and the exchange rate has been calculated on rates current at the time of uploading this tour onto our website.  
Should there be a fluctuation of exchange rates of more than 3% from this time to the time we receive payment, we reserve the right to pass on an exchange rate surcharge.
To contact us for reservations or enquiries:
Destination World Travel

PO Box 2040

South Plympton    South Australia   5038      Australia
Phone:  08-8293-6988   Outside of Australia 61-8-8293-6988