2020 tours
Our groups are small and we are honoured that we have a large number of repeat clients who book several trips at a time.  Early reservation is strongly recommended.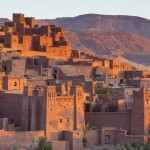 Morocco Highlights
17 May, 2020 –  25 May, 2020
The name 'Morocco'  conjures up images of  olive groves and date palms, sun-drenched bazaars overflowing with a bewildering array of handicrafts from glassware to brassware, silverware to lacquerware,  and Apothecaries touting herbal remedies with colourful spices heaped into perfectly shaped pyramids.  But Morocco is more than twisting alleyways of medieval medinas, this is a  land of diverse people and landscapes, a rich heritage of nomadic Berbers, Roman conquerors, Muslim Arabs and French colonialists and boasts more than its fair share of cultural treasures.  Option:  why not combine this with our Portugal & Azores tour which begins 25 May?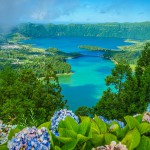 Portugal & Azores
25 May, 2020  –  06 June, 2020
The Azores are one of the World's best kept secrets. Its location, which made the islands difficult to access in the past, is now seen as one of its advantages as it has helped preserve their authenticity.  Stunningly beautiful, and each very unique, the nine islands that make up the Azores are located between two continents and are the peaks of some of the world's tallest mountains reaching from deep beneath the Atlantic.   Before visiting four of these Azorean islands we  spend a week on mainland Portugal based in the two magnificent cities of Porto and Lisbon with excursions to the interior of the country visiting the Douro Valley, Aveiro, Cascais, Guincho and Sintra. Option:  why not combine this with our Morocco Highlights tour which begins 17 May or extend your holiday with our cruise from Lisbon to London?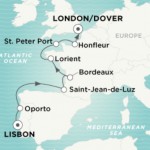 Lisbon to London via coastline of France
07 June, 2020 – 19 June, 2020
We cruise the coastline of Portugal and France beginning in Lisbon and first stopping in Oporto with opportunity to explore the Duoro Valley.   We sail on to St-Jean-De-Luz, once the centre for Basque corsairs in the 17th century and situated on a gentle, crescent-shaped bay with fine sand and with an old town that is filled with colourful timbered Basque houses. There is much to do in the city of Bordeaux and our 2 night stay here will give you the opportunity to venture into the countryside and vineyards that surround this region of France.  We visit Lorient, a relatively new town founded in the 17th century and St-Malo/Mont St Michel  located on the Emerald Coast before exploring St Peter Port in Guernsey, in the Channel Islands,   an enclave of irrepressible charm, with cobbled streets inching up a steep hillside and spires and towers.  Our final stop before disembarking in Dover is an overnight stay at the very pretty port of Honfleur, France on the Seine's estuary. Glorious historic houses, galleries and restaurants jostle for position on the quays, and an excursion to Monet's garden in Giverny will be on offer.   Option:  why not combine this  cruise with our tour of Portugal and Azores from 25 May – 06 June?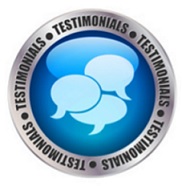 http://singlestravel.com.au/testimonials/
To contact us for reservations or enquiries:
Destination World Travel

PO Box 2040

South Plympton    South Australia   5038      Australia
Phone:  08-8293-6988   Outside of Australia 61-8-8293-6988

Email:  destinationworld@internode.on.net