South America with scenic cruising in Antarctica and the Chilean Fjords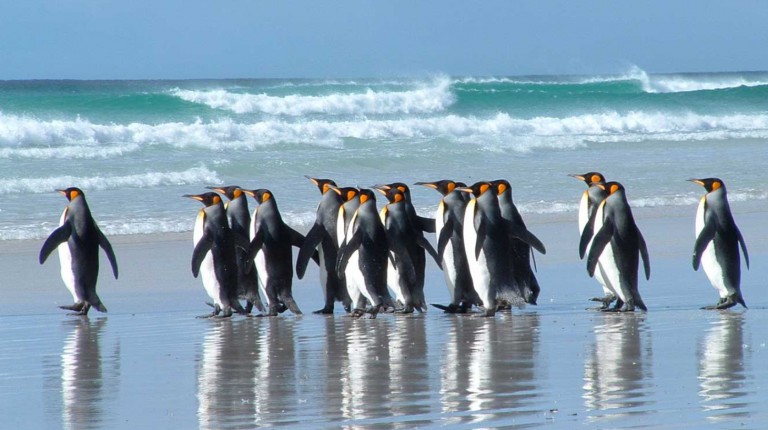 Extraordinary landscapes with stunning scenery, and photographic opportunities you never thought possible,  will leave you in awe of Mother Nature on this incredible journey.

We begin in Rio de Janeiro, set in arguably the world's most dramatic urban setting, and sail to Sao Paulo South America's largest city before visiting Buenos Aires in Argentina, and Montevideo in Uruguay.
It's springtime in November and a glorious time to cruise this part of the world – if we're lucky we'll even spot the penguins building their nests in the Falkland Islands  before we head to the ice covered wonders of Antarctica.
Perhaps even more jaw-dropping beautiful are the dramatic fjords, glaciers and mountain peaks of the Chilean fjords. Their monumental glacier walls of blue ice, mountain peaks and abundant marine life are a wildlife photographer's dream.     
This trip will leave you with memories to last a lifetime.
Come and join us,  – you will be so glad you did.
 From Rio de Janiero, Brazil to Santiago, Chile 
Commencing  18 November, 2019
*Escorted on board HAL Zaandam
Guaranteed SINGLE occupancy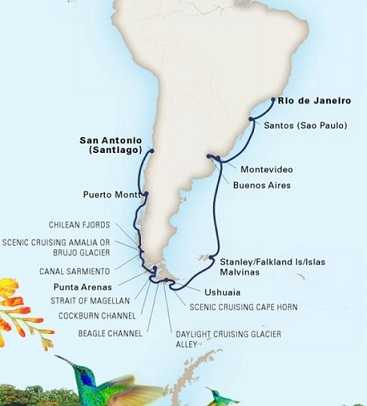 Da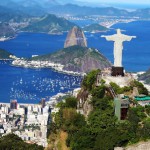 y 1     18 November, 2019        Rio de Janeiro, Brazil 
Make your own way to Rio.  Use your frequent flyer points or we will find the best airfare for you and team you up with others in the group who may be on the same flight.   We recommend you arrive a day or so before the cruise begins.  We can assist you with pre-cruise accommodation and touring.      Ship departs at 6pm
Some cities need no introduction, and even fewer cities live up to their reputation the way Rio de Janeiro does, in both the best sense—how visitors experience sheer exhilaration being there—and the harsh reality of its social and economic strains. Situated in arguably the world's most dramatic urban setting, it has apartment complexes that hang on huge granite peaks which rise smack in the middle of the city, and adding to the drama, its stunning beaches seem to stretch forever.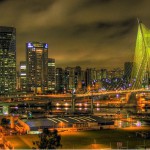 Day 2   19 November, 2019  Santos (Sao Paulo), Brazil   8.00am – 6pm
Built on the fruits of a coffee empire and best known around the world as having the professional pitch where Pelé debuted his world-renowned soccer skills, the port of Santos dates back to 1546 and stands as a gorgeous colonial gateway to the gargantuan city of São Paulo, whose immense sprawl sits 80 kilometers (50 miles) or so to the northwest. Founded by Jesuits in 1554, São Paulo, or Sampa as it's affectionately called by locals, first thrived on sugar (and later caffeine!) but it was the establishment of Brazil's first College of Law in 1827 that set the city on its cultural and intellectual path—along with various waves of European and Asian immigration (the city is home to the largest Japanese and Italian diasporas in the world, and also has the largest Arab population outside an Arab country).
Today, there's no sugarcoating it: South America's biggest city can be an intimidating beast. But beneath the urban grit and debilitating traffic is a vibrant metropolis that stands as the continent's capital of gastronomy and culture, a Brazilian boomtown that feeds on working hard and playing harder, leaving visitors who venture into its depths punch-drunk on bright lights and superlatives.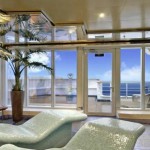 Day 3 & 4  20 & 21 November, 2019    At sea
Designed to carry fewer guests while offering greater space, Zaandam is elegant and comfortable. Her décor is inspired by music and features musical instruments including signed guitars from Queen, Iggy Pop, Eric Clapton and the Rolling Stones and a Baroque-style pipe organ.
During a leisurely day at sea, few places help you refresh, relax and rejuvenate like the Greenhouse Spa & Salon (extra costs).  This heavenly retreat nurtures every aspect of your well-being with renowned spa rituals and healing touches . In the spa, pamper your skin with facial treatments featuring premium, naturally sourced ingredients. Nurture your body, too, with massage treatments employing time-honoured, hands-on massage techniques gleaned from around the world.
Or, if you are feeling more energetic, stop by the professionally staffed Fitness Centre equipped with the latest cardio and weight machines. Try one of the classes on indoor cycling, Pilates and more or work out at your own pace. You can also head out for fresh air and exercise on deck, where you'll find basketball and volleyball courts, and pool.  Some classes may have a nominal fee.
Day 5   22  November, 2019   Buenos Aires, Argentina  8.00am – 6pm
In the early 20th century, Buenos Aires, Argentina, gained immense wealth when it began shipping its pampas-raised beef around the world. It quickly entered the club of great world cities, and a slew of attractions and architectural jewels soon arose. Since that time, the capital has experienced huge swings in economic and political fortune. But Buenos Aires continues to fascinate and entertain sightseeing visitors, both for its chaotic energy and for its sheer urban beauty. Thankfully, the Belle Époque grandeur and enormous tracts of greenery remain. Any list of things to do in Buenos Aires would begin with its many walkable neighborhoods; Palermo especially stands out, thanks to creative residents who have pushed the restaurant scene well beyond beef.
Porteños—as the locals are called—may be of Spanish, Italian, Jewish or Middle Eastern descent; that mix of cultures is reflected in the city's dialect, foods and pastimes. Looking beyond the city's sights, Buenos Aires is known as the birthplace of tango, and while the music and dance never quite went away, today tango is making a resurgence. Fans come here from around the world to take part in or watch the milongas (dance events). Argentines are world leaders in polo as well, and as the sport captures the interest of more and more travelers, hunky players like Nacho are gaining global celebrity.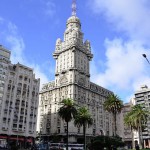 Day 6  23 November, 2019  Montevideo, Uruguay   8.00am – 6pm
Uruguay's capital, Montevideo, often gets overshadowed by her larger, flashier sister across the Río de la Plata, Buenos Aires. While Montevideo may not have quite the bustle of Argentina's capital, it shares that city's cosmopolitan atmosphere and, of course, excellent steak houses. Its smaller size is also an advantage: There is a relaxed feel to this more low-key counterpart to BA.
Montevideo has a surprising mix of neighbourhoods. The Ciudad Vieja, with its grid of streets on a peninsula separating the Río de la Plata from the harbor, is the colonial heart. Long neglected, it has recently undergone a renaissance—restaurants, bars and clubs are opening in historic buildings that have been meticulously restored. Montevideo's downtown is a treasure trove of Art Deco buildings, while the newer eastern suburbs may evoke Miami for visitors. Gleaming skyscrapers and open-air cafés overlook beaches that run for miles.
Of all the cities of Latin America, perhaps none are as approachable as Montevideo. Residents appreciate a good steak from cattle raised on the pampas or a stroll along the malecón with an ice cream cone in hand. After a day here, you likely will too.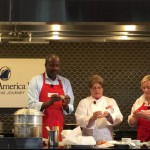 Day 7 & 8  24 & 25 November, 2019  At sea
Relax and spend the time on board exactly as you wish.  Discover the connections that unite us across borders and cultures. Explorations Central™ (EXC™) is immersive onboard programming designed to make your journey more engaging, vivid and meaningful. From EXC Talks,™ to EXC Encounters™ to a chat with your EXC Guide™, you'll feel the spirit of a region come to life.
Interested in cooking?  Holland America Line guests can experience America's Test Kitchen's enticing array of live onboard cooking shows and hands-on workshops. Learn foolproof techniques and user-friendly recipes for making delectable dishes with confidence. Designed exclusively with Holland America Line, this new culinary programming is currently available on select ships.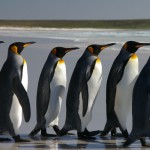 Day 9   26 November, 2019  Stanley/Falkland Is/Islas Malvinas    8.00am – 6pm
The world's southernmost capital, Stanley is located in the Falklands archipelago, which consists of two main islands, East and West Falkland, along with smaller islands nearby. Stanley is proud of its British heritage, evidenced everywhere from its red telephone boxes to its pubs. The Falklands were first claimed by the English in 1765; over the centuries the Crown has had to abandon, reclaim and defend these far-flung islands from invading nations—including an Argentine foray in 1982. During the early years of their colonization, the Falklands were used as a base for ships hunting sperm whales for oil, followed by those hunting seals for fur. Today in this remote British territory, fishing and tourism are what drive the economy.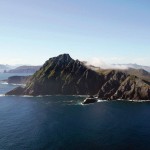 Day 10  27 November, 2019   Scenic cruising Cape Horn
It may be the most notorious ocean passage in the world, and for centuries it evoked dread in the hearts of sailors. But those who survived a trip around Cape Horn, where the Atlantic and Pacific slosh violently into each other, had bragging rights for life. Along this passage, the Tierra del Fuego, or "land of fire," where Chile and Argentina converge at the bottom of the world, got its name from early sailors who saw the fires of the people who lived here burning on shore. For some 8,000 years, until as recently as the end of the 19th century, this was the home of the Yaghan and other indigenous groups.
Magellan and Drake left their mark and names here, as did Darwin, who sailed through here on the HMS Beagle. The great clipper ships of '49er lore later fought their way through fierce waves carrying gold between California and the East Coast in that era before the Panama Canal. Just as Richard Henry Dana, Jr., described in his masterful Two Years Before the Mast, published in 1840, a journey today around the Cape at the very bottom of the Tierra is shaped by capricious weather, as powerful winds and shallow waters can produce waves that reach as high as 30 meters (100 feet).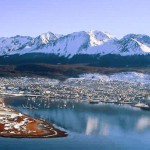 Day 11  28 November, 2019  Ushuaia, Argentina  7.00am – 3pm
Dramatic, fantastical, otherworldly—this is the end of the world, for real. Positioned at the southernmost tip of Argentina, this memorable port town is cradled between the pristine—and towering—Martial Mountains and accessed by the picturesque Beagle Channel (which was named for Darwin's famed vessel). Ushuaia is the capital of the Tierra del Fuego region, which is best described as a spectacular collection of superlative natural wonders. It's a veritable kaleidoscope of glittering glaciers, snowcapped mountains, dense forests, sparkling lakes and windswept plains spread across an archipelago of rugged islands.
The town itself is a maze of streets lined with low-slung buildings that all seem to meet at its heart, the port. Founded in 1884, the far-flung spot welcomed missionaries, gold prospectors and naval officers before becoming known primarily as a penal colony. After its closure under the infamous Argentine leader Juan Perón, the large jail was reconfigured to house one of the city's most popular museums. Other current in-town attractions include a maritime museum and a museum dedicated to the region's natural history, as well as restaurants preparing the marquee offering—local king crab.
Day 11  28 November, 2019   Daylight cruising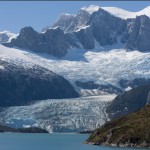 Glacier Alley
As alleys go, this one is mighty long. Glacier Alley—or, as it's more elegantly known, Avenue of the Glaciers—stretches along a good portion of the celebrated 240-kilometer-long (150-mile-long) Beagle Channel in the vast territory of Tierra del Fuego. Argentina's Ushuaia and Chile's Puerto Williams, both common starting points for travellers exploring Glacier Alley, are two of the world's southernmost towns. As you travel into the Beagle Channel, the vital waterway that allowed ships to avoid the hellish fury of the waters around Cape Horn, you follow the route that the famous HMS Beagle took with a young and then-unknown geologist and naturalist on board, Charles Darwin.
While fighting the harsh elements, and with no creature comforts like the ones enjoyed today, those early sailors were at least treated to one stunning glacier after another, each flowing down from massive mountain ranges and peaks such as the snowcapped one named for Darwin himself. Even if your journey is shrouded in foggy mist, you can't miss the cracking sound of the blue ice as it tumbles into the channel or the rush of ice-melt waterfalls. Along with all these natural wonders, a visit to Glacier Alley comes with opportunities to see penguin rookeries, humpback whales and seals.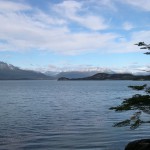 Beagle Channel
Running through the Tierra del Fuego archipelago, the Beagle Channel is a scenic and wonderfully calm strait that has become a hugely popular cruise destination. Named in 1830 after a charting voyage by the HMS Beagle—the ship that later became famous for carrying English naturalist Charles Darwin on his five-year journey of discovery—the channel is one of a trio of navigable passages around the tip of South America. Some 240 kilometers long (almost 150 miles), the channel extends from Nueva Island in the east to Darwin Sound and Cook Bay in the west. Its western end lies within Chile, and its eastern end forms a segment of the border between Chile and Argentina. By far the largest sight along the channel is the town of Ushuaia in Argentina, which has much to offer the day-tripper or overnight visitor. Other highlights of a cruise include a slew of natural sights, from views of snow-covered glaciers to wildlife spotting at Isla de los Lobos (also called Sea Lion Island) and Isla de los Pájaros (Bird Island).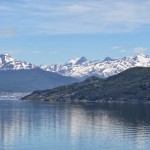 Cockburn Channel
As you near the southern tip of South America, traveling along the Chilean or Pacific coast, you'll know that you're approaching the Cockburn (pronounced "CO-burn") Channel when you see the twin rocks that guard its entrance. The channel flows between the Brecknock Peninsula (the westernmost edge of Isla Grande de Tierra del Fuego) and a number of islands, including Clarence Island with its irregular coastline of dramatic sounds that reach deep into its interior. The channel is part of the route that connects the Strait of Magellan to the Beagle Channel, while along both sides of the waterway is one of the crown jewels of Chile's network of parks: Alberto de Agostini National Park.
The Cockburn Channel shares the same entrance to the Pacific as the Bárbara Channel. Because of its proximity to the open sea, you may experience some ocean swells as your ship navigates its length. The coastline here is rich in fjords and glaciers. The Pia Fjord is especially beautiful, as dozens of waterfalls cascade down the slopes into its waters. If you watch long enough, you may see huge chunks of ice calve off Pia Glacier and fall into the sea.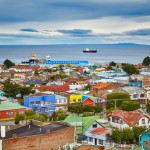 Day 12  29 November, 2019   Punta Arenas, Chile   10.00am – 10pm
If Punta Arenas exudes an "edge of the world" air, it's not without reason. This windblown city near Chile's southernmost tip sits on the Strait of Magellan, which itself is positioned squarely between the Atlantic and Pacific oceans. The city has played—and continues to play—an important role in geographic, political and economic affairs in South America's so-called Southern Cone, which is formed by Chile and neighboring Argentina. Too many travelers rush through Punta Arenas, treating it as a pit stop on their way to the stunningly beautiful landscapes of Torres del Paine National Park and other attractions in Patagonia, but there's plenty in this city and its environs to experience, too. From penguin spotting on Isla Magdalena and kayaking the Strait of Magellan to visiting area farms and then indulging in surf-and-turf specialties (here meaning fresh seafood and asado, or Chilean barbecue) at local restaurants, Punta Arenas is worth a stopover all its own.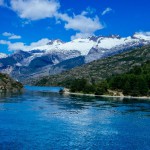 Strait Of Magellan
Before the Panama Canal, there was the Strait of Magellan. This cinematic channel linking the Atlantic and Pacific oceans cuts between the mainland tip of South America and Tierra del Fuego island. It was the passage of choice for seafaring transport between these two oceans until the Panama Canal shortened the distance by thousands of miles in 1914.
The first European to traverse its waters, all 560 kilometers (350 miles) in length and up to 32 kilometers (20 miles) in width of them, was Portuguese sailor Ferdinand Magellan, who did so in 1520 in the name of Spanish exploration. Magellan surely sailed mouth agape at the impressive glacial and mountainous scenery, the undiscovered colonies of Magellanic penguins, pods of humpback whales and schools of Commerson's and Peale's dolphins—all surely as equally agog with the presence of man in this Patagonian paradise. With photogenic Punta Arenas as its main port, the Strait of Magellan is a bucket-list voyage for intrepid adventurers the world over.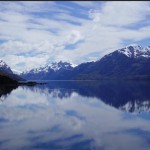 Day 13  30 November, 2019   Canal Sarmiento
One of the main channels in Patagonia, the Sarmiento Channel runs in a north-south direction, starting at the Guía Narrows and finishing at the southern edge of Victoria Pass, where it joins the Smyth Channel. The Kawesqar people have inhabited this region for more than 6,000 years, but the channel was named for a more recent arrival: the Spanish explorer Pedro Sarmiento de Gamboa, who first navigated it between 1579 and 1580. The Chilean mainland lies to the east, and the islands of Esperanza, Vancouver and Piazzi flank the channel to the west. As elsewhere in the Chilean fjord region, the ragged coastline is cut with inlets set among snow-covered mountain ranges. In many places, massive glaciers run down to the sea. All kinds of marine animals, including Magellanic penguins, southern elephant seals, dolphins and orcas, can be seen along these shores.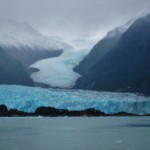 Scenic Cruising Amalia Or Brujo Glacier
Ice and weather. That's what it all comes down to as ships make their way through this part of the world. On Chile's coast along the Southern Patagonian Ice Field, ice buildup and quixotic weather conditions heavily dictate which routes ships can take. Even when passage is safe around the popular Amalia, El Brujo or numerous other breathtaking glaciers found here, misty rain or soupy fog might be the order of the day. And it can always shift in a flash, as glassy waters erupt into choppy waves—or, more happily, shrouded peaks become flooded with sunlight sparkling off the ice fields, letting you relish a momentary peaceful stillness in the air.
Snug in a parka, and from the comfort of your ship deck, you marvel at the different appearances of the glaciers, from fields pocked with lumps of ice to smooth watery rivulets, all in hues of blue too numerous to describe. The truly lucky get to witness sunrise or dine at sunset while anchored in the deep fjords or narrow channels along the coast. But any time of the day, you're guaranteed a backdrop of snowcapped peaks while you observe small Peale's dolphins and sea lions as well as terns, albatrosses and other seabirds going about their daily business around you.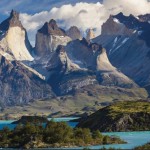 Day 14  01 December, 2019   Chilean Fjords
Much like the Norwegian coastline, the west coast of Chile is sliced by dramatic inlets, or fjords, lined with rugged mountains and glacier-covered valleys. This spectacular stretch of coastline starts near the Reloncaví Estuary (roughly halfway down the long spine of Chile) and extends south to the very end of the continent, at Tierra del Fuego. It's a distance of some 1,500 kilometres (930 miles), as the crow flies. Travel here, however, is never in a straight line—instead ships follow meandering paths along the many fjords and channels.
The area is known for its desolate beauty and not surprisingly it's home to many of Chile's national parks, including Alerce Andino, Hornopirén and Vicente Pérez Rosales, as well as the Llanquihue National Reserve and the Cochamó Valley. Early Spanish explorers came here in search of the mythical City of the Caesars, whose people were believed to be rich in gold and diamonds. Though the city was never found, the explorers added much to the world's navigational knowledge and at the same time established shipping routes that have been used ever since. Similarly, the riches that travelers to the region today discover are measured not in ounces or carats but in gasps of wonder at the stunning scenery of this windswept, dramatic land and its unusual animal residents.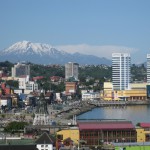 Day 15  02 December, 2019   Puerto Montt, Chile    8am – 5pm
Puerto Montt, the capital of the Los Lagos region of Chile, is often called the gateway to the country's glacial lakes, volcanic landscapes and surrounding national parks. The port is also home to an over-100-year-old German settlement as well as to indigenous communities of Mapuche people. Adventure travelers often base themselves here and in Puerto Varas when planning treks to Chiloé and Patagonia. Even a short visit, however, provides a fascinating look into Chile's diverse cultures and offers a taste of the country's stunning scenery.
From a stroll around Puerto Varas overlooking Lake Llanquihue, one of Chile's largest lakes, to a meal in the fishing village of Angelmó of the practically still-snapping catch of the day, washed down with a traditional German-style white wine, Puerto Montt is a fascinating introduction to southern Chile and the people who make their home in one of the world's most photogenic landscapes.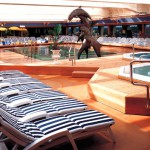 Day 16  03 December, 2019    At sea
Sadly this is our last day at sea before our cruise is over. Spend the day as you wish – relax by the pool, finish your art projects, finish and return your library books, exchange contact details with your new friends, watch a movie,see a show, play trivia or bingo or take a chance in the casino, work out in the gym, have a game of paddle tennis or  dance until you drop.  Oh.. and  the realization hits when you start packing your bag in preparation for disembarkation tomorrow.   It's been a wonderful cruise filled with some of  the most jaw-dropping  beautiful scenery on earth.  There's no reason to be sad as you'll be leaving with memories that will last a lifetime.
Day 17  04 December, 2019   San Antonio (Santiago), Chile   Ship arrives at 7am   We would be happy to assist with your onward travel arrangements.
Cruise price $AU 5490**  includes:
16 night's accommodation on board HAL Zaandam – inside cabin Category K (upgrades to ocean view and balcony available)
SINGLE OCCUPANCY
Port taxes included ($825)
*Services of a tour escort from Australia on board HAL Zaandam (*based on minimum of 12 participants)
Onboard entertainment
Coffee, tea,  still water
Meals in main dining room and/or buffet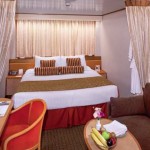 Inside:  Approximately 182-293 sq. ft.    –  Category K  -may be located on Main Deck, Verandah Deck or Navigation Deck
Two lower beds convertible to one queen-size bed—our signature Mariner's Dream™ bed with plush Euro-Top mattresses, premium massage shower heads and a host of amenities are featured in these comfortable staterooms.
**Cruise package fare $5490 including taxes is based on this cabin type **.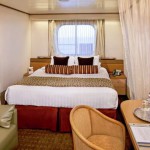 Ocean View: Approximately 140-319 sq. ft.   –  Category E  – may be located on Dolphin Deck, Main Deck or Lower Promenade Deck
These expansive staterooms include two lower beds convertible to one queen-size bed—our Signature Mariner's Dream™ bed with plush Euro-Top mattresses, premium massage shower heads, a host of amenities and an ocean view.
**Upgrade to this cabin category for an additional  $995 **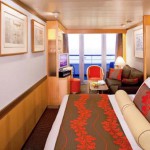 Vista suite:   Approximately 297-379 sq. ft. including verandah   –  may be located on Verandah Deck or Navigation Deck.
With a teak-lined verandah, floor-to-ceiling windows and comfortable sitting area, these comfortable suites are filled with light. They include two lower beds convertible to one queen-size bed—our signature Mariner's Dream™ bed with plush Euro-Top mattresses, plus a whirlpool bath and shower, mini-bar and refrigerator.
Price varies depending on location of cabin i.e. forward, aft, amidships.
** Upgrade to Category BB located on Verandah or Navigation Deck for additional $5799
** Upgrade to Category B located on Verandah or Navigation Deck for additional $5999
** Upgrade to Category AA located on Verandah or Navigation Deck for additional $6299
Cruise cost does

not

include:
Gratuities
International airfares or taxes
Arrival or departure transfers
Pre and post cruise accommodation
Shore excursions
Spa/personal services
Upgrade to Ocean view or  balcony cabin if required
Optional add-ons
Anything not mentioned in 'inclusions'
To contact us for reservations or enquiries:
Destination World Travel

PO Box 2040

South Plympton    South Australia   5038      Australia
Phone:  08-8293-6988   Outside of Australia 61-8-8293-6988