Highlights of South Africa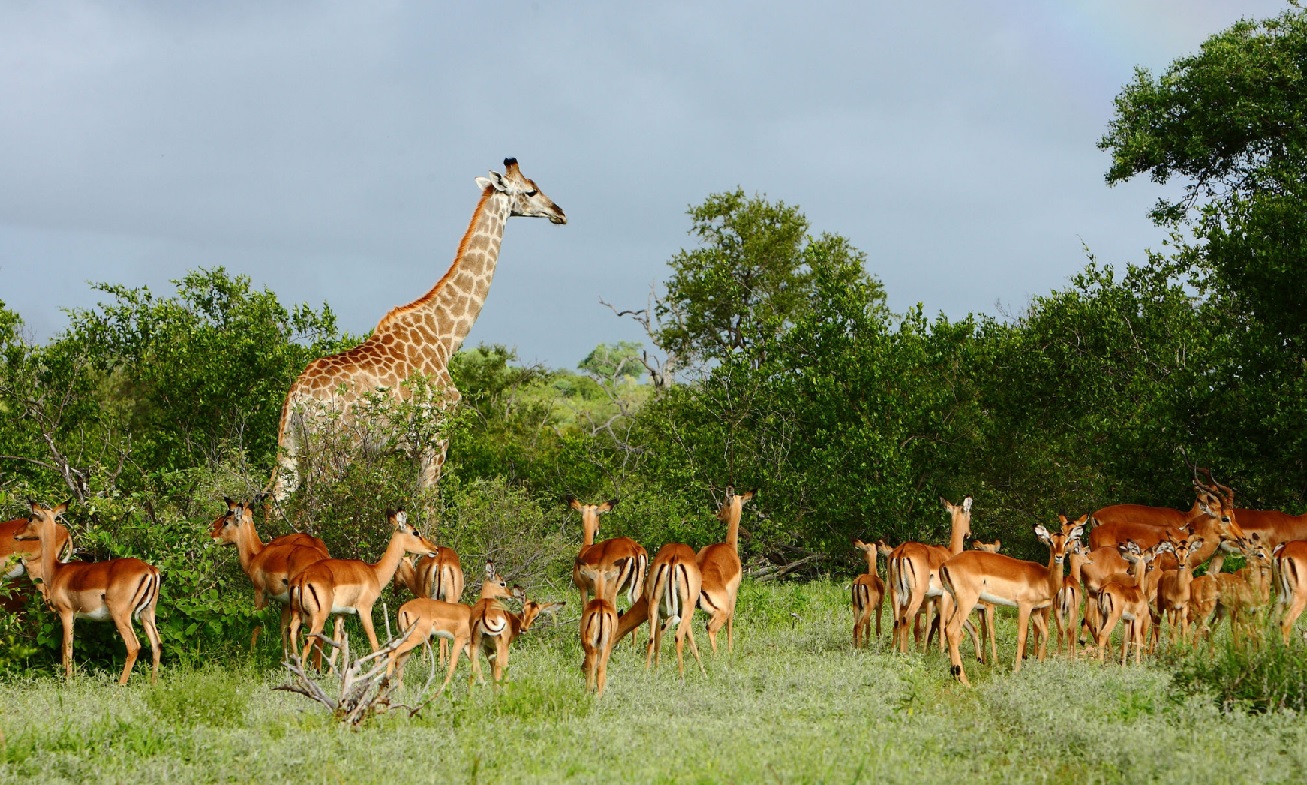 Come and join our singles group tour of South Africa encompassing spectacular scenery, unique culture and history, and the opportunity for some fascinating wildlife encounters.  We begin in Cape Town, a singularly beautiful city crowned by the magnificent Table Mountain National Park, and follow the Whale Coast and the Garden Route  en-route to Johannesburg.   With pristine beaches flanked by rivers and rolling mountain ranges dotted with lush forests and valleys, the Garden Route is undoubtedly one of the most picturesque regions in South Africa, and one of the most spectacular stretches of coastline in the world.   After sightseeing in Pretoria and Johannesburg we spend 6 nights on safari near Kruger in search of the big five: lions, elephants, leopards, rhinos and buffalo.
From Cape Town to Johannesburg
This tour  is perfect for first time travellers to Africa or repeat visitors wanting to see more of this spectacular country and still combine it with exciting safari experiences in search of the 'big 5'. 
*Escorted from Cape Town
 Guaranteed SINGLE room throughout
Departing Cape Town 06 August, 2019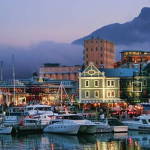 Day 1   06 August, 2019  Make your own way to Cape Town.  Use your frequent flyer points or we will book the best airfare for you and team you up with others in the group who may be on the same flight.    **If you are joining this tour from our Highlights of Namibia  by private train journey, we will transfer from the airport to the hotel together.**      Meet your travelling companions tonight over dinner at the hotel.  Breakfast and dinner included
Accommodation:   Commodore Hotel (or similar) 3 nights   With panoramic views of Table Bay and Table Mountain, The Commodore is decorated in a nautical theme. It features an outdoor swimming pool and sauna, fitness and massage facilities.   The Commodore's air-conditioned rooms include free Wi-Fi, satellite TV and a private bathroom with bathtub. There is 24-hour room service and a 24-hour reception. The business centre offers complimentary internet access. Guests can enjoy a work-out in the gym or book a relaxing massage in the spa. When weather is nice, the partly shaded terrace offers a relaxing setting for a drink or snack.  Apart from a breakfast buffet, Clipper Restaurant serves an à la carte menu featuring seafood dishes and regional wines. The Admiralty Bar and Lounge provides a 24-hour cocktail menu.  The Commodore Hotel is situated adjacent to the V&A Waterfront, a 10-minute walk from Cape Town Stadium. Cape Town International Convention Centre (CTICC) is 2 km away while Cape Town International Airport is 25 km away.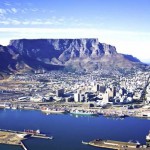 Day 2  07 August, 2019  Cape Town  After breakfast we begin our full day tour which includes  Table Mountain return tickets, Robben Island Tour, visit to Castle of Good Hope, visit to Cape Town Museum    Breakfast and dinner included   Cape Town is one of South Africa's most historically important cities. It was here, in the Mother City, where the first European colonists set foot in South Africa—which also marked the beginning of the South African slave trade. It was home to perhaps the world's most famous political prisoner—Nelson Mandela—who was held on the tiny Robben Island in Table Bay.  Cape Town is a melting pot of colour, creativity and cuisine and with stunning art, great food and wine, spectacular scenery and historic sites is regarded as one of the most beautiful cities in the world.
Day 3   08 August, 2019  Cape Town   A full day at leisure.  With so many options in and around this beautiful city, we have left the day free for you to decide what you'd like to do.  Your Australian escorts are on hand to assist with your reservations.  Perhaps take a tour to Cape of Good Hope, ​Cape Point, and the Penguin Colony, or if you are interested in wineries, take a tour to Stellenbosch for wine tasting.  Alternatively if you are interested in gardens and wineries, why not combine both with a visit to  Kirstenbosch Botanical Gardens and Groot Constantia Wine Estate.   Breakfast and dinner included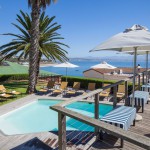 Day 4  09 August, 2019   Cape Town – Hermanus – Mossel Bay  We leave Cape Town towards Mossel Bay, a small coastal town in the famous Garden Route area in the southern part of South Africa, after breakfast this morning, and have some free time in Hermanus, the world's foremost land based whale watching destination. This town, located between the mountains and the sea,  is a thriving holiday resort  yet still retains its fisherman's village charm. The Old Harbour offers an insight into Hermanus' past as a Fisherman's village and marine life.  Breakfast and dinner included
Accommodation:  Protea by Marriott (or similar) overnight  The luxurious 31-roomed Protea Hotel Mossel Bay is a graceful landmark, built in 1846, overlooking Santos Bay and harbour. Nestling on the Mossel Bay shoreline with the majestic Outeniqua Mountains as a backdrop, the Protea Hotel Mossel Bay is singled out from other establishments. Protea Hotel Mossel Bay is situated 5 min from Santos Beach.  As sunset arrives, visit the Legendary Blue Oyster Cocktail Bar, with its own special ambience, pool deck and superb sea views, is the perfect place to kick off a decadent evening out or simply just to relax and enjoy the sunset with an aperitif before dinner. Added attractions are the close proximity to shopping facilities, the yacht club, harbour and north-facing, sun splashed beaches. As part of the museum complex, the Maritime, Local History and Shell Museum, as well as the Old Post Office Tree, are all within strolling distance. The new golf estate is 2km away and the airport a 20 minute drive.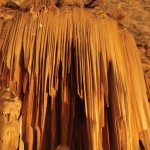 Day 5   10 August, 2019  Mossel Bay along the Garden Route to Oudtshoorn   After breakfast we continue our journey along the Garden Route and visit Cango Caves before checking into our accommodation in Oudtshoorn.  Breakfast and dinner included
29km from Oudtshoorn, at the head of the picturesque Cango Valley, lie the spectacular underground wonder of the Klein Karoo – the Cango Caves. Situated in a limestone ridge parallel to the well known Swartberg Mountains, the Cango Caves are a series of dripstone caverns that open into vast halls of towering stalagmite formations with names like 'the bridal couple', 'glass flower fantasy', 'weird cango candle' and 'the hanging shawl'.  These are some of the biggest stalagmite formations in the world set in Precambrian (a time about 4500 million years ago) limestone.
Accommodation:  Mooiplaas Guesthouse (or similar)  overnight  Mooiplaas Guesthouse is a luxury guest house situated on a working ostrich farm, within 11 km of Oudtshoorn. This owner-managed property offers views of the Swartberg Mountains, an outdoor swimming pool and an on site spa.   Rooms are individually-decorated to create a stylish atmosphere. They all feature a en suite bathroom. The property offers free WiFi. The main manor house features a dining room, an outdoor patio with barbecue area and a swimming pool. Guest facilities include a private tour of the ostrich farm, as well as hiking and mountain bikes are available for hire.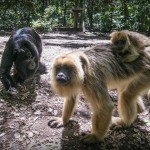 Day 6  11 August, 2019  Oudtshoorn  –  Monkeyland – Port Elizabeth     After breakfast we'll learn  how Oudtshoorn owes its history to the ostrich and tour this modern day working commercial farm.    You will get a chance to meet the curious and friendly, young ostriches in the farm paddocks and see how they breed the chicks.    We continue our tour towards Port Elizabeth with a stop at Monkeyland, the world's first free roaming multi-specie primate sanctuary. It's mission is to educate and foster greater understanding of our primate cousins and the threats and challenges they are facing.   We'll have a guided safari through the forest and can expect to see a large variety of primates, ranging from the Gibbons of Asia, Howlers from South America to the Lemurs of Madagascar. At present, Monkeyland is home to around 700+ primates that roam the forest.   Continue our journey to Port Elizabeth.   Breakfast and dinner included
Accommodation:    The Beach Hotel (or similar)  2 nights   Our hotel is 2 minutes walk from the beach. Located along the beachfront in Port Elizabeth and with views of the Indian Ocean, The Beach Hotel offers brightly decorated rooms with air conditioning. It features 3 restaurants, a pool and a sun terrace with ocean views.The individually decorated rooms feature heating, a satellite TV and tea-and-coffee making facilities. Guests can sunbathe poolside, relax on the sun terrace and enjoy a variety of cocktails or refreshments from the bar.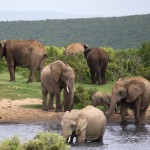 Day 7    12 August, 2019  Port Elizabeth –  Addo Elephant Park
After breakfast we'll drive to the nearby Addo Elephant National Park – the only place in the world that is home to Africas 'Big 7' – Lion, Buffalo, Leopard, endangered Black Rhino, Elephant (more than 600!), Great White Shark and the Southern Right Whale. This finely tuned ecosystem offers unrivaled biodiversity and a magnificent game viewing experience in a Malaria free environment.   We'll spend the  full day exploring South Africa's 3rd largest national Park with one of our expert local guides!  The original elephant section of the park was proclaimed in 1931, when only eleven elephants remained in the area. Today this finely-tuned ecosystem is sanctuary to over 600 elephant, lion, buffalo, black rhino, spotted hyena, leopard, a variety of antelope and zebra species, as well as the unique Addo flightless dung beetle, found almost exclusively in Addo.   Breakfast and dinner included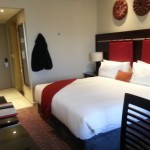 Day 8  13 August, 2019  Port Elizabeth – Johannesburg  Morning is at leisure before we transfer to the airport and our flight to Johannesburg.  On arrival transfer by hotel shuttle to to our hotel.
Accommodation:    Peermont Mondior (or similar)  2 nights  Breakfast and dinner included  Closely situated to O.R. Tambo International Airport in Johannesburg, the hotel features 150 spacious rooms and suites which are all fitted with cutting-edge technology and furnished in an elegant and contemporary African style.    The chic Oriana restaurant offers breakfast and light meals and guests can enjoy a delectable cocktail at the Silver Moon Bar. Hotel guests have access to the casino, dining, entertainment, convention and relaxation facilities at the Emperors Palace Hotel, Casino and Convention Resort.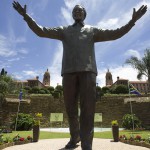 Day 9    14 August, 2019  Johannesburg  After breakfast we begin our full day tour as we head to Pretoria just over 30 km from Johannesburg with our first stop at the Voortrekker Monument. From there you'll drive through the beautiful Pretoria town also known as Tswane. Stop at the Union Building which houses the president of South Africa at this point you can get a splendid view of Pretoria City and find a perfect place to take photos. Continue on to Soweto Town where you will get to see the 1976 Youth Uprising by Visiting the famous Hector Peterson Museum and also visit the house of the South Africa Apartheid hero Nelson Mandela in Vilakazi Street. Continue on to see the Apartheid Museum where you will get the fine print of what actually transpired during those apartheid days and conclude your tour by passing through Johannesburg City as you head back to your hotel in Johannesburg.   Return to the hotel for evening at leisure.   Breakfast and dinner included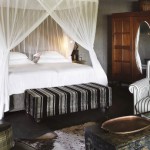 Day 10   15 August, 2019  Johannesburg – Hoedspruit  –  Timbivati Game Reserve – Motswari  We have an early breakfast before transferring back to the airport and our flight to Hoedspruit.   We'll have lunch when we arrive and then a briefing before our afternoon game drive.Each day we'll have game drives in open Land Rovers at sunrise and sunset to ensure an unforgettable game viewing experience. 
Accommodation:  Motswari Game Lodge    Motswari is a luxury family-owned lodge situated within the Umbabat Natural Reserve.  With 15 luxury-appointed en-suite bungalows, each with thatched roofs and equipped with air-conditioning, and all offering unrivalled savannah views from large wooden decks, guests enjoy a high level of comfort. The naturally-furnished interiors of each bungalow reflect the wonders of nature that exist just outside the windows.   Guests can experience bush trails with trained guides and spend evenings in the wilderness, eating authentic open-air boma meals.   They combine traditional décor with a designer touch and include a lounge and bathrooms with bathtub.   The accommodation is relaxed and guests can benefit from an outdoor pool, a library and free Wi-Fi in public areas.   Meals are taken either at a scenic location out on the trail with one of our highly-trained guides or in our lounge and, depending on the season, evenings can be spent dining in the bush or inside the Boma, a traditional meeting-place. Breakfast, Lunch and dinner included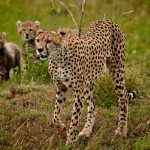 Day  11 & 12    16 & 17 August, 2019  Motswari Game Lodge     Morning and afternoon game drives each day.  All of Africa's Big Five are abundant in the area, as are countless numbers of other naturally-occurring African Plains Game which traverse the open boundary between Motswari and the Kruger National Park. Our guides are residents of the area and have, in addition to the scientific knowledge , an intimate knowledge of the location and wildlife that comes from a lifetime of co-existence with their surrounds.
Supporting the Big Five are several other species of wildlife, including cheetah and wild dogs and naturally occurring herbivores from the antelope and gazelle family. There are a variety of nocturnal animals which make our sunset drives completely different from their daytime equivalent which include, but are not limited to, hyena, honey-badger, civet, the bush-baby and owls. The avian population is unrivaled for the avid birdwatcher, with well over 350 different species to be spotted year-round.  Breakfast, Lunch and dinner included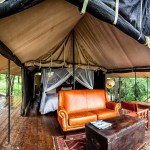 Day 13   18 August, 2019  Motswari Game Lodge – Honeyguide Mantobeni Tented Camp  After an early morning game drive, we have a private transfer by road to arrive in time for lunch, relax by the pool and then an afternoon game drive.
Accommodation:    Honeyguide Mantobeni (or similar)  3 nights
Mantobeni Camp is designed to reflect Hemingway's Africa.   Mantobeni Camp is more of a remote bush camp, set in a grove of tamboti trees. Its free-standing bedroom tents are set on wooden platforms, with roll-up walls and a run-around terrace, making for a very "up and close-to-nature" feel. The nearby waterhole means you can often see elephants from your room at the nearby waterhole. The tents at Mantobeni Camp are furnished with king size beds, mosquito nets and soft leather couches. Each tent has an en-suite bathroom with a sunken concrete bath, double shower, his & hers basins and a separate toilet.  Leather sofas, a single standing lamp create a pioneering, colonial atmosphere. The main building, on the other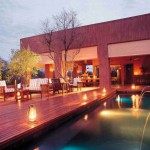 hand, is a decidedly modernist and boxy affair, with earth-coloured walls and columns built around the teak-decked dining area and the narrow pool.    There are 15 tents which are nestled in a Tamboti grove overlooking a dry river bed. Our reception area is comprised of a large sitting area, an outdoor area with a splash pool & sun loungers, a bar and an extensive climate controlled wine cellar.    Game visiting the nearby watering hole can be seen from the swimming pool deck which adjoins the reception area.  Breakfast, lunch and dinner included
Day 14 & 15    19 & 20 August,  2019  Honeyguide Mantobeni Camp  Game drives each day in open game viewing vehicles in the early morning and late afternoon/evening. Late afternoon and evening drives include sunset drinks, views over the Mohwareng Hills, and glimpses of nocturnal creatures. Larger game frequently sighted in the reserve includes elephant, rhino, lion and hippo. In between meals and drives, watch the game and birdlife pass by while relaxing by the pool or take a walking safari through the deep bush, accompanied by an experienced, armed ranger,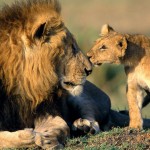 Day 16   21 August, 2019  Honeyguide Mantobeni – Hoedspruit – Johannesburg  Time for our last early morning game drive before we leave for the airport and our flight back to Johannesburg.   Remainder of evening is at leisure.
Accommodation:   Peermont Mondior (or similar)  overnight   Breakfast and dinner included
Day 17   22 August, 2019  Johannesburg  Sadly our safari has come to and end after breakfast this morning.  We would be happy to assist with your onward travel arrangements.
Tour cost  $AU10290 includes:
*Services of an Destination World Travel escort from Australia
English speaking local guides for sightseeing
Economy airfare  Port Elizabeth/Johannesburg
Economy airfare Johannesburg/Hoedspruit/Johannesburg
SINGLE room with private en-suite facilities throughout
Breakfast daily
Breakfast and dinner daily at Cape Town, Garden Route ,Port Elizabeth  and Johannesburg hotels
Breakfast, lunch and dinner at Motswari Game Lodge
Breakfast, lunch and dinner at Mantobeni Camp
Morning and afternoon game drives on safari – 4WD at Motswari and Mantobeni
Local safari guides on safari
Included lodge activities
Cape Town City Tour – including Table Mountain with return cable car tickets, visit to Robben Island, Castle of Good Hope and Cape Town Museum
Entry & Tour at Cango Caves, Safari Ostrich Show Farm, visit and tour at Monkeyland
Private return transfers to and from Hoedspruit Airport
Transfers as per itinerary
Tour cost does not include:
.  International airfares
.  Air ticket taxes
.  Passports, visas or items of a personal nature
.  Meals other than those included as per itinerary
.  Drinks
.  Honeyguide Mantobeni Camp: Excludes Community levy of ZAR75 pp (approximately $8 per person per day payable directly at the camp)
.  Anything not mentioned in 'inclusions'
Please note:   This tour involves services which are settled in a number of currencies and the exchange rate has been calculated on rates current at the time of uploading this tour onto our website.  
Should there be a fluctuation of exchange rates of more than 3% from this time to the time we receive payment, we reserve the right to pass on an exchange rate surcharge.
To contact us for reservations or enquiries:
Destination World Travel

PO Box 2040

South Plympton    South Australia   5038      Australia
Phone:  08-8293-6988   Outside of Australia 61-8-8293-6988

Email:  destinationworld@internode.on.net