Sydney to Singapore Crystal Symphony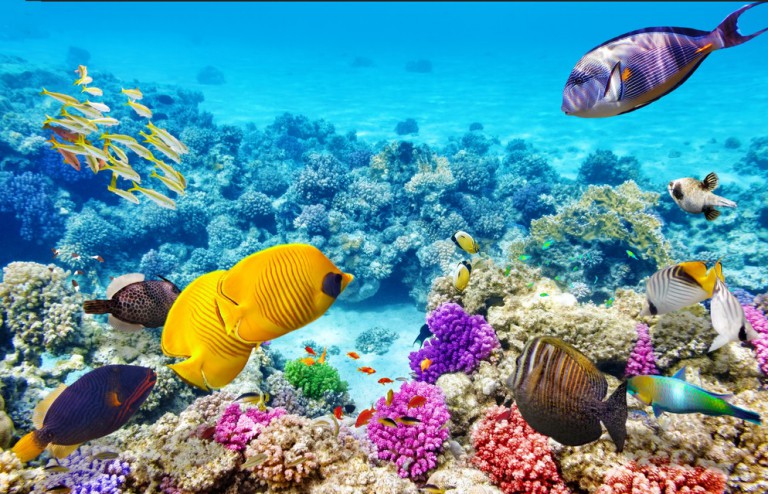 Crystal Symphony cruise

Understated elegance, sophisticated, luxurious but not pretentious, perfectly planned itineraries, exquisite dining, all inclusive and with crew who treat you like their favourite family;  this is Crystal Symphony and one of the finest luxury ships afloat.  We invite you to join us as we set sail 'close to home' for  18 days  from Sydney's iconic Opera House and the underwater wonderland of the Great BarrierReef to the dragons of Komodo and the temples of Bali and on to one of the cleanest cities in the world, Singapore.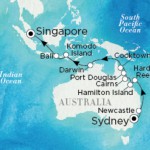 Sydney to Singapore 
Commencing  08 April, 2019
*Escorted on board Crystal Symphony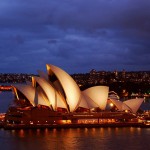 Day  1  08 April, 2019     Sydney Make your own way to Sydney and board Crystal Symphony in time for lunch.   Ships sails at midnight tonight.
Sydney is an energetic and exciting metropolis whose nightlife, shopping and fine restaurants compare favorably with the finest the world has to offer. Despite its modern advances, Sydney has lovingly cherished its heritage, for this was the birthplace of the Australian nation.   Combine Sydney's boundless attractions with its superb harborside location, and you have that certain magic that few other cities can rival.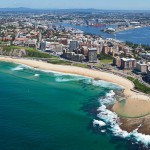 Day 2   09 April, 2019     Newcastle, Australia    8am – 5pm
Located about 100 miles northeast of Sydney at the mouth of the Hunter River, Newcastle is similar to another of the world's Newcastles – Newcastle, England – in that the city has its roots in industry, including coal mining and shipbuilding.  Australia's Newcastle still exports a large amount of coal, but it is also imports travelers keen on enjoying some of the best Australia has to offer. The milieu of the Victorian era is on display in a heritage area centered around historic Christchurch Cathedral, while the country's natural wonders are exhibited along a spectacular coastline fringed with pristine beaches. A cultural renaissance has been underway, nurturing the talents of writers and artists and giving visitors a chance to discover a vibrant art scene.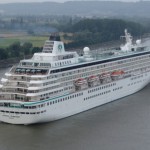 Days 3 & 4   10  & 11 April, 2019     At Sea
Aboard the most award-winning ships at sea, your story can be written exactly as you wish: pamper yourself at the Feng Shui-inspired Crystal Spa, work-out at our state-of-the-art fitness center or Walk-on-Water along our 360 degree Promenade Deck; learn how to translate your story into a movie with USC's School of Cinematic Arts Digital Filmmaking class at our Creative Learning Institute ®; or learn about art, history and worldly destinations with our engaging celebrity entertainers and speakers with our Crystal Visions® Enrichment Program; sneak away to watch recently-released movies in the Hollywood Theatre, shop our luxury boutiques, or simply lounge poolside while our attentive crew caters to your every whim. From mat Pilates and yoga to PGA golf instruction and paddle tennis on full-size courts, today is all about you. As evening arrives, dine on the renowned culinary creations of Nobu Matsuhisa, and Crystal's own acclaimed chefs with new Modern Cuisine and Global Inspired menus, enjoy special wine-makers dinners, breakout new production shows, intimate lounges, a pulsing dance club or try your luck in the casino.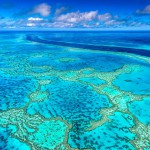 Day 5  12 April, 2019     Hardy Reef/Hamilton Island, Australia      7am – 9am
Hardy Reef is considered one of the premier sites for visitors of Australia's Great Barrier Reef. Anchorage here affords tantalizing glimpses of a compelling underwater realm. For those guests who wish to spend the morning exploring the world's largest living structure, or visiting one of the Whitsunday Islands' most spectacular beaches, Crystal Symphony will anchor briefly to dispatch excursions before continuing on to Hamilton Island. Surrounded by idyllic coral-fringed beaches, Hamilton Island provides the perfect backdrop for the ultimate tropical Great Barrier Reef experience. Located off the Queensland coast amid the numerous islets that make up the Whitsundays, Hamilton Island has been described as "the Island that's spoiling Australia." Its location near the Great Barrier Reef has ensured its status as the travel hub of the Whitsundays. Moreover, Hamilton's marina is a vibrant village with boutiques featuring local art and fashion as well as myriad cosmopolitan restaurants and charming cafés.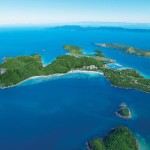 Hamilton Island, Australia    1pm  –  7pm
Their location is perfect: the Whitsunday Islands, among them Hamilton Island, sit right off the white sandy coast of Queensland, just 90 minutes from the Outer Great Barrier Reef and amid some dazzling dive sites of their own. Of these 74 islands, most are uninhabited. The islands that do welcome guests offer countless opportunities for snorkeling, diving, sailing, hiking and fishing.   Perhaps the island with the most to see and do is Hamilton Island. The vacation village has been polished to a high sheen and equipped with top-notch amenities. Wander the marina where you can stop for a bite to eat at one of the cafés or do some shopping. For a quintessentially Aussie experience, hike the trails that wind through the island's 1,853-acre virgin bush land. Also visit the wildlife sanctuary for a chance to pet a baby crocodile or hold a cuddly Koala.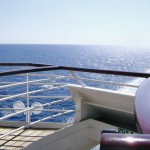 Day 6  13 April, 2019   At Sea
Day 7  14 April, 2019 Cairns, Australia   7am  – overnight
Welcome to Cairns where the weather and hospitality are warm. Tropical Cairns is Queenland's most northerly city, and is framed by two features of such pristine beauty and incomparable value that they have been listed by the World Heritage Society.   Located at the point where the Great Dividing Range and Great Barrier Reef curve gently to the shoreline, Cairns is graced with inspiring natural attractions in all directions. Beyond the coast are mountains, rainforests, eucalyptus, waterfalls, lakes, rugged ravines and grazing farmlands fed by freshwater streams. Above all, two of the most wonderful assets are the Great Barrier Reef and the Wet Tropics Rainforests.   Cairns, the colorful, sophisticated capital of the tropical north, is alive with life and charm. At hand and beckoning for your discovery are elegant boutiques, markets, art galleries and museums.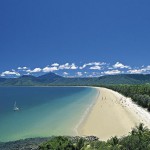 Day 8   15 April, 2019       Ship sails from Cairns at 5am and arrives Port Douglas at 9am – 9pm
A popular international holiday destination, Port Douglas boasts a laid-back, yet sophisticated atmosphere. A former fishing village, this tropical paradise offers golfing opportunities, world-class specialty shops and fine dining. Port Douglas is also blessed with extraordinary natural treasures. Majestic rainforests blanket the Great Dividing Range and spill down to the sparkling sapphire waters of the Coral Sea. Accessible from this port of call is the stunning Daintree Rainforest, magnificent Cape Tribulation Beach and the world-renowned Rainforest Habitat Wildlife Sanctuary.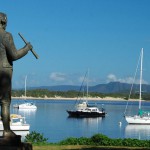 Day 9  16 April, 2019     Cooktown, Australia   8am – 6pm
As you might expect, Cooktown is named after Captain James Cook, who beached his ship, the Endeavour, on these shores in 1770. He spent nearly seven weeks repairing the vessel, replenishing supplies and nursing the sick, writing, "It was happy for us that a place of refuge was at hand.— Travellers who come ashore today also will find this slice of Queensland to be a refuge, a place to relish with a relaxed and enlightening visit. In addition to its connection to James Cook, memorialized with monuments and a museum, Cooktown boasts a Gold Rush history, pristine beaches, hidden gardens, majestic mountain views and an interesting indigenous culture.
Day 10 & Day 11  17  and 18 April, 2019      At sea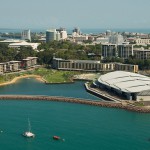 Day 12  19 April, 2019     Darwin     8am -5pm
Darwin, Australia's northernmost city, lies between the sun-bleached Outback and the Arafura Sea on Australia's "Top End," as tropical northern Australia is familiarly called. Cosmopolitan, yet casual, the capital of the Northern Territory has grown from its roguish beginnings into a modern, mellow mini-metropolis. Establishing and maintaining a European frontier outpost on Australia's remote northern shores has never been easy. The early colonists' aim in settling this far-flung area was to pre-empt foreign occupation and create a trading post for the British Empire. However, aside from a short-lived gold rush during the latter-half of the 19th Century, Darwin seems to have had a long string of bad luck. Since its early days, the city has weathered three destructive cyclones, the worst being Cyclone Tracy in 1974, as well as Japanese air raids during World War II. Despite its struggles, Darwin boasts a comfortable tropical climate and some of Australia's most intact cultural and natural highlights. Nearby Litchfield National Park provides an abundance of wildlife, numerous waterfalls and a remarkable backdrop for your afternoon explorations of The Territory. For those seeking the source of the Aussie lifestyle made famous by "Crocodile Dundee," the beauty of the Adelaide River and its famed jumping crocodiles will be of particular appeal. Darwin is a fascinating blend of culture, history and nature and beckons for your exploration.
Day 13  20 April, 2019    At sea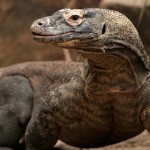 Day 14  21 April, 2019     Komodo Island, Indonesia  9am – 6pm
Many of Komodo Island's residents are descendants of convicts, who like the early inhabitants of Australia, were sent to the island to live in exile. And, like Australia, Komodo Island has a population of strange and wondrous wildlife, the most renowned of which is the Komodo dragon. The world's largest lizard, this ferocious predator enjoys full protection on the island. Both Komodo Island and nearby Rinca Island are part of a national park system that allows the dragon to sunbathe on the river banks and amble past curious visitors without fear of being harmed. Actually, it is the human that should be wary: in spite of their clumsy stride and apparent nonchalance, the Komodo dragon can run as fast as a dog and is capable of killing and eating a human being. But visitors to the island need not worry. Calm and capable park service guides are on hand to escort onlookers to a kind of reverse zoo, where the people gather in a protective enclosure while the dragons patrol the area, making themselves available for safe observation.
Day 15 & Day 16   22 & 23 April,2019       Bali/Benoa, Indonesia (overnight)   12noon – 1pm
Bali is so beautiful that the natives believe heaven will be just like home, and touring this island paradise, it's easy to see why. Here are mysterious volcanic lakes and jungle-shrouded volcanoes, wondrous ancient temples, fabulously creative painters and wood-carvers, and the legendary dancers who re-enact the stories of their Hindu deities.    Note: Arrival and departure times for this port will depend on tidal restrictions.
Day 17 & Day 18  24 & 25 April, 2019 Apr 24 – Apr 25       At sea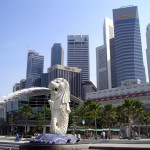 Day 19  26 April, 2019     Singapore  8am   Sadly our cruise has come to an end and disembarkation begins this morning.  We would be pleased to assist with your onward travel arrangements.    Alternatively;  we are sure you won't want to leave this morning so why not continue on cruising with us as Crystal Symphony sails from Singapore to Hong Kong.     Contact us for your special price if you combine the two cruises.
Cruise price  includes:
18 days luxury accommodation on board Crystal Symphony in deluxe stateroom with large picture window – category E1 with limited obstruction
SINGLE OCCUPANCY
*Services of a tour escort from Australia on board Crystal Symphony (*based on minimum of 12 participants)
Port taxes $900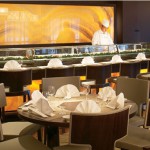 Fine Dining:
•Complimentary fine wines, champagne and premium spirits as well as dining in all restaurants,  including a visit to specialty venues Prego by Piero Selvaggio, and Silk Road and The Sushi Bar by Nobu Matsuhisa
•Open-bar service throughout the ship
•Gratuities for housekeeping, bar and dining staff throughout the ship
•All non-alcoholic beverages including bottled water, specialty coffee drinks, soft drinks, fresh juices and Afternoon Tea service
•Early embarkation luncheon
•Welcome champagne
•24-hour room service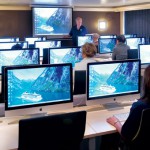 Enrichment & Entertainment:
•Yamaha Passport to Music® keyboard lessons
•Berlitz foreign language classes
•Computer University@Sea® classes with software instruction
•Technology Concierge "how to" tips on latest high-tech gadgets and apps
•Crystal Visions® lecture series featuring renowned speakers, authors, celebrities and destination experts
•Award-winning Broadway-style entertainment, piano bars and dance clubs
•Recent-release films in spacious surround-sound Hollywood Theatre
•Dance lessons
•Art classes with Odyssey Art At Sea
•Dedicated Junior Cruiser facilities and programs
•Comfortable shuttles to town (where local authorities permit)
•Concierge services for personal arrangements ashore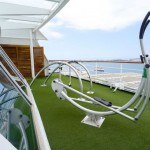 Fitness:
•Gym with state-of-the art fitness equipment
•Well-appointed separate men's and women's steam, saunas and whirlpools in the only Feng Shui-inspired spa at sea
•Fitness classes including yoga, Pilates Reformer, "Tour de Spin" cycling, cutting-edge Kinesis™ systems and Tai Chi courses
•Golf lessons with PGA pros
•Walk-on-Water weighted vests and Nordic Pole walking equipment
•Paddle tennis
•Exclusive 360° (wraparound) teak Promenade Deck for uninterrupted walks, jogs and sweeping ocean views
•Ambassador Hosts, cultured and well-travelled gentlemen, are available on every cruise to socialize and dance the night away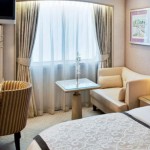 Stateroom Services & Amenities:
•In-stateroom satellite TV and movie/DVD rentals
•Twice daily housekeeping with nightly turndown service
•Kimonos, Frette bathrobes, 100% Egyptian cotton linens and pillow menu
•Self-service launderettes
Cruise cost does not include:
•International airfares or taxes
•Arrival or departure transfers
•Pre and post cruise accommodation
• Shore excursions
•Spa/personal services
•Upgrade to veranda stateroom if required
•Optional add-ons.
To contact us for reservations or enquiries:
Destination World Travel

PO Box 2040

South Plympton    South Australia   5038      Australia
Phone:  08-8293-6988   Outside of Australia 61-8-8293-6988