Singapore to Hong Kong via Thailand, Cambodia & Vietnam
Crystal Symphony cruise

Understated elegance, sophisticated, luxurious but not pretentious, perfectly planned itineraries, exquisite dining, all inclusive and with crew who treat you like their favourite family;  this is Crystal Symphony and one of the finest luxury ships afloat.
We invite you to join us as we set sail for 14 days  and experience the vibrancy of Singapore and Hong Kong, with their world-class shopping and cuisine, the pagodas of Ho Chi Minh City and the temples of Bangkok…this is Asia, and this is the best way to enjoy!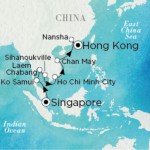 Singapore to Hong Kong 
Commencing  Singapore 26 April, 2019
*Escorted on board Crystal Symphony
Guaranteed SINGLE occupancy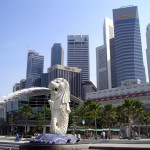 Day 1  26 April, 2019   Singapore     Make your own way to Singapore and board Crystal Symphony.   Your Australian escorts will meet you on board.  Ship remains in port overnight.
Singapore blends the contemporary splendor of a sparkling modern city with influences from throughout the Orient. Its history is one of riches and romance, spice trading and piracy, colonialism and growth. This island state has grown from a small fishing village to one of Asia's greatest success stories. Temples, mosques and churches stand as serene reminders of the varied collection of migrations that have graced its history. Discover the mansions and polo greens of colonial Singapore, the mystique of Chinatown and the heady aroma of spices and curry along Arab Street. You will quickly come to understand why Singapore is acclaimed as the "Crossroads of the East."
Day 2  27 April,2019    Singapore –   ship sails at 5pm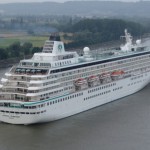 Day 3  28 April, 2019   Cruising the South China Sea
Aboard the most award-winning ships at sea, your story can be written exactly as you wish: pamper yourself at the Feng Shui-inspired Crystal Spa, work-out at our state-of-the-art fitness center or Walk-on-Water along our 360o Promenade Deck; learn how to translate your story into a movie with USC's School of Cinematic Arts Digital Filmmaking class at our Creative Learning Institute ®; or learn about art, history and worldly destinations with our engaging celebrity entertainers and speakers with our Crystal Visions® Enrichment Program; sneak away to watch recently-released movies in the Hollywood Theatre, shop our luxury boutiques, or simply lounge poolside while our attentive crew caters to your every whim. From mat Pilates and yoga to PGA golf instruction and paddle tennis on full-size courts, today is all about you. As evening arrives, dine on the renowned culinary creations of Nobu Matsuhisa, and Crystal's own acclaimed chefs with new Modern Cuisine and Global Inspired menus, enjoy special wine-makers dinners, breakout new production shows, intimate lounges, a pulsing dance club or try your luck at the casino. The choices as always aboard the World's Best are yours.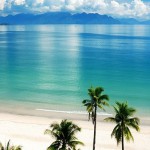 Day 4  29 April, 2019    Koh Samui, Thailand  8am – 4pm
This emerald isle off Thailand's southeast coast, ringed by lovely beaches and gorgeous bays, enjoys both the fun-loving nature of the Thai people, and the peaceful serenity of Buddhism. Visit the beautiful waterfalls at Hin Lut and Na Muang, marvel at the enormous Buddha statue on Fan Isle, or just listen to the breeze whisper in the leaves of a coconut plantation.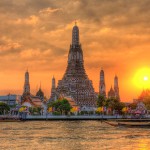 Day 5  30 April,  2019   Bangkok/Laem Chabang, Thailand    7am – 6pm
The port city of Laem Chabang is your gateway to Bangkok, Thailand's glittering capital. This "City of Angels" is a lustrous city of immense Oriental charm, festooned with ornate temples, shrines and a lacework of canals. Towering golden spires reach for the heavens while sunlight glistens on the majestic Royal Palace and boats laden with produce drift up and down the canals. Shining through this dream-like setting is the hospitality and warmth of the gentle Thais.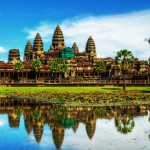 Day 6  01 May, 2019  Sihanoukville, Cambodia  10am – 11pm
Founded in 1964 to be Cambodia's primary deepwater port, Sihanoukville has since become a popular tourist destination. It is no wonder, as this spot on the Gulf of Thailand features tropical breezes and beautiful beaches, while nearby islands promise fantastic diving, snorkeling and game fishing. Just inland is the wonder of Angkor Wat, offering an intriguing glimpse into the spectacular achievements of Southeast Asia's greatest civilization. The ruins of this 800-year-old city were rediscovered in the late 19th century and bears testament to the influence this once-powerful city has on Cambodia's modern culture.
Day 7  02 May,  2019   Cruising the Coast of Vietnam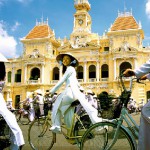 Day 8  03 May, 2019    Ho Chi Minh City, Vietnam    11am  –  overnight
Ho Chi Minh City, known universally and affectionately by residents as Saigon, offer a stimulating insight into Vietnam's eventful past and a glimpse into its hopeful future. Over two decades have passed since American forces left these shores. Since then, Ho Chi Minh City has regained a prosperous air of thriving activity. Rice boats float down the waterways, streets bustle with commerce, scooters speed by and a sense of history fills the air. There are quiet temples to discover, French colonial public buildings to admire and numerous street markets to stroll. Visitors to Ho Chi Minh City can be assured of a friendly and hospitable welcome.    Note: Arrival and departure times for this port will depend on tidal restrictions.
Day 9  04 May,2019      Ship sails at 3pm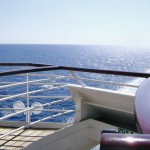 Day 10  05 May, 2019  Cruising the Coast of Vietnam
Vietnam stretches over 1600km along the eastern coast of the Indochinese Peninsula. Vietnam's two main areas are the Red River Delta in the North and the Mekong Delta in the South. Long associated with the horrors of war, Vietnam has finally won its last battle – to capture the imagination of the traveling public.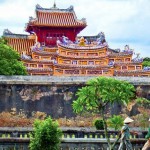 Day 11 06 May, 2019    Chan May, Vietnam   8am – 8pm
In Chan May, Crystal Cruises will dock closer to Hue, allowing you to see this important imperial city at a more relaxed pace. Indeed, Hue (pronounced "hway") merits a full-day excursion. Having served as the Vietnamese capital from 1802 to 1945, the city was home to thirteen emperors of the Nguyen Dynasty. Its three walled enclosures, built concentrically around one another, are collectively called the Citadel-an appropriate name, given that the emperor and his family lived within the Forbidden Purple City, located at the Citadel's center. The term "Forbidden" is appropriate too, as the Royal Palace resembles Beijing's Forbidden City. Fascinating as it is, Hue is not the only sight to be explored during your call in Chan May. You will also have a chance to visit the historic commercial seaport of Hoi An, see the city of Da Nang, or head to China Beach, the stretch of sand that offered some R & R to U.S. soldiers during the Vietnam War.
Day 12  07 May, 2019  Day At Sea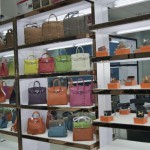 Day 13  08 May, 2019  Nansha (Guangzhou), China     6am – 3pm
Guangzhou (Canton), a prosperous metropolis full of vigor, is the capital city of Guangdong Province located along the south coastline of China. Being an excellent port on the Pearl River navigable to the South China Sea, and with fast accessibility to Hong Kong and Macau, the city serves as the political, economic, scientific, educational and cultural center in Guangdong area.
Crystal Symphony will set sail at 3pm this afternoon for Hong Kong and remain in Hong Kong overnight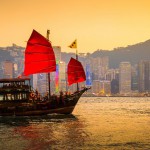 Day 13  08 May, 2019   Hong Kong SAR, China            6 pm      – overnight
Although Hong Kong has returned to its original Chinese roots, it still remains a cosmopolitan city with influences, languages and accents from around the world. Here East meets West and the result is electric. Soaring skyscrapers rise from the hills and harbor, blending geography and nature with commercial concrete, steel and pulsating neon in a way that brings traditional Chinese culture and Western-style commerce into perfect harmony. The bustling city streets are lined with teeming markets and sophisticated boutiques tucked tightly into any available crevice. Some of the world's best shopping is found in Central, located on Hong Kong Island and only a short ferry ride away. Discover the beauty and magic of Hong Kong today!  
Day 14  09 May, 2019   Hong Kong   Sadly our cruise has come to an end and disembarkation begins this morning.  We would be pleased to assist with your onward travel arrangements.    Alternatively;  we are sure you won't want to leave this morning so why not continue on cruising with us as Crystal Symphony spends the next two nights here in Hong Kong before sailing on to Tokyo.     Contact us for your special price if you combine the two cruises.
Cruise price $US7030  includes:
13 days luxury accommodation on board Crystal Symphony in deluxe stateroom with large picture window – category E1 with limited obstruction
SINGLE OCCUPANCY
*Services of a tour escort from Australia on board Crystal Symphony (*based on minimum of 12 participants)
Port taxes $520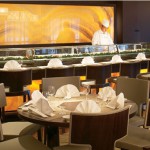 Fine Dining:
•Complimentary fine wines, champagne and premium spirits as well as dining in all restaurants,  including a visit to specialty venues Prego by Piero Selvaggio, and Silk Road and The Sushi Bar by Nobu Matsuhisa
•Open-bar service throughout the ship
•Gratuities for housekeeping, bar and dining staff throughout the ship
•All non-alcoholic beverages including bottled water, specialty coffee drinks, soft drinks, fresh juices and Afternoon Tea service
•Early embarkation luncheon
•Welcome champagne
•24-hour room service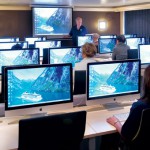 Enrichment & Entertainment:
•Yamaha Passport to Music® keyboard lessons
•Berlitz foreign language classes
•Computer University@Sea® classes with software instruction
•Technology Concierge "how to" tips on latest high-tech gadgets and apps
•Crystal Visions® lecture series featuring renowned speakers, authors, celebrities and destination experts
•Award-winning Broadway-style entertainment, piano bars and dance clubs
•Recent-release films in spacious surround-sound Hollywood Theatre
•Dance lessons
•Art classes with Odyssey Art At Sea
•Dedicated Junior Cruiser facilities and programs
•Comfortable shuttles to town (where local authorities permit)
•Concierge services for personal arrangements ashore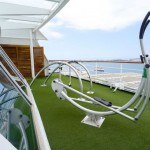 Fitness:
•Gym with state-of-the art fitness equipment
•Well-appointed separate men's and women's steam, saunas and whirlpools in the only Feng Shui-inspired spa at sea
•Fitness classes including yoga, Pilates Reformer, "Tour de Spin" cycling, cutting-edge Kinesis™ systems and Tai Chi courses
•Golf lessons with PGA pros
•Walk-on-Water weighted vests and Nordic Pole walking equipment
•Paddle tennis
•Exclusive 360° (wraparound) teak Promenade Deck for uninterrupted walks, jogs and sweeping ocean views
•Ambassador Hosts, cultured and well-travelled gentlemen, are available on every cruise to socialize and dance the night away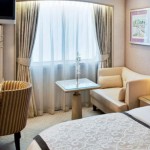 Stateroom Services & Amenities:
•In-stateroom satellite TV and movie/DVD rentals
•Twice daily housekeeping with nightly turndown service
•Kimonos, Frette bathrobes, 100% Egyptian cotton linens and pillow menu
•Self-service launderettes
Cruise cost does not include:
•International airfares or taxes
•Arrival or departure transfers
•Pre and post cruise accommodation
• Shore excursions
•Spa/personal services
•Upgrade to veranda stateroom if required
•Optional add-ons.
To contact us for reservations or enquiries:
Destination World Travel

PO Box 2040

South Plympton    South Australia   5038      Australia
Phone:  08-8293-6988   Outside of Australia 61-8-8293-6988