Unforgettable Highlights of China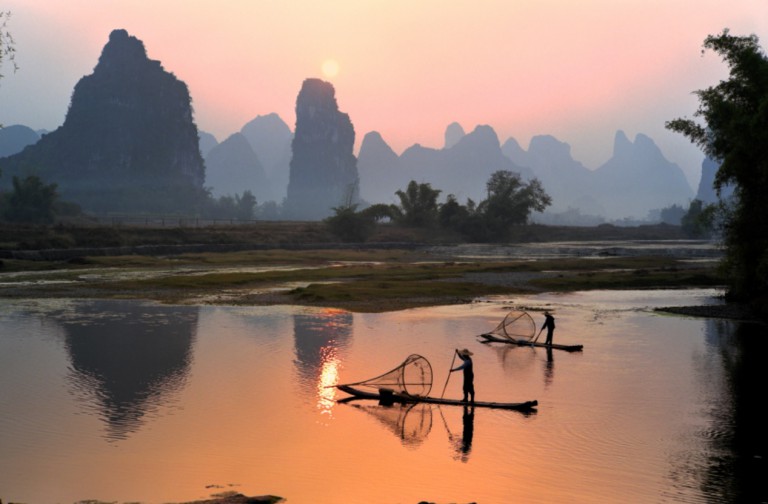 Unforgettable Highlights of China
*Escorted from Australia
Guaranteed SINGLE room throughout
Departing Shanghai 02 May, 2018
This 12 day journey is perfect for anyone with limited time looking to enjoy the highlights of China, experience local food and culture, stay in your own room in a luxurious hotel each night and not have to worry about a thing.
We spend longer at sites than some other tours with a similar itinerary as we don't incorporate shops or factory visits into your valuable sightseeing time.  We have planned free time for those who want to take advantage of great shopping in China or alternatively want to do some more exploring on their own but we guarantee that unlike most other China tours,  there are no such tourist shop visits scheduled into your itinerary.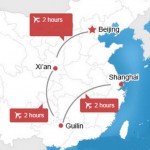 This is an unforgettable tour that begins with a visit to Shanghai, the most vibrant and fascinating metropolis of China. We follow footsteps of ancient emperors on a journey through top two imperial cities, Xian and Beijing, to explore stunning historical sites and World Heritages including the Terra Cotta Warriors and Horses, the Forbidden City, Summer Palace and the Great Wall.   We contrast these cities with visits to Guilin, Yangshuo and a peaceful minority village amongst the iconic Longji rice terraces. We'll experience the poetic majesty of the Li River which flows languidly through a landscape of karst towers and tranquil rural scenes.   This is a perfect trip for first time visitors or those with limited time wanting to revisit these iconic sites.
All meals are included, all sightseeing entrance fees, domestic flights within China, escorts from Australia and local Chinese guides on tour. We don't use mass tourist restaurants where every meal seems the same as the one before. We have chosen authentic Chinese restaurants to reflect the varying cuisines of the area and have even included a cooking school so you can learn and recreate some of the taste memories when you return home.
You'll love this trip – come and join us – you'll be so glad you did.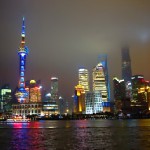 Day 1 02 May, 2018 Arrive Shanghai. We can book your flights and team you up with others in the group who may be on the same flight, or you can use your frequent flyer points. Your Australian escorts will meet you at the hotel in Shanghai.
Accommodation: Radisson Blu Hotel Shanghai New World (or similar) 3 nights
Directly facing the People's Square, the Shanghai Art Museum, Shanghai Grand Theatre and East Nanjing Road shopping area, 5-star luxury awaits at Radisson Blu Hotel Shanghai New World. Offering free Wi-Fi in spacious rooms, it houses mini golf facilities, an indoor pool and a day spa. Radisson Blu Hotel Shanghai New World is only a 1-minute stroll from People's Square Subway Station which provides easy access to the railway station, Hongqiao Airport and Pudong Airport. It is only a 5-minute drive from The Bund and its entertainment precinct. Offering soft lighting and a comfy seating area, the air-conditioned rooms feature classic wood interiors and flat-screen cable TV. They are provided with a tea/coffee maker and a bathtub. Guests can relax in the sauna, or enjoy a game of table tennis or billiards. Other leisure amenities include a games room, squash court and a fitness centre.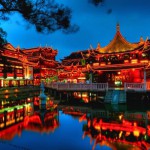 Remainder of day is at leisure. You may need some time to relax and recover from the long-distance flight or possibly from jet-lag. If you feel like going for a walk and checking out places nearby, your guide will be happy to make recommendations of places to see. This evening meet your travelling companions over dinner at a local high end restaurant. Dinner is included
Every day, we take you to carefully-selected authentic (non-tourist) local restaurants and select different styles of cooking throughout the trip you ensure you experience the wide flavors of China.  Just as we make a "no shops" promise to steer our tours away from the tourist trap markets and shops, we try to choose restaurants for you that will be a memorable local experience in an authentically Chinese environment.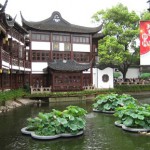 Day 2 03 May, 2018 Shanghai After breakfast our sightseeing begins with a visit to Shanghai Museum, one of the best museums in China. It is home to more than 120,000 precious historical relics.
Yu Garden is an oasis of peace and calm in the midst of the busy streets of Shanghai. It is the perfect place for some quiet time after a busy morning of sightseeing in the city. Built during the Ming Dynasty (1368–1644), it used to be a private garden. You can see there the layout and style of a traditional Chinese garden, and appreciate classical Chinese architecture: pavilions, winding cloisters, decorated walls and dwellings
You'll have lunch at Home's Restaurant, which specialises in Shanghai cuisine using the best local ingredients. Smoked fish and red jujube with sticky rice are popular in Shanghai. The restaurant enjoys a great reputation with diners from many parts of China and abroad.
We'll visit the Oriental Pearl TV Tower and if you are a thrill seeker, don't miss the 360° glass viewing platform. This is Shanghai's major landmark, standing across the Huangpu River from the Bund, a 1.5-kilometre-long embankment running along the western bank of Huangpu River.
We'll have time to stroll along the Bund and after dinner enjoy a 50 minute cruise along the Huangpu River. It is the best way to admire Shanghai's classic skyline views of colonial architecture and modern skyscrapers and made extra special at night when the river is veiled in the sparkling neon lights on both sides. Breakfast, lunch and dinner included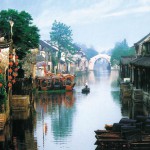 Day 3 04 May, 2018 Shanghai After breakfast, we'll drive approximately 1.5 hours from Shanghai to Xitang Water Town, a beautiful town that seems like a completely different world from the hustle and bustle of nearby Shanghai. Cobbled streets, old buildings, bridges arching over canals, rowing boats lingering on the river, and locals singing folk songs are the features of Xitang, a charming, ancient water town. Mornings in Xitang bring fresh air and light fog; during the evening, the setting sun casts a rosy glow on the old tiled roofs.
We return to Shanghai for some free time and tonight we enjoy dinner and then a stunning multi million-dollar acrobatic extravaganza and the first of its kind in China, ERA a multimedia odyssey. The inspiration is drawn from a combination of traditional Chinese acrobatic arts and modern technology. Breakfast, lunch and dinner included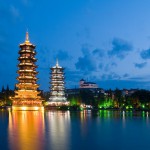 Day 4 05 May, 2018 Shanghai – Guilin Morning is at leisure before we transfer to the airport for our flight to Guilin. On arrival we'll check in at our hotel and have an authentic Guilin dinner.  Most ingredients are sourced locally e.g. ginkgo nuts are supplied directly from forests, bamboo shoots from the mountains, water chestnuts, taro or lotus roots from rice paddies and make their way directly to the restaurant.  Some typical Guilin dishes include Guilin rice noodles, steamed Li River fish, stewed ginkgo-nut soup with duck, fried pork with crispy skin (Guilin- style bacon), fried pumpkin with salty egg yolk.  Breakfast, lunch and dinner included
Accommodation: Shangri La Hotel Guilin (or similar) 2 nights
Covering an area of 68,000 square metres, Shangri-La Hotel Guilin overlooks the picturesque Li River. It offers luxurious rooms with king-size beds and free WiFi. It also features 2 swimming pools and a tennis court. The Shangri-La Hotel is only 10 minutes' drive from Guilin city centre and Guilin Exhibition Centre. The elegant rooms  are well-equipped with air conditioning, satellite TV and a choice of pillows. Rooms also provide bathrobes, tea and coffee making facilities and work desks. Guests may take a stroll in the lovely garden after a day of tours.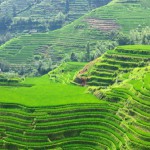 Day 5  06 May, 2018 Guilin to Longsheng to Guilin We first head to Longji Ancient Zhuang Village, a well-preserved village that recently opened to tourists. There are 700 ethnic people resident there. They still abide by traditional customs and ways of farming.
Upon arrival you will start your day of exploration by hiking up past layer upon layer of rice terraces, and enjoying the breathtaking views. You will also have an opportunity to visit the hundred-year-old houses and talk to the householders (with translation from your guide
The Longji Terraces are built into the steep mountain range named "The Dragon's Backbone" about 2.5 hours from Guilin. The terraces look like ribbons as they wind from the foot to the top of the mountain. This ingenious construction makes best use of the scarce arable land and water resources in the mountainous area. There are about 66 square kilometres of terraced fields in the district. The Terraces were first built in the Yuan dynasty and completed in the Qing dynasty by the Zhuang people. Zhuang and Yao minority villages dot the area and feature traditional unique architecture where no nails are used in construction.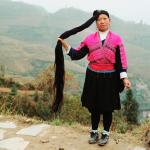 The Yao minority have lived there for generations in wooden houses. Yao women have long black hair, but they never use shampoo; they have their own mysterious method for keeping their hair clean and shining, which works even for women who are over 50.
Sedan chairs are available from the parking lot to the top of the mountain for those who would like to see the great views but do not wish to climb all the way up to the top. Cost is approximately CNY350 (approximately $AU70) per person for the round trip.
We have lunch in a restaurant at the top of the mountain. Some typical Longsheng dishes include Bamboo- tube cooked rice, sautéed bamboo shoots with pork or bacon, sautéed green bamboo shoots with eggs (this is seasonal springtime food). We'll return to Guilin with time to freshen up before dinner. Breakast, lunch and dinner included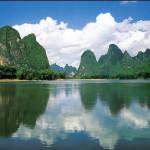 Day 6 07 May, 2018 Guilin – Yangshuo We welcome a slower pace today as we cruise along the Li River between Guilin and Yangshuo (about 4 hours). This is an unforgettable experience. As you take in the stunning scenery, there's something interesting to see at almost every bend in the river. Between spectacular limestone peaks you'll see graceful bamboo groves, farmers tending rice paddies, and lumbering water buffaloes pulling carts or cooling off in the river. You may see fishermen gliding along on their narrow bamboo rafts, and if you're very lucky you might see one of the famous fishing cormorants. Chinese buffet lunch on the boat is included.
We'll check into our hotel and have the remainder of day at leisure before having dinner with authentic Yangshuo food. Some typical Yangshuo dishes include Beer fish, sautéed Li-river snail with pork stuffing, braised pork with taro, frittered candied taro or water chestnut, steamed water chestnut with pork.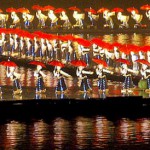 This evening we'll enjoy the Impression of Liu Sanjie, a spectacular show based on the life of the famous folk heroine Liu Sanjie. The creation of renowned Chinese director Zhang Yimou, it is set on a 2km stretch of the Li River and uses the incredible natural scenery along with a cast of hundreds to tell a classic tale love, intrigue and tragedy. The music, lights, dancing and natural beauty of the backdrop ensure you will not be disappointed. Please note that this show is performed totally in the outdoors and may be cancelled on the day in the event of inclement weather.   Breakfast, lunch and dinner included.
Accommodation: Green Lotus Hotel (or similar) overnight
Green Lotus River View Hotel is a just 600m from the West Street. The luxurious 5-star hotel offers an outdoor pool, and a fitness centre. Free wired internet in rooms is provided. Air-conditioned guest rooms feature spacious interiors with modern furnishings. Amenities include a personal safe, tea/coffee making facilities and a flat-screen TV.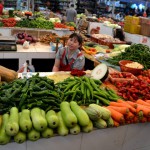 Day 7  08 May, 2018 Yangshuo – Guilin – Xian After breakfast and before we leave Yangshou, we have arranged a Chinese cooking class, which lasts for about 3 hours. It begins with a visit to the local food market to buy ingredients for your cooking class. Then cook 2 or 3 popular Chinese dishes under the guidance of an English-speaking tutor and the taste fruits of your labour at the end. After lunch, we'll drive back to Guilin and take our flight to Xian late afternoon. After checking in at our hotel, we're hungry again (!), and our chosen restaurant for dinner tonight is very popular with the locals and is famous for its sea food. Breakfast, lunch and dinner included.
Accommodation: Wyndham Grand Xian South (or similar) 2 nights
Boasting an incredible location in the center of Qujiang New District near the Dayan Pagoda and Xi'an Qujiang International Convention and Exhibition Center, the Wyndham Grand Xian South offers luxurious amenities in Shaanxi's historic capital city and is just steps away from Great Tang All Day Mall. Effortlessly fusing traditional architectural influences with contemporary styling, our hotel features world-class services, a chic lobby lounge, elegant guest rooms featuring flat-screen TV's, free WiFi, plush bedding, and a spa-like bathroom.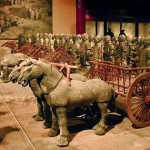 Day 8 09 May, 2018 Xian This morning we uncover the mystery of the underground army dated thousands of years ago at the Terracotta Warriors Museum and site. Discovered accidentally in 1974, this incredible army of over 7000 soldiers, archers, horses and chariots in full battle array has guarded Emperor Qin's tomb since 210BC. Each figure is unique, and the painstaking repair and excavation continues in 3 pits which are protected inside huge hangars. After lunch at a popular Chinese restaurant we return to the city area and have remainder of the day at leisure.
This evening we enjoy a wonderful performance inspired by court songs, dance and music from the Golden Age of the Tang Dynasty, in a world class theatre restaurant. It's colourful, authentic, beautifully staged, and the costumes are exquisite. Combined with a delicious dinner, the show provides a glimpse into the prosperous period when Chang'An (Xi'an) was the capital of China, and the arts flourished as never before. Breakfast, lunch and dinner included.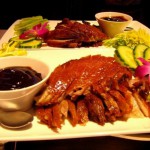 Day 9 10 May, 2018 Xian – Beijing Discover more of Xi'an and China's ancient history at the Shaanxi History Museum and Big Wild Goose Pagoda, then head to the Muslim Quarter and explore the alley ways. We'll have lunch at one of the finest restaurants in Xian specialising in Shaanxi cuisine. It has become popular for its elegant environment and excellent service. We transfer to the airport later this afternoon for our flight to Beijing where no visit would be complete without a dinner of Beijing Roast Duck which is renowned as the most delicious food of Beijing. Breakfast, lunch and dinner included.
Accommodation: Crowne Plaza Hotel Beijing Chaoyang U-Town (or similar) 3 nights
Crowne Plaza offers a fitness centre and a 24-hour lounge. Located next to Beijing U Town, which houses a lot of shops and restaurants, it is a 5-minute stroll from Chaoyangmen Subway Station and features spacious accommodation with 24-hour room service.  Along with a full-service spa, this smoke-free hotel has an indoor pool and a nightclub. Free WiFi in public areas. Other amenities include a fitness centre, a sauna, and massage/treatment rooms. Modern rooms  feature air conditioning, WiFi and LCD TVs. All rooms boast deep soaking separate bathtubs and showers, wired Internet and minibars.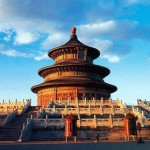 Day 10 11 May, 2018  Beijing  We begin our sightseeing with a visit to The Temple of Heaven. Built in 1420 during the Ming Dynasty, Temple of Heaven is a complex of Taoist buildings where emperors of Ming and Qing dynasties visited for annual ceremonies of pray for good harvests. Located in the south of Central Beijing, it covers an area of 273 hectares. Temple of Heaven was enrolled as a World Heritage Site by UNESCO in 1998.
In the afternoon travel 1½ hours from downtown Beijing to the Great Wall at Mutianyu. The section is ranked top among all parts of the Great Wall for its picturesque scenery, fewer tourists, and beautifully-restored architecture. In order to save your time, we use cable car and toboggan to ascend to and descend from the Great Wall, instead of spending about 40 minutes climbing steps.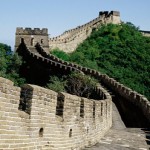 We avoid (the worst of the) crowds on the Great Wall and traffic jams by visiting in the afternoon. It's also the best time for taking good photos.
On our way back to the hotel, we'll have an exterior visit, and point out the best place to take photographs, of Beijing Olympic Stadiums Bird's Nest and Water Cube. Located at the north end of the central axis of Beijing City, with a large area of 1215 hectares, it contains National museum, exhibition area, Olympic Village and Olympic competition avenues. Breakfast, lunch and dinner included.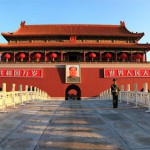 Day 11 12 May, 2018 Beijing   Our last day of sightseeing today begins with a visit to historic Tian'anmen Square where the famous Chairman Mao's portrait hangs on the wall of the Gate of Heavenly Peace. We then visit The Forbidden City, the world's largest imperial palace with 9,999½ forbidden imperial chambers, home to 24 emperors in the Ming and Qing dynasties (1420–1911). As the most popular attraction in Beijing, the Forbidden City receives many tourists every day. In order to save your time, our tour guide will buy the tickets in advance so that you will not need to stand in a long queue.
After lunch we'll relax at the much-loved summer retreat of the Imperial families, The Summer Palace. The lovely landscaped gardens, halls, pavilions and corridors are set around the lake and rivers in natural harmony. It is the largest and best preserved imperial garden in China, and also a World Heritage Site.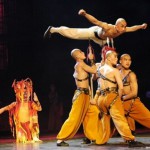 This evening we have dinner at a restaurant serving Sichuan, Shandong, Cantonese and Huai foods before we enjoy a fantastic show, The Legend of Kungfu, presented by China Heaven Creation International Performing Arts – China's leading performance art production company. CHC has collected a group of the best Kungfu practitioners of China and invited the best directors and designers of the country. Breakfast, lunch and dinner included
Day 12 13 May, 2018 Beijing
Our tour has come to an end after breakfast this morning. We would be happy to assist with your onward travel arrangements.
Option: Why not join our Trans Siberia by private train tour, from Beijing to Moscow, which begins in Beijing today?
Tour cost:  $AU6990  includes:
Services of an Australian escort from arrival in Shanghai until departure from Beijing
Services of local English speaking Chinese guides
SINGLE occupancy of luxury accommodation throughout
All meals in authentic Chinese restaurants included as per itinerary
All sightseeing included as per itinerary
All entrance fees included as per itinerary
Economy class airfare Shanghai/Guilin
Economy class airfare Guilin/Xian
Economy class airfare Xian/Beijing
Li River cruise
Shanghai acrobatic show
Yangshuo sound and light show (subject to weather permitting)
Tang Dynasty show Xian
Beijing Kung Fu show
Sightseeing by air conditioned coach
Transfers as per itinerary

Tour cost does not include:

• Airfares or air ticket taxes
• Passports, visas or items of a personal nature
• Travel insurance
• Porterage
• Gratuities
• Entrances other than stated in itinerary
• Sedan chair hire Longsheng
• Anything not stated in 'inclusions'
Please note:   This tour involves services which are settled in a number of currencies and the exchange rate has been calculated on rates current at the time of uploading this tour onto our website.  
Should there be a fluctuation of exchange rates of more than 3% from this time to the time we receive payment, we reserve the right to pass on an exchange rate surcharge.
To contact us for reservations or enquiries:
Destination World Travel

PO Box 2040

South Plympton    South Australia   5038      Australia
Phone:  08-8293-6988   Outside of Australia 61-8-8293-6988

Email:  destinationworld@internode.on.net