Trans Siberian Railway by Private train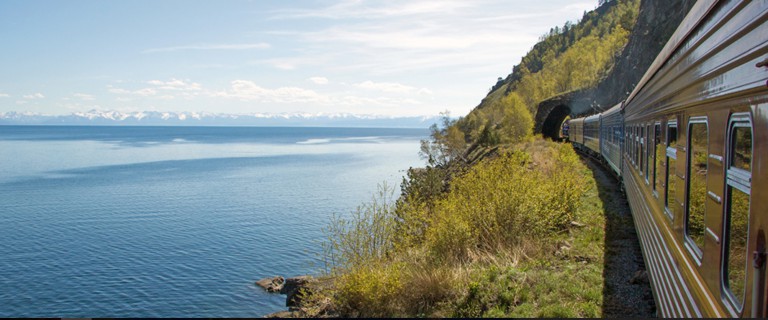 Trans-Siberian by Private Train
From Beijing to Moscow via Mongolia and Lake Baikal
*Escorted from Australia
 Guaranteed SINGLE room throughout
Departing Beijing 13 May, 2018
Experience one of the last great travel adventures!
A journey on the Trans-Siberian Railway, on board our private train is the chance to fulfil the dream of a lifetime.
You will have sole occupancy of a classic compartment on the train and sole occupancy of a room with en-suite facilities on our overnight hotel stays.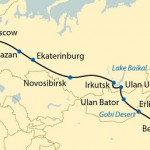 In addition to your *escorts from Australia, an experienced multi-lingual tour director accompanies your trip from Beijing to Moscow. A sophisticated on-board programme complements a comprehensive excursion and sightseeing package to make your journey truly memorable.
Arrive Beijing :  Make your own way to Beijing.  * Your Australian escort will meet you in Beijing.  We can book your flights for you and team you up with others in the group who may be on the same flight or you can use your frequent flyer points.  We recommend arriving at least one day before the tour begins and can assist you with pre and/or post tour accommodation and travel arrangements. You may like to join our 'Unforgettable highlights of China' tour which begins in Shanghai on 2nd May and ends in Beijing on 13 May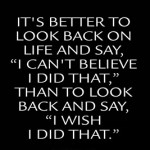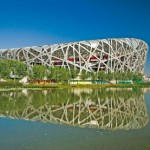 Day 1   13 May 2018  Beijing    Beijing is more than just the Forbidden City and Tiananmen Square; the Bird's Nest (the Olympic Stadium) and the futuristic skyscrapers show the contemporary face of the Chinese capital, whereas a multitude of cultural heritage sites like the Great Wall, the Ming Tombs and the Spirit Way can be found in the city's metropolitan area.  And, of course, there is noway around dining on the famous Peking Duck in its native town.
We'll enjoy a city tour of the main highlights after checking into our hotel and tonight enjoy a welcome dinner. Dinner is included tonight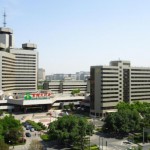 Accommodation: Capital Hotel (or similar)  2 nights
Surrounded by the key historical sites and shopping districts including Wangfujing, Tiananmen Square and Chongwenmen shopping area, Capital Hotel Beijing offers spacious rooms with free wireless internet access. It boasts an indoor swimming pool and  mini golf.  Located a 9-minute walk from Chongwenmen Subway Station (Line 2 and 5), Capital Hotel is just a 5-minute drive from Beijing Railway Station. Beijing International Airport is a 45-minute drive from the hotel.  Rooms are charming, featuring a traditional décor with carved darkwood furnishings. They have a satellite TV, a minibar and a private bathroom with a hairdryer and slippers.  Guests can spend a relaxing afternoon in the beautiful garden.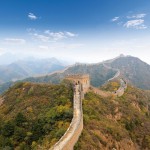 Day 2  14 May, 2018  Beijing  The Great Wall of China is the 8th Wonder of the World; this is your chance to experience it up close. On your way there you stop at a pearl farm, as well as at the famous Ming Tombs (a UNESCO World Heritage Site) and the Spirit Way, a boulevard lined with carved stone animals. Wrapping up the day is a feast featuring what is surely the world's best-known Chinese delicacy, Peking Duck, at one of China's most famous theme restaurants.  Breakfast, lunch and dinner included
Day 3  15 May, 2018  Beijing and departure for Mongolia  For centuries the doors to the former Emperor's Palaces have been closed to the public. Today the glorious halls and mysterious temples of the Forbidden City are open for you.
In the evening, the rest of your adventure begins. A modern Chinese train will pull out from Beijing's station, en route to your Trans-Mongolian journey, a 16-hour trip.   This is an overnight trip leaving Beijing in the evening and arriving at the Mongolian border around noon.   Meanwhile, China's busy rural life unfolds outside your window: people working in the fields, donkey-drawn carts on dusty roads, and the great steppes of the Gobi desert. Please note; in the event the Chinese train supplied for our journey is reconfigured differently from that ordered, it may be necessary to share for this overnight journey.  There are large wash rooms with sinks and toilets but no full shower supplied on this Chinese train.  Timewise, this sector is less than 5% of the whole journey.   Breakfast, lunch and dinner included Accommodation: On board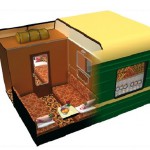 In the Classic Category II, on board Tsars Gold train from the Mongolian border to Moscow,  there are nine compartments per car with combined toilet and washing facilities at both ends.  Depending on the train configuration, a shower facility is mostly shared by guests from two to four sleeping cars. You will have sole use of your compartment which is normally shared by two guests. Berths are sized  68cm x 187cm  and arranged facing each other. There is also a table under the window.  You will have sole use of your hotel room with en-suite facilities at all overnight stops.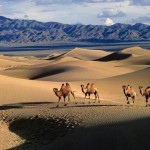 Day 4   16 May, 2018  Crossing the Gobi desert  At noon you arrive at the Chinese-Mongolian border and change to your Private Train for the Trans-Mongolian rail. The change of trains is necessary because of the different track gauges in the two countries. In the growing city of Erlian, you have some time to explore the colourful local market, before your Russian train sets off towards Mongolia. After crossing sections of the legendary Gobi Desert, the train travels through the vast green steppes of Mongolia.   Breakfast, lunch and dinner included
Accommodation:  On board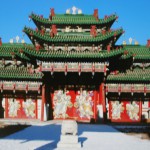 Day 5   17 May, 2018  Ulan Bator     Early-risers are treated to central Mongolia's spectacular scenery. In the morning you arrive in Ulan Bator, the capital of Mongolia. You can leave your large luggage securely in your compartment. Your city tour includes the  Choijin Lama Temple, among other things. In the evening an optional excursion is offered to attend a performance of traditional Mongolian folk arts, including throat singing, horse-headed fiddle playing, national costumes and dances.  Breakfast, lunch and dinner included
Accommodation:  Ramada (or similar) overnight
Boasting a spa and wellness centre, fitness centre and gourmet cuisine across 2 stylish restaurants and bars, the 4-star Ramada Ulaanbaatar Citycenter is located in the city centre of Ulaanbaatar. Free Wi-Fi is provided in the entire property.   Each guestroom is fitted with a flat-screen satellite TV, coffee machine and safety deposit box. The luxurious cotton sheets and fabric, modern interiors and warm light create an elegant atmosphere. Bathrobes and slippers are stocked in the bathrooms.  Guests can relax in the sauna or hot tub, enjoy soothing massage treatment or use the facilities at the business centre.Staff can offer a wide range of services, including currency exchange, laundry and dry cleaning services. For anyone who fancies singing, there are karaoke rooms available.  Cafe JOT Restaurant serves a delicious selection of both Asian and western dishes. Alternatively, it is a good choice to spend a relaxing afternoon enjoying beverages and alcoholic drinks at Edge Bar.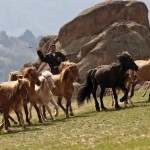 Day 6   18 May, 2018  Ulan Bator  After breakfast you visit the Gandan Monastery, where it is possible to observe a Buddhist religious ceremony. Your bus then takes you to the Mongolian Alps, located some 90 minutes east of Ulan Bator, with their majestic scenery and bizarre rock formations. After a picnic lunch in a yurt camp, you watch a small Mongolian horse-riding demonstration and a traditional wrestling match.   Mongol horses made excellent warhorses because of their hardiness, stamina, self-sufficiency and ability to forage on their own – but their small statue make their importance in the formation of the Mongol empire all the more surprising.  The horses – which are often mistaken for ponies – are best known for their role as the war steeds of Genghis Khan. The founder of the Mongol empire relied on his horses to provide him with food, drink, transportation, sport, hunting, entertainment, spiritual power, and in case of his death, a mount to ride in the afterlife.   The Mongolian breed is thought to have remained largely unchanged since the time of Genghis Khan. Nomads living in the traditional Mongol fashion still hold more than 3 million animals, which outnumber the country's human population.  Breakfast, lunch and dinner included
Accommodation:  On board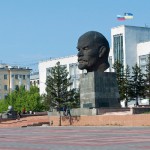 Day 7   19 May, 2018  Ulan Ude  Bid farewell to the Mongolian steppes, as the Trans-Mongolian train rolls on through the valley of the Selenga River, the largest river of Mongolia. In Ulan Ude your train joins the main route of the Trans-Siberian railroad. Here you can stroll through the city streets or join the guided tour of the city.  Ulan Ude is the capital of Buryatia republic and most of the people there practice Buddhism, so it's also very different from the rest of Russia which is mainly atheist or orthodox Christian. Originally, there were Buryat people living in the area around Ulan-Ude. A Buryat person has a very affective attitude towards his land and animals. It gave a rise to many legends, and it's not rare even nowadays to see a skilled Buryat person riding a horse along an endless steppe. Harsh natural conditions and winter colds were making it hard to grow any crops, so the main occupation that was providing food and shelter for Buryats was cattle-breeding and they were very proficient in this.Breakfast, lunch and dinner included
Accommodation:  On board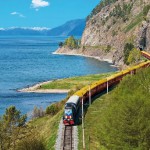 Day 8   20 May, 2018  Lake Baikal  Today is spent exploring the remarkable natural phenomenon of Lake Baikal, the largest reservoir of freshwater in the world. In the morning your train travels directly alongside Lake Baikal, on the old route of the Trans-Siberian Railway. During two extended photo-stops, you have a chance to explore and record the scenic beauty of the lake and its setting. A short boat excursion from Port Baikal takes you out onto the lake. Take a swim in the lake, if you wish, and visit a picturesque Baikal village. Dinner is a Baikal-style picnic on the lakeshore with a view of the incredible natural surroundings (weather permitting).   Breakfast, lunch and dinner included
Accommodation:  On board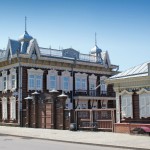 Day 9   21 May, 2018  Irkutsk   In the morning, you arrive in Irkutsk, the capital of Eastern Siberia in tsarist times. Here we move into our hotel for the night.  You can safely leave your large baggage on the private train. During your city tour you see the Okhlopkov Drama Theatre, the new memorial to Tsar Alexander III, and the photogenic market hall. Around noon you pay a worthwhile visit to an open-air museum with a focus on life and work in historical Siberia.  Breakfast, lunch and dinner included
Accommodation:  Courtyard by Marriott (or similar) overnight
This wonderful hotel in Irkutsk is just a 3-minute walk from Kirov Square and the Angara River. It offers a free gym and air-conditioned rooms with flat-screen TVs. Free high-speed Wi-Fi is provided.  Rooms with large windows and dark wood furniture are offered at the Courtyard by Marriott Irkutsk City Center Hotel. Each has tea and coffee-making facilities, a mini fridge and a safe.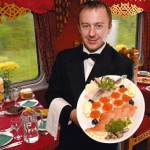 Day 10   22 May, 2018   Across Siberia  After breakfast, rejoin the train which travels through the diverse landscapes of Eastern Siberia with its mountains, crystal-clear rivers and verdant slopes. On board of the train you can enjoy entertaining lectures about Siberia and a vodka tasting with typical Russian snacks is an opportunity to experience firsthand the Russian festive customs of hospitality and clever toasts.  Breakfast, lunch and dinner included
Accommodation:  on board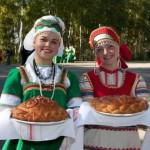 Day 11  23 May, 2018  Novosibirsk    At noon your Private Train pulls into Novosibirsk, Siberia's largest city, and we are greeted  with bread and salt in the customary Russian manner and taken on a tour of this most Soviet of cities along your entire route, including the chance to see the mighty Ob River.  After dinner, the train continues its journey westwards.  Novosibirsk was founded in 1893. It was a settlement on a place where the bridge over the Ob River was planned to be built during construction of the Trans-Siberian Railway. The settlement was named Novonikolayevsk after the Russian Empire Tsar Nicholas II and St. Nicholas.  In 1897, the bridge was completed that made Novonikolayevsk the most important transport hub of the region. Later, in the beginning of the 20th century, it became even more important with the construction of the Turkestan-Siberian Railway connecting Siberia with Central Asia and the Caspian Sea region.  Breakfast, lunch and dinner included
Accommodation:  on board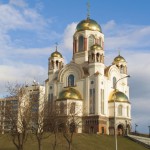 Day 12   24 May, 2018  Yekaterinburg   In the afternoon our train stops in Yekaterinburg, the capital of the Ural Federal District, where you enjoy a short tour of the city centre.  The city is known as the place where the Russian tsar Nicholas II and his family were murdered in 1918. During a tour you see the Cathedral of the Saviour on the Spilled Blood, which was built in 2003 to commemorate that tragic historic event, and the city centre attractively restored in 2009. Back on board, you enjoy views of the Urals landscape and indulge yourself in the dining car. Your private train is already rolling across the European continent.  Breakfast, lunch and dinner included
Accommodation:  on board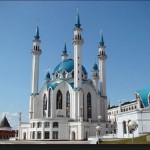 Day 13   25 May, 2018  Kazan  After breakfast you arrive in Kazan, the old Tartar capital on the banks of the Volga.  On your city tour you see Tatar mosques and the most famous Russian Orthodox cathedral. You also take a tour of Kazan's Kremlin, where you learn about the turbulent history of the relationship between the Tatars, the Cossacks, and the Russians.  According to the official version, Kazan was founded no less than 1000 years ago. The evidence is a Czech coin found on the territory of Kazan Kremlin and dated approximately 929-930s, as well as other items with less clear dates. Breakfast, lunch and dinner included
Accommodation:  on board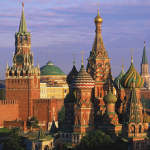 Day 14   26 May, 2018  Moscow   This morning you arrive in Moscow, Russia's capital and one of the world's richest and most dynamic cities and will be transferred to our hotel.   At noon you visit the Kremlin grounds with its magnificent cathedral. Several of the building interiors can also be viewed. After dinner, discover the city's magic during an hour-long "City of Lights" tour, including a stop at Red Square, and a ride on the underground to view two of Moscow's particularly beautiful metro stations.  Breakfast, lunch and dinner included
Accommodation:  InterContinental Tverskaya (or similar)
Offering a 24-hour gym and free Wi-Fi, this grand hotel stands on Tverskaya Street in the heart of Moscow. Pushkin Square and metro trains are a 5-minute walk away.  Elegant, air-conditioned rooms with dark woods and luxurious fabrics include modern comforts include iPod docking stations, 42-inch flat-screen TVs, and laptop safes.   Intercontinental's sauna and steam bath provide relaxation. A range of massages and beauty treatments can also be booked.
The location: The nearby Pushkinskaya and Tverskaya Metro Stations are on 2 different lines, providing easy access throughout Moscow. The famous Bolshoi Theatre is just 1 stop away.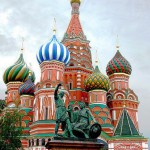 Day 15   27 May, 2018  Moscow
After breakfast at your hotel, you will be taken on a guided tour of Moscow  to see the reconstructed Cathedral of Christ the Saviour, Lomonossov University, the New Virgin Monastery and Red Square with its colourful St. Basil's Cathedral. Then onto the notorious former KGB headquarters and the White House.  Our tour ends with a transfer to the airport for your ownward flight.   We would be happy to assist you with onward travel arrangements.
This tour combines with our 'Unforgettable Highlights of China'. Why not join us on both? 
Tour cost $AU14590 includes:
Escorts from Australia will meet you in Beijing and remain with the group until departure from Moscow.
Professional multi-lingual tour director with pertinent knowledge of the region throughout the journey
Local English speaking guides for sightseeing tours
Accommodation in SINGLE rooms in hotels in Beijing (2 nights), Ulaanbaatar (1 night), Irkutsk (1 night) and Moscow (1 night)
Single occupancy of Classic Cabin on board the Tsar's Gold train from Erlian to Moscow.
Classic cabin:
Compartments in the Classic Category offer considerably more space than European sleeping cars as they are shared by only two guests, with two lower beds measuring ca. 26.7 x 73.6 in. (68 x 187 cm), one on each side of the compartment. There are nine compartments per car, with combined toilet and washing facilities at both ends. Depending on the train configuration, a shower facility is mostly shared by guests from two to four sleeping cars
Shower facilities on board the Tsars Gold private train
Travel for several hours along the Trans-Siberian Railway panoramic route directly on the shores of Lake Baikal, with photo-stops
Three  meals daily on board the train
Other meals as indicated in the itinerary
Vodka tasting with traditional Russian snacks
Informative sightseeing tours as per the itinerary with professional guides
 Visa support documents required for the Russian, Chinese and Mongolian visas
Airport transfers with private drivers and all transportation according to the itinerary
Entertainment program on board, including lectures on the Trans-Siberian Railway, regional geography, culture, and history of the countries you pass through along the route
Doctor on board  (from the Chinese border to Moscow)
Porter services at all railway stations
Tour cost does not include:
International Airfares or air ticket taxes
Pre or post tour arrangements
Sightseeing or meals not indicated in itinerary
Visa or passport fees
Gratuities
Anything not stated in inclusions
Please note:   This tour involves services which are settled in a number of currencies and the exchange rate has been calculated on rates current at the time of uploading this tour onto our website.  
Should there be a fluctuation of exchange rates of more than 3% from this time to the time we receive payment, we reserve the right to pass on an exchange rate surcharge.
To contact us for reservations or enquiries:
Destination World Travel

PO Box 2040

South Plympton    South Australia   5038      Australia
Phone:  08-8293-6988   Outside of Australia 61-8-8293-6988

Email:  destinationworld@internode.on.net