Norway – cruise into the midnight sun

 Norway
Cruise into the midnight sun
Commencing 01 July, 2018
Escorted on board Crystal Serenity
Guaranteed SINGLE room
In Northern Scandinavia during the summer months you can experience something truly wonderful. From May to the end of July the sun never sets above the Arctic Circle. This is when this part of the world is referred to as the Land of the Midnight Sun.Join us as we journey through glacier-carved mountains and indigo-blue waters to reach the top of the world, to a wondrous land of picturesque villages and dramatic landscapes.  See stunning scenery along the Arctic coast of Norway, with alpine mountain peaks, beautiful islands, tiny fishing settlements & beautifully located Arctic towns.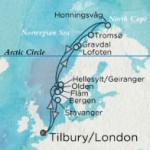 We're sailing on board the luxurious Crystal Serenity and your cruise fare includes your OWN luxurious stateroom with large picture window,  complimentary speciality restaurants, fine wines, champagne, premium spirits and non-alcoholic beverages.   Complimentary gratuities for housekeeping, bar, dining and Penthouse butler staff are included as well as award-winning entertainment, innovative enrichment, state-of-the-art fitness facilities and wellness programs plus so much more.
Living costs in Norway are high and your 'all inclusive' cruise fare represents excellent value and is truly the most cost effective way to visit this part of the world, not to mention how wonderful it is after a day ashore exploring the most beautiful areas in Norway to return to your luxurious 'home' each night and not have to pack and unpack more than once!
Come and join us on this magnificent voyage  –  you'll be so glad you did!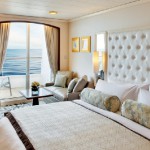 Day 1  01 July, 2018   Make your own way to London and transfer to Dover.  Use your frequent flyer miles or we can find the best fare for you and team you up with others who may be on the same flight.   If you are joining our tour of Ireland pre-cruise we will transfer from Heathrow to the ship this morning and  board in time for lunch.    We recommend you arrive into UK at least one day before sailing.  Meet your Australian escort on board Crystal Serenity today.
With a history thought to date to Roman times, Tilbury has long been a centre of politics, travel and trade. In 1588, Queen Elizabeth I came ashore on official army-related business, and in 1852, an Act of Parliament initiated the construction of the Tilbury Docks. Four years later, the docks welcomed their first vessel, making Tilbury the main port for London. Indeed, Tilbury is part of the wider Port of London, with the great city itself just 25 miles away. You might take in Tilbury sights such as the Tilbury Fort, originally built by Henry VIII, and the Tilbury Docks, used as a location for the films Indiana Jones and the Last Crusade and Batman Begins.  Legendary landmarks in London, including Westminster Abbey, Big Ben, Parliament Square, Whitehall, the Tower of London and the fashionable West End will prove exceedingly fascinating, whether this is your first trip or a long-anticipated reprise.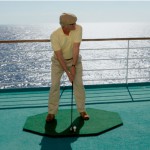 Day 2  02 July, 2018  
Cruising the North Sea   
A full day at sea to relax and enjoy our beautiful ship.   Pamper yourself at the Feng Shui-inspired Crystal Spa, work-out at the state-of-the-art fitness centre or Walk-on-Water along our 360o Promenade Deck; learn how to translate your story into a movie with USC's School of Cinematic Arts Digital Filmmaking class at our Creative Learning Institute ®; or learn about art, history and worldly destinations with  engaging celebrity entertainers and speakers as part of the Crystal Visions® Enrichment Program; sneak away to watch recently-released movies in the Hollywood Theatre, shop our luxury boutiques, or simply lounge poolside while our attentive crew caters to your every whim. From mat Pilates and yoga to PGA golf instruction and paddle tennis on full-size courts, today is all about you. As evening arrives, dine on the renowned culinary creations of Nobu Matsuhisa, and Crystal's own acclaimed chefs with new Modern Cuisine and Global Inspired menus, enjoy special wine-makers dinners, breakout new production shows, intimate lounges, a pulsing dance club or our action-packed Resorts World at Sea.
Day 3  03 July, 2018   Bergen, Norway   9 am  –   9 pm
Bergen, "Capital of the Fjordland" and Norway's second-largest city, was founded in 1070 AD. In its heyday, Norwegian Kings resided here. It was the largest city in Norway and there were no less than 27 churches and abbeys.  Bergen is an immaculate city, set between the mountains and the sea, where traditional values hold firm over transitory ways. The local people take great pride in the rich heritage of this, one of Norway's premier cities.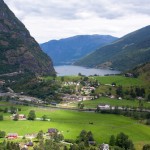 Day 4  04 July, 2018  
Flåm, Norway    8 am –  6:30 pm
After gliding serenely into majestic Aurlandsfjord, the ship will berth in the tiny village of Flåm. Boasting dramatic nature and a serene atmosphere, Flåm is situated in the innermost part of the Sognefjord and surrounded by breathtaking mountains.      From this tranquil area, dwarfed by towering mountain peaks, one of the world's most remarkably engineered railway lines originates and winds its way far above the sea. The 13-mile train journey provides views of some of Norway's wildest and most magnificent scenery.   The twisting tunnels that spiral in and out of the mountain are manifestations of the most daring and skillful engineering in Norwegian railway history. Rivers cut through deep ravines, waterfalls cascade down the side of steep, snow-capped mountains and farms cling dizzily to the sheer slopes of cliffs.  At the foot of the mountains, you can enjoy the natural beauty of the Flåm Valley and admire the majestic Aurlandfjord, a branch of the world's longest fjord, the Sognefjord.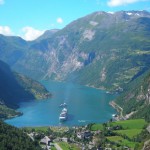 Day 5  05 July, 2018  
Geiranger, Norway    12n  –  6 pm 
Geiranger village is located along the picturesque snow-covered Geirangerfjord in central Norway. One of the most dazzling of all Norwegian fjords, the Geiranger has been visited by touring ships for more than 100 years. Impressive mountains, numerous waterfalls and farms clinging precipitously to steep hillsides combine to give this area its unique character.
Day 6  06 July, 2018  Cruising the Norwegian Sea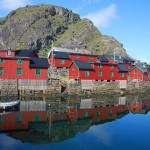 Day 7  07 July, 2018   Å i Lofoten, Norway    8 am  –   9 am
Pronounced "aw," Å means "small stream" in Old Norse, a single-letter title that suggests a long maritime history. The name also prompts some confusion: At least seven villages in Norway are called Å, which is why "i Lofoten," or "in Lofoten," is added for clarity. To visit "aw" is to inspire the other kind of "awe," with chances to head out to sea to watch for whales, venture to nearby reefs to observe the largest number of nesting birds in Norway, or gaze at majestic peaks and quaint villages with a bike ride or hike. To honour the islands' traditions in fishing, you might bait and cast a line or, if you prefer, savour Lofoten's famous stockfish at a local eatery. You might also learn about the seafaring way of life at the Lofoten Stockfish Museum and Norwegian Fishing Village Museum.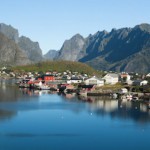 Gravdal, Norway   12n –  6 pm
Situated above the Arctic Circle in the central part of the Lofoten archipelago, Gravdal boasts breathtaking scenery, highlighted by glacier-carved mountains and indigo waters embracing colourful wooden buildings typical of Norway. Especially dramatic against the hard, blue sky is the red wooden tower of the Buksnes Church. Built in 1905 in a Dragestil design, the church showcases an architectural style popular in Scandinavia in the early 20th century characterized by steep roofs, large eaves and Norse motifs such as serpents and dragons. While mystical creatures like these appear only in inanimate, decorative form, real-life animals such as whales, sea eagles and seals can be seen with jaunts by kayak, bike, boat or foot.
Day 8  08 July, 2018  
Tromsø, Norway    12 n –  8 pm
Tromso, the capital of Troms province is known as "the capital of the Arctic." It lies on a forest-covered island in a narrow waterway, hemmed in by steep mountains and connected to the mainland by a bridge. This city has long been renowned as an important centre of science and exploration. The imaginative Arctic Cathedral, the Polaria Centre and a scenic cable car ride are among the varied attractions Tromso offers to its visitors.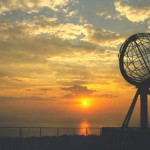 Day 9  09 July, 2018   Honningsvåg, North Cape, Norway    10 am –  10 pm
In the early afternoon your Crystal ship docks at the peaceful town of Honningsvåg set on Mageroy or "Meager" Island. Fishing is the dominant industry for the island's 3,500 inhabitants.  Honningsvåg is your gateway to the North Cape plateau, Europe's northernmost promontory, with its infinite views over the vast expanse of the Artic Ocean.
 Day 10  10 July, 2018
Day 11   11 July, 2018    Cruising the Norwegian Sea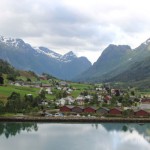 Day 12   12 July, 2018   Olden, Norway    8 am  –   6 pm
Olden and the surrounding area is an artful juxtaposition of charm and natural majesty. From a historic 18th-century church and a variety of small shops and cafes in Olden, to the south lies Briksdalsbreen, an amazingly blue glacier whose impressive beauty is fair reward for a hike along a picturesque winding path affording glimpses of picture-postcard vignettes of waterfalls, rivers and mountains.
Day 13   13 July, 2018   Stavanger, Norway   12 n  –   7 pm
For centuries, Stavanger and its surrounding areas have played a leading part in Norway's maritime history – from the time when Viking kings battled in Hafrsfjord, through the period of the "White Sails," steamships and modern super tankers. As a result of its prime geographical location, Stavanger is considered the most important oil city in Norway.
Day 14   14 July, 2018   Cruising the North Sea  
Day 15    15 July, 2018  London/Dover, England  Ship arrives  6 am Sadly our cruise has come to an end and we disembark this morning.  We would be happy to assist with your onward travel arrangements.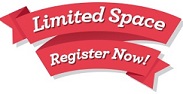 Cruise cost includes:   *** Contact us for availability and price of your preferred cabin type  ***
*Services of a tour escort from Australia (*based on minimum of 12 participants)
SINGLE occupancy
Port taxes
All meals (6* cuisine) on board Crystal Serenity
All beverages including fine wines and premium spirits on board ship
All non-alcoholic beverages such as bottled water, soft drinks and specialty coffees on board ship
Pre-paid gratuities for housekeeping, dining and bar staff; specialty dining; 24-hour room service
Enrichment workshop classes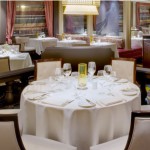 Fine Dining:
Complimentary fine wines, champagne and premium spirits as well as dining in all restaurants, including specialty venues Prego by Piero Selvaggio, and Silk Road and The Sushi Bar by Nobu Matsuhisa  (one complimentary visit to Prego and Silk Road/Sushi Bar for each 7 nights on board)
Open-bar service throughout the ship
Gratuities for housekeeping, bar and dining staff throughout the ship
All non-alcoholic beverages including bottled water, specialty coffee drinks, soft drinks, fresh juices and Afternoon Tea service
Early embarkation luncheon
Welcome champagne
24-hour room service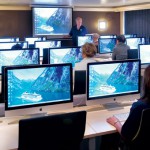 Enrichment & Entertainment:
Yamaha Passport to Music® keyboard lessons.
Berlitz foreign language classes
Computer University@Sea® classes with software instruction
Technology Concierge "how to" tips on latest high-tech gadgets and apps
Crystal Visions® lecture series featuring renowned speakers, authors, celebrities and destination experts
Award-winning Broadway-style entertainment, piano bars and dance clubs
Recent-release films in spacious surround-sound Hollywood Theatre
Dance lessons
Art classes with Odyssey Art At Sea
Dedicated Junior Cruiser facilities and programs
Comfortable shuttles to town
Concierge services for personal arrangements ashore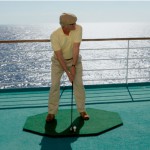 Fitness:
Gym with state-of-the art fitness equipment
Well-appointed separate men's and women's steam, saunas and whirlpools in the only Feng Shui-inspired spa at sea
Fitness classes including yoga, Pilates Reformer, "Tour de Spin" cycling, cutting-edge Kinesis™ systems and Tai Chi courses
Golf lessons with PGA pros
Walk-on-Water weighted vests and Nordic Pole walking equipment
Paddle tennis
Exclusive 360° (wraparound) teak Promenade Deck for uninterrupted walks, jogs and sweeping ocean views
Ambassador Hosts, cultured and well-travelled gentlemen, are available on every cruise to socialize and dance the night away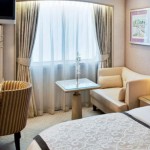 Stateroom Services & Amenities:
In-stateroom satellite TV and movie/DVD rentals
Twice daily housekeeping with nightly turndown service
Kimonos, Frette bathrobes, 100% Egyptian cotton linens and pillow menu
Self-service launderettes
Cruise cost does not include:
•Airfares or air ticket taxes
•Passports or items of a personal nature
•Shore excursions
•Arrival and departure transfers in Tilbury
•Upgrade to stateroom without obstruction or verandah stateroom if required
•Anything not stated in 'inclusions'
To contact us for reservations or enquiries:
Destination World Travel

PO Box 2040

South Plympton    South Australia   5038      Australia
Phone:  08-8293-6988   Outside of Australia 61-8-8293-6988

Email:  destinationworld@internode.on.net