Legendary Silk Road by private train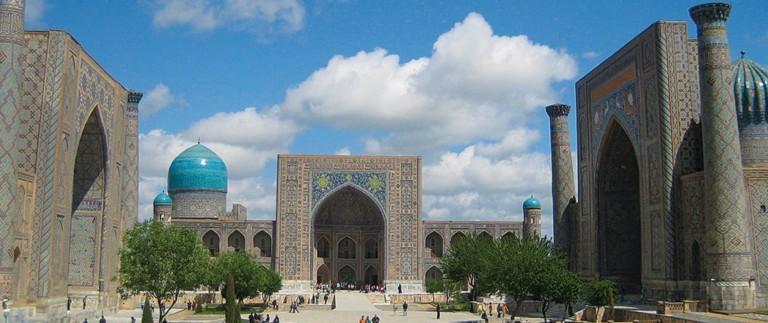 Legendary Silk Road by private train
Escorted from Ashgabat to Almaty
Guaranteed single room
16 October, 2018 –  29 October, 2018
This once-in-a-lifetime Central Asian train journey,  follows the legendary Silk Road back in time, across three countries and takes in seven breath-taking UNESCO World Heritage sites.   We'll explore the winding streets and market life of Khiva and Bukhara, discover enchanting backstreets, vast gateways, glittering domes, and ancient city walls.  You'll feel as if the stories of one thousand and one nights have come to life.  See the desert sun in Registan Square, the most beautiful square in the Orient and enjoy insights into the local way of life, from a folklore show in a madrasah, to lunches in the former Summer Palace of the Emir and an Uzbek family.  The Orient Silk Road Express train offers the best possible comfort for travelling the legendary Silk Road.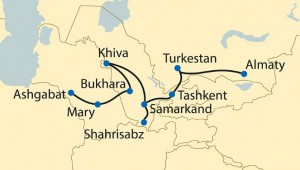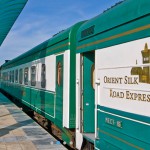 The cool ease and simplicity of your own private train, in a region usually limited to long, uncomfortable bus rides makes this a most enjoyable experience.   Most of the train's wagons, including several sleeping cars and a restaurant car, were completely refurbished in 2013.  The comfortable restaurant cars serves freshly prepared regional dishes and also bar service in the evening.  The train is air-conditioned while moving.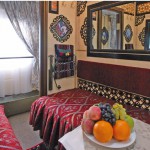 You will have sole use of your Aladin compartment on the train.  This category features two lower beds (27.5 × 74.8 in/67 × 184 cm each), a small table and storage space.  You'll have 7 nights accommodation in your own private compartment on the train and 6 nights in your own room with private facilities in mid to high end hotels en-route.   Each car on the train has 8 compartments and a shared shower and washroom  facility at the end of each car.   Please note; air conditioning operates while the train is in motion but is turned off while the train is stationary.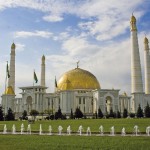 Day 1  16 October, 2018 Arrive Ashgabat Make your way to Ashgabat, Turkmenistan.  We can book your flights for you and team you up with others in the group who may be on the same flight, or you can use your frequent flyer points. Based on current flight schedules (as at Jan '17) we suggest departing Australia on 15th October and flying with Emirates to Dubai  before connecting to Fly Dubai Airlines for the short journey to Ashgabat.  We will meet in Dubai and travel together from there.
Accommodation:   Grand Turkmen Hotel (or similar)    Grand Turkmen is a 5 star Hotel  built in 1995 and reconstructed in 2015.  Located in the very centre of the city and close to Independence Monument and National Museum.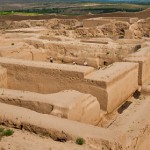 Day 2 17 October, 2018  The Capital City Ashgabat and the Former Imperial City of Nisa   After breakfast we visit a bustling, typical oriental market. before travelling to the ancient Parthian city of Nisa. In the afternoon we have a guided tour of the National Museum in Ashgabat where artefacts excavated from the ruins at Nisa are on exhibit.  After lunch we have a brief tour of Ashgabat, whose distinctive appearance is characteristic of Turkmenbashi, the self-proclaimed "great leader of all Turkmen". Hollywood-style settings throughout this city flush with new-found oil wealth can be impressive, but sometimes also cause a chuckle. You dine aboard your train, which departs later in the evening.
Overnight on board. Breakfast, lunch and dinner included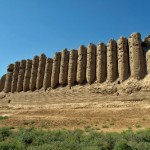 Day 3   18 October, 2018  Merv, the Pearl of the East    Your private train arrives early in the morning at the UNESCO World Cultural Heritage Site of Merv, the remnants of what was once one of the world's largest and most magnificent cities. The initial impression is of disbelief: gigantic walls and ramparts simply standing in the middle of the desert next to the imposing ruins of ancient buildings, such as the Tomb of the Sultan Sanjar, the Maidens' Castle (Kyz Kala), the historical ice-houses, and other tombs. Lunch is eaten with a local family in the picturesque courtyard of their home.
Overnight on board. Breakfast, lunch and dinner included

Day 4  19 October, 2018  The City with a Desert Lighthouse    The city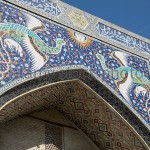 , located in the middle of the Kyzylkum Desert, has some one thousand architectural monuments recalling the golden age of the Great Silk Route. Exotic spices, furs, and especially silk were stored and traded in the city's caravanserais. In Bukhara's Old Town (UNESCO World Cultural Heritage), you see the almost fifty-metre tall Kalyan Minaret and the Lyab-I Hauz Ensemble by the pond, among other sights. In a madrassa courtyard you watch a performance of local dances, and a presentation of colourful national costumes with musical accompaniment.
Accommodation:  Hotel Asia Bukhara (or similar)  2 nights  Breakfast, lunch and dinner included
Located in the centre of Bukhara, Hotel Asia Bukhara features an outdoor pool and a garden. With free Wi-Fi access, the air-conditioned rooms come with a satellite LCD TV. Each has a private bathroom equipped with free toiletries and a hairdryer.The restaurant serves local specialities, as well as European cuisine. Breakfast is offered daily. Guests will find several shops within a 10-minute walk from Asia Bukhara Hotel. The Lyab-i Hauz Architectural Complex is a 15-minute walk away.
Day 5  20 October, 2018  Bukhara, the Noble One  Bukhara, which also bears the by-name Sherif (the noble one), has preserved its ancient oriental countenance in its extensive, unparalleled collection of authentic architecture. This morning we drive to the splendid Mir-e-Arab Madrassa and the Samanid Mausoleum, one of Central Asia's most beautiful structures. Afterwards you tour the massive Ark Citadel, a city within a city that was once the seat of government of Bukhara's former rulers. There you view the Throne Room, after which you go to the last emir's Summer Residence. Your stay is completed with a visit to the world's only women's mosque, at a Sufi complex and pilgrimage centre about fifteen kilometres outside of the city.   Breakfast, lunch and dinner included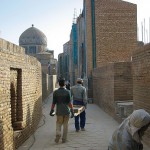 Day 6 21 October, 2018   Bukhara    The morning is at leisure.  Your train leaves for Khiva, Uzbekistan around noon.
Overnight on board. Breakfast, lunch and dinner included
Day 7   22 October, 2018  Khiva, a Tale from 1001 Nights in Stone    After breakfast, your train will have arrived at the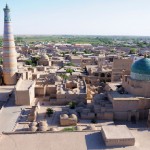 southern extent of the Zhetysu (seven rivers) landscape, at the oasis of Khiva. Standing at the mighty town wall with its gates and bastions of mud brick, you feel transported into another world. Life still pulses around the base of the Kalta Minor Minaret, just as it did in former times. Your tour allows you to take in the atmosphere and sights of the oasis. Its palaces, mosques, minarets, mausoleums, and madrassas (Muslim religious schools) represent some of the best-preserved examples of oriental town architecture from medieval times. You enjoy lunch in the former emir's Summer Palace. Your private train leaves for Samarqand in the evening.
Overnight on board. Breakfast, lunch and dinner included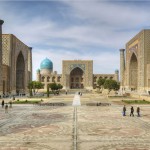 Day 8  23 October, 2018  Samarqand, Crossroad of Cultures   Today is spent visiting the sights of this famous historic city, which during the rule of Timur was considered the world's most beautiful and prestigious city. The Necropolis of Shah-e Zinde (the living Shah), the excavation sites at Afrosiab (with a museum tour), and Registan Square are certainly among the most notable architectural ensembles in Central Asia. It is also historically important as the site where many Uzbek women burned their veils (paranjas) in 1917, to mark their arrival in a new era.
Accommodation:  Registan Plaza Hotel (or similar) 2 nights  Breakfast, lunch and dinner included
Hotel Registan Plaza is located in the city centre, with easy access to its business and historic district. Near the hotel there are many historical monuments.  All rooms have air conditioning, cable TV, telephone, hair dryer, Internet access, safe, mini-bar.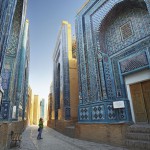 Day 9  24 October, 2018  Samarqand, the Magnificent   Your day in this fascinating city includes a tour of a silk carpet manufacturer, a visit to an Uzbek craftsman's family to see paper being made from mulberry bark, stops at the Ulug Beg Observatory and the ruins of the Bibi Khanum Mosque, and viewing the interior of the palace-like Gur Emir Mausoleum.  Breakfast, lunch and dinner included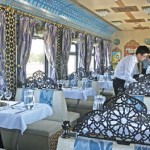 Day 10 25 October, 2018  On the Great Silk Road to Shakhrisabz and the Nearby Mountains    Today you enjoy an excursion to the surrounding mountain region, where fire worship and shamanism are still practised in the form of rituals and myths seldom found elsewhere. A traditional ceremony offers you first-hand insight into the region's unique folklore and you have the chance to experience the daily life of the local residents. Aboard your train, you then continue along the Great Silk Road to Timur's birthplace, the green city of Shakhrisabz (a UNESCO World Cultural Heritage Site). Here you will see monumental architecture of the Mongol ruler's Great Palace from the fourteenth and fifteenth centuries. In the evening you depart to Tashkent on your private train. On board you are invited to a tasting of Uzbek wines.
Overnight on board. Breakfast, lunch and dinner included
Day 11 26 October, 2018   Tashkent, the Green Oasis     In the morning your private train arrives in the Uzbek capital of Tashkent. Your sightseeing tour of the city offers a closer glimpse of this green oasis in the steppe. You see the Madrassa Kukeldash, the Kavoj and Amir Timur monuments, and the typical Kazakh mud brick houses. In the evening you attend Tashkent's famous Navoi Opera or a concert in the Tashkent Philharmonic Hall (programme permitting). Afterwards your train departs for Kazakhstan.
Overnight on board. Breakfast, lunch and dinner included
Day 12  27 October, 2018   Turkestan, Centre of Nomad Pilgrimage     Border formalities at the Kazakhstan border are completed in the comfort of your compartment and you arrive before noon in the city of Turkestan. You visit the Mausoleum of Khoja Ahmed Yasawi (UNESCO World Heritage Site), one of the most significant examples of Timurid architecture. Afterwards you continue on towards Almaty aboard your private train.
Overnight on board. Breakfast, lunch and dinner included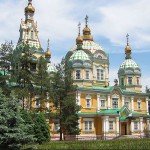 Day 13  28 October, 2018  Almaty, Father of the Apple   Your train arrives in Almaty after lunch. A sightseeing tour of the city offers you an impression of this green metropolitan city at the foot of the mighty Ile Alatau Mountains. You see the imposing Zenkov Russian Orthodox Cathedral built entirely of wood, the Wedding Palace, the Almaty Circus, and the Central Mosque. That evening you are served a tasty dinner in a traditional Kazakh yurt.    Breakfast, lunch and dinner included
Accommodation:  Rahat Palace Hotel (or similar) overnight
Located just 200 m from Almaty Circus and Central Stadium, this hotel offers a spa centre with heated indoor pool.    Rahat Palace Hotel's classically furnished rooms feature cable TV and a minibar, and all rooms have a balcony with views of the city or Alatau Mountains. The bathrooms include toiletries and a hairdryer. International cuisine and Kazakhstani dishes are served in the Dzhambul Restaurant and the Grill Restaurant. Exotic cocktails are available in the stylish Yourt Bar & Lounge, or outside in the summer beer garden.   Massages can be booked at the Rahat's spa, which also features a well-equipped gym, hot tub and sauna. Almaty's sights are easy to reach from Rahat Palace, with the city's central tram line just 200 m away. Almaty Airport is a 30-minute drive from the hotel.
Day 14  29 October, 2018   Our very special journey ends today.    We would be happy to assist with your onward travel arrangements.
 Please note:   We regret that due to the intricate logistics of this tour, itinerary changes are sometimes unavoidable.
Tour cost $AU11690 includes:
Services of an Australian escort
Services of multi-lingual train tour director
Services of English speaking local guides
SINGLE accommodation throughout
7 overnights on the Private Train in Aladin category – sole occupancy
6 overnights in hotels – sole occupancy
All meals according to program
Sightseeing program including all entrance fees according program
Guided transfers to and from all airports and train stations according to program
 Doctor on board
Traditional welcome in the train stations of Bukhara, and Samarqand
Lunch/dinner with an Uzbek and a Turkmen family as well as in in a Madrasah with folklore
Wine and Vodka tasting
Log book with information about the Silk Road
Tour cost does not include:
International airfare and taxes
Pre and post tour accommodation
Passport and visa fees
Gratuities
Meals or drinks not stated in itinerary
Items of a personal nature
Transfers at any time that differs from main group arrangements
Anything not listed in inclusions
Please note:   This tour involves services which are settled in a number of currencies and the exchange rate has been calculated on rates current at the time of uploading this tour onto our website.  
Should there be a fluctuation of exchange rates of more than 3% from this time to the time we receive payment, we reserve the right to pass on an exchange rate surcharge.
To contact us for reservations or enquiries:
Destination World Travel

PO Box 2040

South Plympton    South Australia   5038      Australia
Phone:  08-8293-6988   Outside of Australia 61-8-8293-6988

Email:  destinationworld@internode.on.net