Highlights of Ireland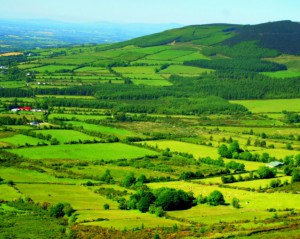 Highlights of Ireland
*Escorted from Australia
 Guaranteed SINGLE room throughout
 Commencing Dublin 19 June, 2018
Join our group of singles as we travel from south to north exploring Ireland's dramatic scenery and legendary places. Wild beaches, rugged coastline and green fields stand in stark contrast to its country villages and bustling towns.

Come with us and you'll see all of Ireland's major attractions; The Cliffs of Moher, Giants Causeway, Blarney Castle, Ring of Kerry, Dingle Bay and many more!
We begin our tour in history filled Dublin,  savor a pint at the Guinness Storehouse, visit the Irish National Stud to learn about one of Ireland's most lucrative industries,  experience the world-famous beauty of the Ring of Kerry, journey to historic Blarney Castle, where you can lean back and kiss its famous stone,  see the Atlantic from the stunning 700-foot Cliffs of Moher and Burren, home to a rugged limestone landscape.
We tour northern Ireland  with a glorious mix of rugged coastlines, tranquil lakelands, moody mountain landscapes and vibrant cities. We explore  Derry, the only remaining completely intact walled city in Ireland and one of the finest examples of a walled city in Europe, walk along the legendary Giant's Causeway flanked by the wild North Atlantic Ocean and a landscape of dramatic cliffs, and explore Titanic history in Belfast and much, much more.
See the castles. Experience the culture. Live the history. Meet the locals.  Enjoy fast fiddles and foot tapping beats and behold those famous shades of green that stretch as far as the eye can see.
This is Ireland and we invite you to join us – you'll be so glad you did!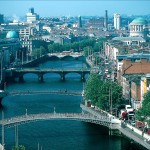 Day 1   19 June, 2018  Make your own way to Dublin.   Your Australian escorts will meet you at the hotel over dinner tonight.  We can find the best airfare for you and team you up with others who may be on the same flight or you can use your frequent flyer points.
Accommodation:       Grand Canal Hotel (or similar) 2 nights    The Grand Canal Hotel is located in a lovely picturesque area of the south side of Dublin city, overlooking an attractive city waterway in the affluent suburb of Ballsbridge just a short walk to the city centre.   Located opposite the Grand Canal Dart station the hotel is just  3 minutes into town by the electric rail system called the DART (Dublin Area Rapid Transit) and approximately 15 minutes walk into the city.  Each attractive room is primed for work and rest, with high-tech touches like free WiFi and Internet-ready Smart TVs. The Grand Canal Hotel also has a fully equipped gym.  Dinner is included tonight.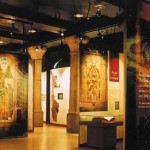 Day 2 20 June, 2018   Dublin  After breakfast it is time to explore Dublin with a Dublin city tour to visit the mains sights of the city such as Trinity College and Christ church cathedral and Belfry. In the afternoon we will head to Guinness storehouse where we will have a guided visit and enjoy a complimentary Guinness. Free time for shopping after the tour.  This evening we have dinner and a traditional Irish show at Merry Ploughboy's pub and restaurant.    Breakfast, and dinner included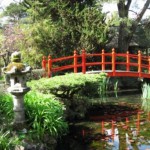 Day 3  21 June, 2018   Dublin – Cork After breakfast we begin our journey to Cork with visit to the Irish national stud and Japanese gardens.  From horses to horticulture the Irish National Stud & Gardens is one of Ireland's true treasures.
The Stud Farm is the home of equine royalty, immaculately-bred stallions who can be seen and admired alongside protective mares, frolicking foals and athletic yearlings. In the world-famous Japanese Gardens, you can follow the path called the 'Life of Man' which traces the passage of a soul from birth to death and beyond, at the same time providing a meeting place for the cultures of East and West.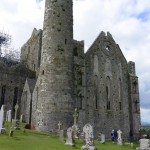 We have lunch at a family farm before continuing our drive to Tipperary and visit the Rock of Cashel, one of Ireland's most spectacular historic sites: a prominent green hill, banded with limestone outcrops, rising from a grassy plain and bristling with ancient fortifications. Sturdy walls circle an enclosure containing a complete round tower, a 13th-century Gothic cathedral and the finest 12th-century Romanesque chapel in Ireland, home to some of the land's oldest frescoes.    It's a five-minute stroll from the town centre up to the Rock, from where fantastic views range over the Tipperary countryside.
Accommodation: Clayton Hotel Cork City (or similar) 2 nights  Clayton Hotel Cork City is ideally located in Cork's City Quarter, overlooking the River Lee and directly opposite the impressive architecture of City Hall and One Albert Quay. The hotel is just a 5 minute stroll from Patrick's St and 2 minutes of South Mall Cork.  Superior D rooms all come with all the standard in-room amenities that you would expect from a 4-star hotel including tea and coffee making facilities, an iron and ironing board, a large 42" flat screen LCD TV to keep up to date with all your favourite shows and a safety box that is large enough for you to securely store your laptop.   All guests can enjoy the benefits of 24 hour room service with a range of options available to suit all taste buds. Guests can also enjoy full use of the Club Vitae Health and Fitness club facilities which includes an 18 metre swimming pool, sauna, Jacuzzi and steam room. The club has a fully equipped gym on site with free weights area and studio making it easy to keep up with your fitness regime whilst travelling.  .  Breakfast and dinner included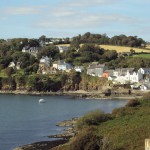 Day 4   22 June, 2018    Cork – Kinsale – Cork  Morning is at leisure in Cork and in the afternoon we will head to Kinsale to visit Charles Fort with some free time exploring the town. Originally a medieval fishing port, historic Kinsale  is one of the most picturesque, popular and historic towns on the south west coast of Ireland.  Visitors to Kinsale are captivated by its beautiful setting; its long waterfront, yacht-filled harbour, narrow winding streets and brightly painted galleries, shops and houses. The impressive fortifications of Charles Fort and James Fort guard the narrow entrance from the sea – giving clues to its rich history. Breakfast and dinner included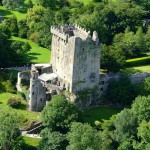 Day 5  23 June, 2018    Cork – Killarney    After breakfast we drive to Midleton town to take a tour of the Old Midleton town distillery, Jameson experience.   We then head to Blarney where we will visit the castle and have some free time for traditional shopping at Blarney Woollen mills.  Built nearly six hundred years ago by one of Ireland's greatest chieftans, Cormac MacCarthy, Blarney Castle has been attracting attention ever since. Over the last few hundred years, millions have flocked to Blarney making it a world landmark and one of Ireland's greatest treasures.  Now that might have something to do with the Blarney Stone, the legendary Stone of Eloquence, found at the top of our tower. Kiss it and you'll never again be lost for words.    We continue our journey to the old town market of Macroom driving past Ballymakerery and in Ballyvourney, two Irish speaking towns along the way.   Breakfast and dinner included
Accommodation:  The Dunloe (or similar) 2 nights    The Dunloe is one of the leading 5 star luxury hotels Ireland has to offer, overlooking the famous Gap of Dunloe, set on its own 64 acre estate leading to the ruins of the 12th century castle and River Laune.  The Dunloe rests on an estate with manicured pathways leading to the ruins of an old castle which lies hidden within the grounds. Guests can enjoy a range of complimentary onsite leisure activities including swimming, sauna, steam room, techno-gym, fishing, horse riding, and tennis.  The furnishings and décor of the bedrooms is inviting and comfortable with each room offering satellite television, DVD players, telephone, refrigerator and spacious bathrooms with hairdryer. With sumptuous bathrooms, fluffy bathrobes and slippers, you can relax and unwind in style.

Day 6  24 June, 2018  Killarney – Ring of Kerry – Killarney   We will drive the scenic path around the Iveragh Peninsula in southwest Ireland's County Kerry. Its 179km-long, circular route takes in rugged and verdant coastal landscapes and rural seaside villages. We'll have a photo stop and have lunch in Caherdaniel at the traditional The Blind Piper Pub.  Caherdaniel is tiny but beautiful and probably set in one of the most scenic locations on the Ring of Kerry. It is located on the shore of Derrynane Bay and this region or area is often referred to as Derrynane or Caherdaniel.  In the afternoon, we continue the drive via Sneem, Moll's gap and Ladies view and back to our hotel in Killarney.   Breakfast, lunch and dinner included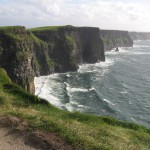 Day 7   25 June, 2018   Killarney – Galway    Our first stop this morning is at the  impressive Cliffs of Moher where we will have ample time for pictures and to visit the visitor's centre followed by free time in Adare.   Then en-route to Galway via Galway Bay we stop in Kilfenora where we will visit The Burrren National Park and Visitor's Centre.   In 2011 the Burren and Cliffs of Moher Geopark gained Global Geopark status. Making up over 530 square kilometres the Burren and Cliffs of Moher Geopark offers a diversity that is second to none. There is the natural beauty of the 200 metre high Cliffs with its eight kilometres of rugged coastline, and there is beauty in the vast array of flora, including Arctic and Alpine flowers that grow surprisingly alongside Mediterranean species. There is also the staggering amount of history in the Burren region with over 2,700 recorded monuments, some dating back over 6,000 years. This has led to the Burren being described as "one vast memorial to bygone cultures".   Breakfast and dinner  included
Accommodation:  The House (or similar) 2 nights   In Galway's historic Latin Quarter, The House is an elegant, 4-star hotel just off Quay Square and the Spanish Arch. It offers air-conditioned rooms, free Wi-Fi, a restaurant and cocktail bar.   Set in an old stone building, The House Hotel has unique art deco interiors and modern facilities. Rooms are all individually decorated and feature soundproofed windows, flat-screen satellite TVs and laptop safes.  The elegant House Bistro has leather and cane seating and serves fresh, modern Irish food. Guests can dine al fresco on the terrace or enjoy a classic cocktail in stylish surroundings at The House Cocktail Bar.  Located in the centre of Galway, The House is a 10-minute walk from Galway Cathedral and the National University of Ireland.   Numerous independent boutique shops are located nearby, and Salthill and its promenade are just 15 minutes' walk away.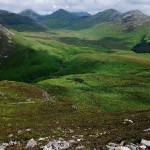 Day 8  26 June, 2018   After breakfast we travel to Connemara National Park.   Situated in the West of Ireland in County Galway, Connemara National Park covers some 2,957 hectares of scenic mountains, expanses of bogs, heaths, grasslands and woodlands.  We will have a quick stop on the way in Oughterard to visit the village and drive through Maam cross until we reach the National park.  We take a scenic drive along Inagh valley with stop in Kylemore where we will visit Kylemore Abbey.    Nestled at the base of Druchruach Mountain (1,736ft) on the northern shore of Lough Pollacappul, the heart of the Connemara Mountains, it is regarded as one of Ireland's most romantic buildings. Originally built in 1867 as a romantic gift, Kylemore Abbey and the surrounding mountains and lakes are steeped in history including engineering initiatives, model farms, tragedy, royal visits, gambling debts, a hideaway during Ireland's troubled history as well as excellence in education.  We stop at Clifden for some free time at leisure before returning to our hotel in Galway.   Breakfast and dinner included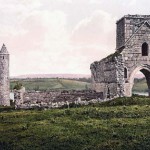 Day 9  27 June, 2018   Galway – Devenish Island – Enniskillen    After breakfast we have a brief panoramic tour of the main sights of  Galway  before driving to  the impressive Clonmacnoise open-air monastery and visitor centre.    Founded by Saint Ciaran, sometime in the 6th century, Clonmacnoise is one of the oldest and most important early Christian settlements in Europe.  Built in the centre of Ireland where an ancient roadway crossed the River Shannon, its location gave it great strategic importance. Today the buildings at Clonmacnoise are mainly in ruins, but there is much of interest to see and some of the most ancient and precious artefacts of Irish Christian history are here.   We continue on to Oldcastle where we will have time to explore Loughcrew gardens.   Then its on to  the ferry from Trory point to Devenish Island to view the pretty island before returning to the coach on the mainland.     Devenish Monastic Site was founded in the 6th century by Saint Molaise on one of Lough Erne's many islands. During its history it has been raided by Vikings (837AD), burned (1157AD) and flourished (Middle Ages) as a parish church site and St Mary's Augustine Priory.  There are ruins from different time periods on site; the earliest being St Molaise house (small church) and the round tower which are 12th Century. A second church from the 13th Century, which was extended over time, was the lower church. St Marys Augustinian Priory on the hilltop has been dated from the middle 15th Century to early 16th Century with a church, tower and small cloister. In the graveyard stands a distinctive, unusual, intricately carved stone cross from the 15th Century.   Breakfast and dinner included
Accommodation:  The Westville Hotel (or similar) overnight   Perfectly located in the heart of Enniskillen's waterside historic quarter, The Westville Hotel is a sophisticated, yet understated, boutique destination – offering everything to the contemporary, discerning guest, including an award-winning Terrace restaurant, beautifully spacious and comfortable rooms, a stylish, in-house cocktail WV Bar matched with the warmest, welcoming service.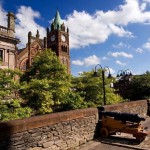 Day 10  28 June, 2018  Enniskillen  – Omagh – Derry    Our first stop this morning en-route to Derry is  a visit to the Ulster American Folk Park, an open-air museum just outside Omagh, in County Tyrone, Northern Ireland. With more than 30 exhibit buildings to explore, the museum tells the story of three centuries of Irish emigration.   We continue our drive through Strabane to meet our local guide in Derry for a walking tour  to view the main sights and the city walls.   Derry, also known as Londonderry, is a city on the River Foyle in Northern Ireland. It's known for the intact 17th-century Derry's Walls with 7 gates. Within the walls, spired St. Columb's Cathedral, Britain's first Post-Reformation church, displays artefacts from the 1688–9 Siege of Derry.
Accommodation: Best Western White Horse Hotel (or similar)  Ideally located along the main Causeway Coastal Route and only minutes from Derry-Londonderrys 17th Century Walled City Centre, this 4* hotel offers contemporary rooms featuring free Wi-Fi, flat-screen TVs and iPod docks, plus desks, and tea and coffeemaking facilities.   Breakfast and dinner included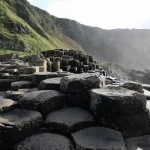 Day 11  29 June, 2018   Derry – Giant's Causeway – Belfast    This morning we head to Carrick-a-rede to visit the legendary rope bridge, then our coach will travel to Giant's Causeway where we will visit this incredible nature formation and visitor's centre. For centuries countless visitors have marvelled at the majesty and mystery of the Giants Causeway. At the heart of one of Europe's most magnificent coastlines its unique rock formations have, for millions of years, stood as a natural rampart against the unbridled ferocity of Atlantic storms.
After lunch (own expense) we visit the famous Bushmills whisky distillery for a guided tour of Ireland's only "grain to glass" distillery and discover some of the trade secrets learned over 400 years of distilling. Old Bushmills in Co Antrim is Ireland's oldest working whiskey distillery,  granted a royal license to distill in 1608.  We'll watch watch whiskey making take place and enjoy a wee taster too.  Family and friends have worked for generations to keep the philosophy that hand crafting small batches is the way to produce beautifully smooth tasting Irish whiskey.   Breakfast and dinner  included
Accommodation:   Europa Hotel (or similar)  2 nights  In the heart of Belfast's city centre, this 4-star hotel is next to Great Victoria Street Railway Station. Guests can enjoy luxurious rooms and dining in the contemporary bistro. Complimentary Wi-Fi is available in all public areas.   Spacious and elegant, The Europa Hotel's rooms offer modern bathrooms decorated with glass and chrome. Guests can enjoy luxury bedding with designer fabrics from Ralph Lauren, and a flat-screen TV.   The Europa Hotel is situated on Belfast's Golden Mile, beside the Grand Opera House and facing the Crown Bar, the National Trust's only public house. With magnificent views over Great Victoria Street below, the Piano Bar offers an impressive range of cocktails.
Culture, history and super-friendly people are what Belfast is all about. Here you'll experience a place unlike any other in Europe. This is a city that can trace its history back to the Bronze Age; a city that built Titanic; a city forging a unique food scene; and a city that dances to its own beat. From its mighty shipbuilding past to the dynamic arts scene that swirls around the Cathedral Quarter, Belfast likes to mix it up.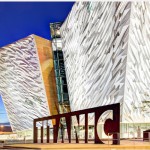 Day 12  Belfast  30 June, 2018   After breakfast we visit the Titanic Belfast museum. Rising like an incredible shimmering ship near the waters of Belfast Lough, Titanic Belfast is the world's biggest Titanic visitor attraction. This majestic building stands on the very site where Titanic was built, and boasts nine galleries covering everything from Belfast's shipbuilding heritage to the discovery of the wreck.  This afternoon our local guide will take us on a city tour and view the main city sights such as the historical murals of the Shankill Road and Nationalist Murals on Falls road. Breakfast and dinner included
 Day 13  Belfast  01 July, 2018  Sadly our tour has come to an end after breakfast with a morning transfer to the airport.  Those of us joining our Crystal cruise from Dover, and travelling together with us from Belfast to London (own expense) will be met at the airport in London and transferred directly to the ship for embarkation.
Option:  why not join our cruise from London to Norway and the North Cape which leaves from Dover today?  A perfect combination with this tour of Ireland, it will leave memories to last a lifetime.
 Tour cost $AU5990 includes :
Services of Australian escorts
SINGLE occupancy of first class hotels throughout
Services of local driver/guide in Ireland
Services of local guide for sightseeeing in Belfast and Derry
Return ferry to Devenish Island
Entrances to:

Titanic Museum Belfast
Distillery tour at Old Bushmills
 Carrick-a-rede rope
Ulster American folk park museum
Oldcastle – Loughcrew gardens
Clonmacnoise – Clonmacnoise Monastery and visitor centre
Kylemore – Kylemore Abbey
Kilfenora – The Burren visitor's centre
Cliffs of Moher – Cliffs of Moher visitor centre
Blarney – Blarney castle
Midleton town – Old Midleton Distillery – Jameson Experience
Kinsale – Charles Fort
Tipperary – Rock of Cashel
Kilkenny – Irish National Stud and Japanese gardens
Dublin – Trinity college
Dublin – Christ church cathedral, includes Belfry
Dublin – Guinness storehouse

Breakfast and dinner daily
Lunches as per itinerary
 Merry Ploughboys dinner and show in Dublin
Tour cost does not include:
•International airline tickets and air ticket taxes
•Meals other than specified in itinerary
•Meals or visits not detailed on the itinerary
•Gratuities
•Items of a personal nature
•Transfers at any time that differs from main group arrangements
•Anything not stated in 'inclusions'
Please note:   This tour involves services which are settled in a number of currencies and the exchange rate has been calculated on rates current at the time of uploading this tour onto our website.  
Should there be a fluctuation of exchange rates of more than 3% from this time to the time we receive payment, we reserve the right to pass on an exchange rate surcharge.
 To contact us for reservations or enquiries:
Destination World Travel

PO Box 2040

South Plympton    South Australia   5038      Australia
Phone:  08-8293-6988   Outside of Australia 61-8-8293-6988

Email:  destinationworld@internode.on.net